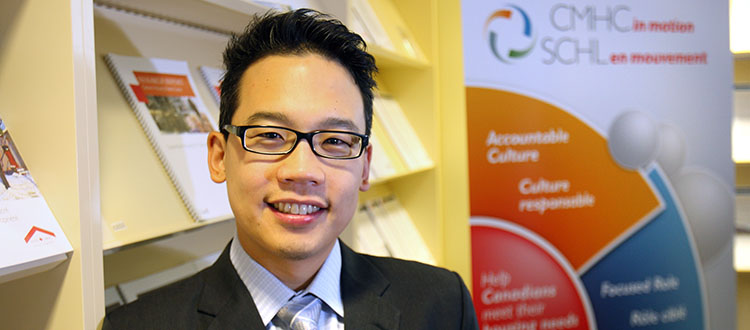 CMHC's Richard Cho said that foreign investment still represents just a sliver of Calgary's total residential housing market, even though it has increased from 0.2 to 1.1 per cent in just over a year. Photo by Wil Andruschak/For CREB®Now
Oct. 14, 2016 | Joel Schlesinger
Goodbye YVR, hello YYC?
Housing officials say foreign investment shift too early to tell; still unwavering on city's potential
Calgary could be the new Vancouver. At least that's what has some real estate observers maintaining more than two months after the B.C. government imposed a 15 per cent land transfer tax on real estate purchases by foreign buyers in the province's most populated city.
Aimed at dampening foreign investment—mostly from mainland China, which has been suspected of pushing up demand and prices in markets such as Vancouver where the benchmark price for a home is close to $1 million – the tax appears to be working.
According to provincial figures released in September, the number of transactions by foreign buyers fell from more than 2,000 seven weeks prior to the tax being implemented to 60 in the four weeks afterward.
Over that span, sales went from $2.3 billion to about $47 million.
That has some wondering if foreign investors, now turned off Vancouver, may look to Calgary's depressed market for buy-low and sell-high opportunities.
We're definitely becoming more and more favourable for the foreign investor."
For now, CREB® chief economist Ann-Marie Lurie cautions it's too early to tell.
"There's speculation that the tax will drive investors to look at Calgary, but the answer is that no one really knows whether that will happen or not," she said.
"There are a lot more factors that go into a decision to buy. And while the buyers into the Vancouver area might be declining, they're not really spreading into other surrounding areas either" where the tax does not apply.
And if they're not looking to areas surrounding Vancouver, it's hard to see them flocking to Calgary, she added.
Yet other local real estate officials say they're already seeing increased interest in the regional housing market – particularly within the last several weeks.
"We're definitely becoming more and more favourable for the foreign investor," said Marie-Ann Mears, broker with Sotheby's International Realty in Calgary.
Mears suspects the combination of Sotheby's partnership with mainland Chinese real estate portal Juwai.com – which lists the brokerage's properties in the Calgary region – and the new B.C. tax are helping increase Calgary's global profile.
"These decisions have only come out recently, but what I have seen is the number of inquiries through the web and phone has definitely increased," she said.
Calgary has increased from 2014, (but) it's still a small number."
Richard Cho, principal market analysis in Calgary for Canada Mortgage and Housing Corp. said the national housing agency has been surveying foreign investment in the Canadian condominium market for the last two years. In 2014, foreign buyers accounted for 0.2 per cent of the Calgary market. By the end of 2015, that number jumped to 1.1 per cent.
By comparison, Vancouver (excluding Surrey and other surrounding municipalities) sat at 5.4 per cent and Toronto at 3.8 per cent.
"Calgary has increased from 2014, (but) it's still a small number," said Cho.
He said one of the factors working against foreign investment in Calgary is the city's housing market is not on the radar of many investors in mainland China – at least when compared with other major centres in North America.
Moreover, Calgary's market is depressed, and many buyers from overseas are not seeking buy-low and sell-high opportunities as much as they are seeking stability.
"We've seen prices trailing 2015 levels, and that's a factor in investors' decisions to invest in Calgary or not," said Cho.
In contrast, Vancouver's market has components that largely ensure steady capital appreciation regardless of supporting economic fundamentals essential to other markets, Calgary included.
"Vancouver is a bit of a different scenario: many investors look at the fact it is landlocked, so there is only so much room for properties," said Lurie.
"It's a larger city, so it's seen in a different light where they could get their money back if they need to."
She noted foreign investment can be a double-edged sword for real estate markets. While an injection of investment dollars can help bolster a struggling marketplace, it can also have a negative impact by driving up prices beyond the reach of new buyers — as has happened in Vancouver.
"It depends on what's happening with the properties," said Lurie, who recently attended a conference in Ottawa where foreign investment was a topic of debate.
"Are they adding to the housing supply by renting the properties or are they being pulled off the market and sitting vacant?"
Mears said based on inquiries from potential foreign buyers so far, their motivation seems to be less about seeking good investment opportunities.
"It's hard to generalize a whole group of foreign investors, but inquiries have more to do with lifestyle," she said, adding many are looking to buy for children attending school in the city.
"If I was a foreign investor, Calgary would be a good option in the sense of current prices and the availability of product."
Tagged: Calgary Real Estate | Calgary Real Estate News | Canada Mortgage and Housing Corporation | China | CMHC | CREB® Chief Economist Ann-Marie Lurie | Foreign Buyers | investing | juwai.com | Landlords | Richard Cho | Sotheby's Realty Canada | Uncategorized | Vancouver | YYCRE
---
---
Connect With Us