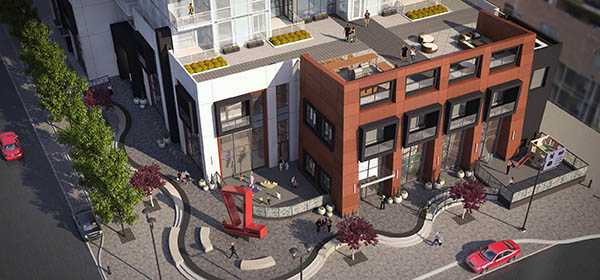 The Hat, which will house 221 units, represents the first purpose-built rental development in East Village. Rendering courtesy Cidex Developments
Jan. 26, 2016 | Kathleen Renne
On purpose
Industry welcomes influx of rental units coming on stream
An increase in the number of purpose-built rentals coming onto the market over the next few years is good for Calgary and the communities they reside in over the long run, say experts
According to Canada Mortgage and Housing Corp.'s (CMHC's) Fall 2015 Rental Market Report for Calgary, 1,216 apartment rental units were under construction as of September 2015, a 53 per cent increase from the year before.
This comes after purpose-built rental apartments increased for the second consecutive year in 2015. CMHC reports 865 purpose-built rental units came on the Calgary market in 2015, bringing the total number of such units in the city up to 35,227.
Mainstreet Equity Corp. CEO Bob Dhillon, whose company owns and manages some 10,000 rental units across Western Canada, believes these numbers are still low in relation to other cities.
"Calgary has an abnormally low unit count for the size of the population. That kind of protects us in a downward cycle," he said, referring to CMHC statistics that the local apartment vacancy rate rose to 5.3 per cent this past fall.
Dhillon added it's also important to remember purpose-built rentals just released on the market were planned a few years ago, before the economy hit its current downturn.
"When the economy booms, people plan the supply, and the supply comes just in time for a recession," he said.
East Village will be home to one of these new purpose-built rentals. Cidex Developments is scheduled to break ground later this year on a 28-storey, 221-unit residential rental highrise on the southeast corner of Seventh Avenue and Fifth Street S.E. dubbed "The Hat."
Totalling 236,000 square feet, the tower – which will include 66 one-bedroom and studio apartments, 123 two-bedroom units and 32 three-bedroom units – represents the first purpose-built rental development in the area, which is being developed by City-owned Calgary Municipal Land Corp. (CMLC).
"We will have 11,000 people living here by 2027, so we have to build a lot of product," said CMLC vice-president Susan Veres, adding the development by Cidex is part of the community's grand vision.
"We need to offer product for every phase of a consumer's life cycle."
In fact, Veres characterizes renting as a "precursor" to ownership in the community.
"It allows us the flexibility to offer something to those people who want to test drive the community before ownership," she said. "They add one more piece to the puzzle of having a healthy, vital community."
In nearby Inglewood, community association redevelopment committee chair Leslie Robertson believes rental units are also important to the future viability of her neighbourhood.
"With Inglewood, people want to make it their home base immediately. Having rentals available, it's a nice chance for people to get to know the neighbourhood," she said. "And once they get to know Inglewood, they're hooked."
Robertson, who has lived in Inglewood for more than 20 years, has witnessed the neighbourhood "swing" between rentals and ownership.
"Originally, the community was mostly rental. Then, five- to eight-years ago, there was a swing over to ownership as a huge number of rental units became condominiums," she said. "Now, it's a 50/50 mix."
And that, she added, is the ideal balance.
"We want to be able to appeal to people who have a breadth of interests, educations and incomes to keep that interesting socio-economic fabric we have right now," said Robertson.
While construction on East Village's rental tower won't be complete until late 2018, Inglewood has just seen a new purpose-built rental, courtesy of Torode Realty Advisors Inc., open its doors at the corner of Ninth Avenue and 13th Street S.E.
Another purpose-built rental by owners/project developers Jim and Susan Hill has started construction a few blocks west, also along Ninth Avenue.
Like Robertson, Beltline Communities president Rob Taylor is "pleased with the current rise in purpose-built rentals."
He said such housing options contribute to the success of an urban district in its aim to "accommodate diversity of all kinds."
In fact, according to CMHC's fall rental report, the Beltline has the highest number of purpose-built rental units in Calgary at 8,674, as of October 2015.
As the number of purpose-built rentals increases in the city, Taylor said he's noticing more discretionary renters in the city, particularly in the Beltline.
"These are units where the rent is high enough that a tenant could easily choose ownership, but rents for lifestyle reasons," he said.
In CREB®'s 2016 Economic Outlook & Regional Housing Market Forecast, chief economist Ann-Marie Lurie expects continued weakness in the energy sector, when combined with an increase in the number of purpose-built rentals coming on stream, will place upward pressure on vacancy rates and downward pressure on rental rates.
"Higher vacancy rates and downward pressure on rents due to higher supply is expected to decrease ownership demand from investors," said Lurie, noting vacancy rates in 2015 were at their highest level since 2009.
Tagged: Beltline | Bob Dhillon | Calgary Municipal Land Corporation (CMLC) | Calgary Real Estate News | CMHC | CREB® Chief Economist Ann-Marie Lurie | East Village | forecast | Inglewood | rental | rentig | vacancy rates
---
---
Connect With Us