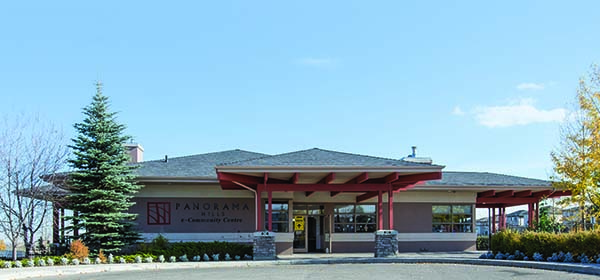 Panorama Hills community centre
Oct. 29, 2015 | Gerald Vander Pyl
Next step for Panorama centre
Developer hands keys over to community
Nearly two decades after it was first constructed, Panorama Hills' e-Community Centre is officially being handed over to the community in which it resides.
Genstar Development Co., the developer behind the northeast Calgary community, will turn over ownership of the two-and-a-half hectare private park to the Northstar Residents' Association, by way of a volunteer board of directors, on April 1, 2016.
The ownership change was part of a long-term plan after Genstar built the facility in the late 1990s. The developer agreed to maintain and operate the facility before handing over control to the Northstar Residents Association, which encompasses residents in Panorama Hills and neighbouring Hanson Ranch.
The original agreement had the cutover occurring on or before April 1, 2026.
Panorama Hills e-Community Centre facility manager Scott Chesniak says work is already underway on several renovations and upgrades to the centre and associated lands, located at the corner of Panamount Boulevard and Panamount Hill N.W.
"Essentially we're trying to get everything back to brand-new condition, so it looks like it was the first day it opened up," he said.
Shingles have already been replaced on the building and garage, exterior areas were re-stained, old floors will be ripped out and replaced and new kitchen appliances installed.
In the park outside the community centre, trees were replaced, posts repainted and new benches installed.
"You name it, we're getting it ready," said Chesniak.
The centre is available exclusively to members of the Northstar Residents' Association. Detached homeowners are required to pay an annual fee of $250, while attached and apartment owners pay $200.
The Panorma Hills e-Community Centre features a rockledge waterfall, children's spray park, playground and sandbox, three basketball courts, a sand volleyball court, walking paths and several barbecues.
The centre itself has been a popular gathering place for Calgary's largest community, featuring two levels of recreational space, a full kitchen, fireplace, projection TV and outdoor patio that overlooks the fully fenced private park.
The park includes a rockledge waterfall, children's spray park, playground and sandbox, three basketball courts, a sand volleyball court, walking paths and several barbecues.
"It's great for residents of all ages, especially families," said Chesniak. "We make it a year-round park as best we can. In the summertime there's the splash park, and in wintertime we have an outdoor rink and a toboggan run. People can advantage of it 365 days a year."
The e-Community Centre also hosts special events and registered programs throughout the year. Some of the programs being offered this fall and winter include a Mad Science after-school science club, Jazzy Kids program, Cross-Fit and Crafts for children, Young Rembrandts drawing classes, Youngster Yoga and a babysitters' training course.
Adult programs include Boot Camp fitness, yoga, a local seniors club, and even a digital photography course.
Upcoming special events include a Halloween haunted house and a family Christmas night
"It's convenient for residents," said Chesniak. "They don't have to go far for these programs, and the price is right. We try to offer a variety of something for everyone, from ages three up to seniors.
"It's nice for them because it's designed specifically for the members, so it's not like anyone can drop in and do it. You have to be a member to register, or register with a member."
Because of the community's size – Panorama Hills is Calgary's most-populated community with 25,993 residents according to the 2015 civic census – the residents' association needed to decide on a volunteer selection process to make it fair for everyone who might want to become involved, said Chesniak.
"We want people on the board who are as excited about it as we have been," he said. "We want to keep it going and keep it strong. So we're still working on exactly how things will happen."
The ownership change represents the second major announcement for the area in just over a year. In late 2014, Cardel Homes ended its 10-year agreement with the nearby multi-purpose recreation centre, now called Vivo For Healthier Generations.
Tagged: Calgary Real Estate News | Community | community centre | Feature | Genstar | Panorama Hills | residents | residents association
---
---
Connect With Us