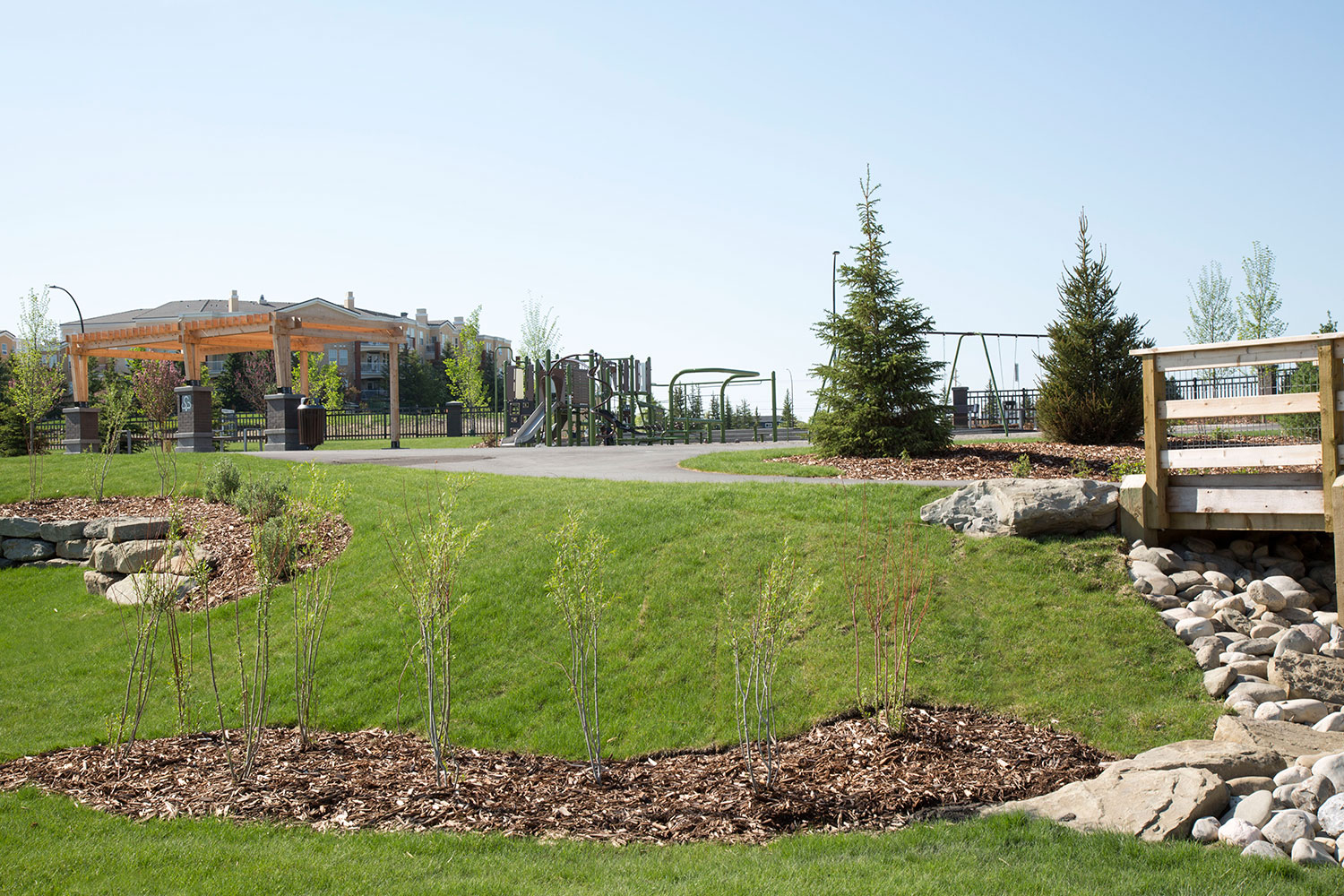 Shawnee Park is built on a former golf course in southwest Calgary next to Fish Creek Provincial Park. Courtesy Cardel Homes
April 11, 2018 | Gerald Vander Pyl
Neighbourhood makeover
Redevelopment projects lead to new communities in established areas
Most people think of new communities as being on the outskirts of the city, often in areas where amenities like shopping and schools are still lacking.
But there are a growing number of new communities springing up in well-established areas of Calgary, as redevelopment occurs on lands once used for non-residential purposes.
The Bridges emerged from the lands of the former General Hospital in Bridgeland, while Currie Barracks is being developed on what was once a Canadian Forces base.
Other "new-in-old" communities are popping up in Highland Park, Harvest Hills, the Hamptons, Shawnee Slopes and Saddleridge.
Genstar's Savanna in Saddleridge will eventually be home to more than 7,000 people, drawn to the extensive amenities in the area.
Meanwhile, Cardel Homes is creating Shawnee Park on 130 acres of former golf course land next to Fish Creek Provincial Park that will eventually include 500 homes and 1,000 condo apartments and townhomes.
"We purchased this land back in 2014 because we knew its potential for redevelopment, because the location was just so fantastic," said Mike Selinger, Calgary regional president for Cardel.
Selinger says they currently have 50 home lots for sale, while Graywood Developments is building Fish Creek Exchange on land it bought from Cardel for multi-family developments.
He says four showhomes are open with another one coming soon, and there are about 100 buyers to date.
"They love the access to Fish Creek Park, the LRT and all the established amenities that you get with a redevelopment project," said Selinger. Those amenities include schools, Southcentre Mall a short five-minute drive away, and the Cardel Rec South recreation facility.
In north Calgary, Cedarglen Homes has launched the Parks of Harvest Hills, which will offer 500 multi-family and 200 single-family residences, again on former golf course land.
Cedarglen sales and marketing manager Allison Harvie says there are currently three Cedarglen Homes showhomes open with 49 lots selling.
The sales centre for the Rise townhome and condo project by Cedarglen Living is also open.
"There are many advantages to buying in the Parks of Harvest Hills," said Harvie. "The existing community is well established and surrounded by shopping, entertainment and dining opportunities."
She says the airport is close by, along with the Vivo for Healthier Generations recreation centre, Country Hills Town Centre and Landmark Cinemas, all of which has given the new community broad appeal.
"The community offers homes for everyone," said Harvie. "And to date, we have seen everything from first-time buyers, to young families and multi-generational families."
Tagged: Allison Harvie | Bridgeland | Calgary Real Estate News | Cardel Homes | Cedarglen Homes | Currie Barracks | Feature | Fish Creek Exchange | Genstar | Graywood Developments | Harvest Hills | highland park | Mike Selinger | Parks at Harvest Hills | Saddleridge | savanna | shawnee park | Shawnee Slopes | The Bridges | the Hamptons | Vivo for Healthier Generations
---
---
Connect With Us