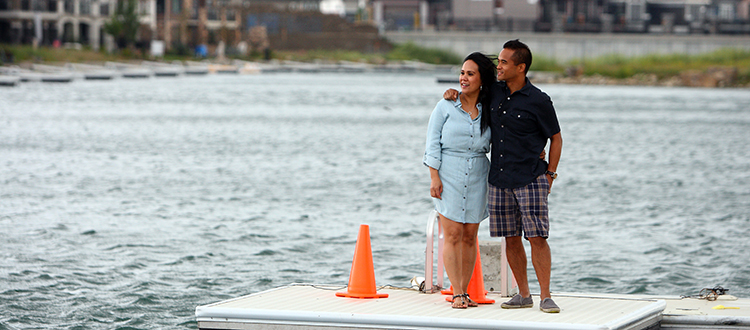 Arlen and Alex Capicio look out over Mahogany Lake. The Capicos said that when comparing their home in the community to other neighbourhoods in Calgary, Mahogany looked to be a better investment. Photo by Wil Andruschak/ForCREB®Now
May 24, 2016 | CREBNow
Surf's up!
Lake communities making a splash with homeowners
When Alex Capicio and his wife Arlen started house hunting for their family of five, it was all about location.
Arlen worked at the South Health Campus, but the family also wanted to be close to neighbourhood niceties such as a lake.
The couple settled on Mahogany in the city's southeast in January 2014 and haven't looked back since.
Originally from Red Deer, Capicio describes Mahogany as "tight knit" and "close to amenities, but still small."
Capicio said his kids go to the lake with friends, and that he and his wife have hosted barbeques there.
Furthermore, Capicio said he uses Mahogany's extensive pathway system to train for marathons.
Buyers like Capicio are not only focused on the inside of their homes, but also on the outside, said Scott Hamilton, marketing and communications director for Hopewell Residential, the developer behind Mahogany.
"People are looking for recreational amenities that are convenient...Calgary is not lake country, traditionally, so to have a lake is really attractive," he said.
Lake Bonavista, which broke ground in 1967, was the first community in Canada built around a man-made lake.
Local urban expert Richard White said Lake Bonavista was ground-breaking because, "it was the precursor to the southeast becoming a place to live."
Today, said White, the South Health Campus brings many residents into the quadrant who can afford lakeside living. Both Auburn Bay and Mahogany offer condos and townhomes starting in the $200,000-plus range. That price tag rises to well upward of $1 million for estate homes on one of Mahogany's two private islands.
"When we compare this house to houses in other neighbourhoods, we thought Mahogany was a better investment," said Capicio.
Calgary's southeast quadrant is home to many of the city's lakeside communities. Seven of Calgary's nearly dozen lakeside neighbourhoods are located in the area, including Midnapore (established 1977) and Sundance (1982), alongside new lakeside communities such as Auburn Bay and Mahogany.
"The land-development opportunities in the southeast have lent themselves better to master-planned communities with lakes," said Hamilton.
Added White: "Calgary is ideal for these kinds of communities. You have a young, family-oriented population, an outdoorsy, athletic population, so lakeside communities appeal to these people."
One of those people is Amy More. She, and her husband, John, purchased a home in Auburn Bay.
While their former Deer Ridge home was near Sikome Lake, More said they never went there.
"We like having somewhere to go that is private and taken care of," she explained, adding their yearly $500 lake fee is well worth it.
"I grew up in Sundance. I always wanted to move back into a lake community. I don't have any memories that don't include the lake ... Now, I want to build those memories as an adult, with my husband."
Tagged: Auburn Bay | buyers | Calgary Real Estate | Calgary Real Estate News | Community | Feature | hopewell residential | lake | Lake Bonavista | Mahogany | neighbourhood | YYCRE
---
---
Connect With Us