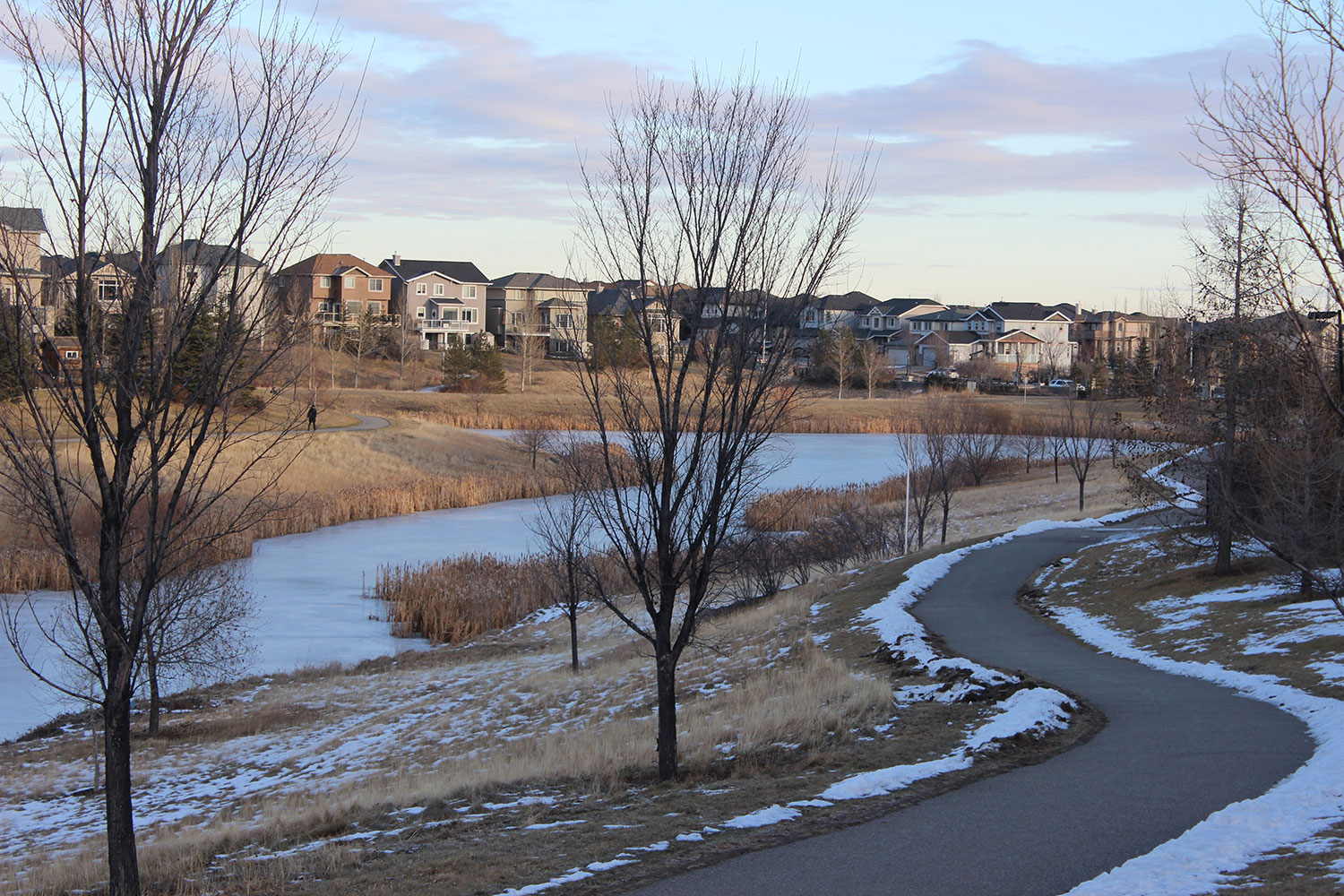 The Hillhurst Sunnyside Farmers' Market is one of the community's associations many food initiatives. Courtesy Hillhurst Sunnyside Farmers' Market
March 05, 2021 | Andrea Cox
Vibrant vistas: Panorama Hills combines beautiful landscapes with popular amenities
Located in the heart of Calgary's new northwest, Panorama Hills is Calgary's most populated community, with almost 26,000 residents calling it home.
Nestled into the sweet spot between several major arteries, the community is bordered by Stoney Trail to the north, Country Hills Boulevard to the south and Beddington Trail to the west, providing quick and easy access to surrounding areas and the downtown core.
"Location was a big draw for me," said Jeff Pederson, who purchased a townhome in the community two years ago. "I like that I can just zip onto Stoney Trail, which essentially takes me west to Crowchild Trail and to the mountains, and east to the Deerfoot."
Pederson works in the core and describes his commute as "doable."
"I leave quite early, around 6 a.m., and am sitting at my desk, coffee in hand, by 6:40 a.m.," he said.
He admits the evening drive home can be a little more hectic, "but I try to get away early before the crowds hit the roads."
"I like that I can just zip onto Stoney Trail, which essentially takes me west to Crowchild Trail and to the mountains, and east to the Deerfoot." - Jeff Pederson, Panorama Hills resident
Pederson also likes the fact Panorama Hills is within minutes of several major hubs, including Evanston's Creekside Shopping Centre – home to coffee shops, grocery and drug stores, and home improvement outlets. Country Hills Town Centre and Beddington Towne Centre are also close by and house major grocery store anchor tenants.
Perhaps the biggest draw to Panorama Hills is the area's undulating natural backdrop, full of valleys, ponds, trickling streams and arching hills that provide memorable views of the Rocky Mountains in the west and the waving, prairie grasses of the perimeter ranchlands in the north. It was the site of a former rock quarry – some of the stones for Calgary's historic city hall were harvested there – and the cairn commemorating Methodist missionary Reverend George McDougall graces a quiet resting spot overlooking the rugged landscape.
Developed by Genstar in the mid-1990s, Panorama Hills offers plenty of outdoor and indoor recreational and social opportunities. The Country Hills Golf Course encircles the community's western perimeter, while the recently refurbished community centre features two levels of recreational space, including a kitchen, fireplace and outdoor patio that overlooks a two-and-a-half-acre private park. It's a perfect place for families to gather in both winter and summer.
A spray park, volleyball and basketball courts, playground, and sandbox are big draws for neighbourhood children in the summer. Meanwhile, cozy and inviting indoor gathering spaces and a variety of community programming options, from fitness classes to artistic endeavours, are available year-round for community residents of all ages.
Another popular sport and recreation facility located nearby – Vivo for Healthier Generations, formerly known as Cardel Place – offers a diverse range of sports activities, along with a bright and appealing new public library space. Built to LEED Gold standards, Vivo's 195,000-square-foot space houses a fitness centre, climbing wall, three gymnasiums, two NHL-sized ice arenas, meeting spaces, and a pool and hot tub area. It's a collaborative, integrated, multi-generational facility that aims to foster social connections.
Families are also drawn to Panorama Hills for its established schools (the community has access to four elementary and middle schools) and plentiful parks, laced with playgrounds and walking paths.
Tagged: Beddington | Beddington Towne Centre | Calgary Community | Country Hills | Country Hills Golf Course | Country Hills Town Centre | Creekside Shopping Centre | Crowchild Trail | Deerfoot Trail | Evanston | Feature | Genstar | Jeff Pederson | LEED | Panorama Hills | Revered George McDougall | Stoney Trail | Vivo for Healthier Generations
---
---
Connect With Us