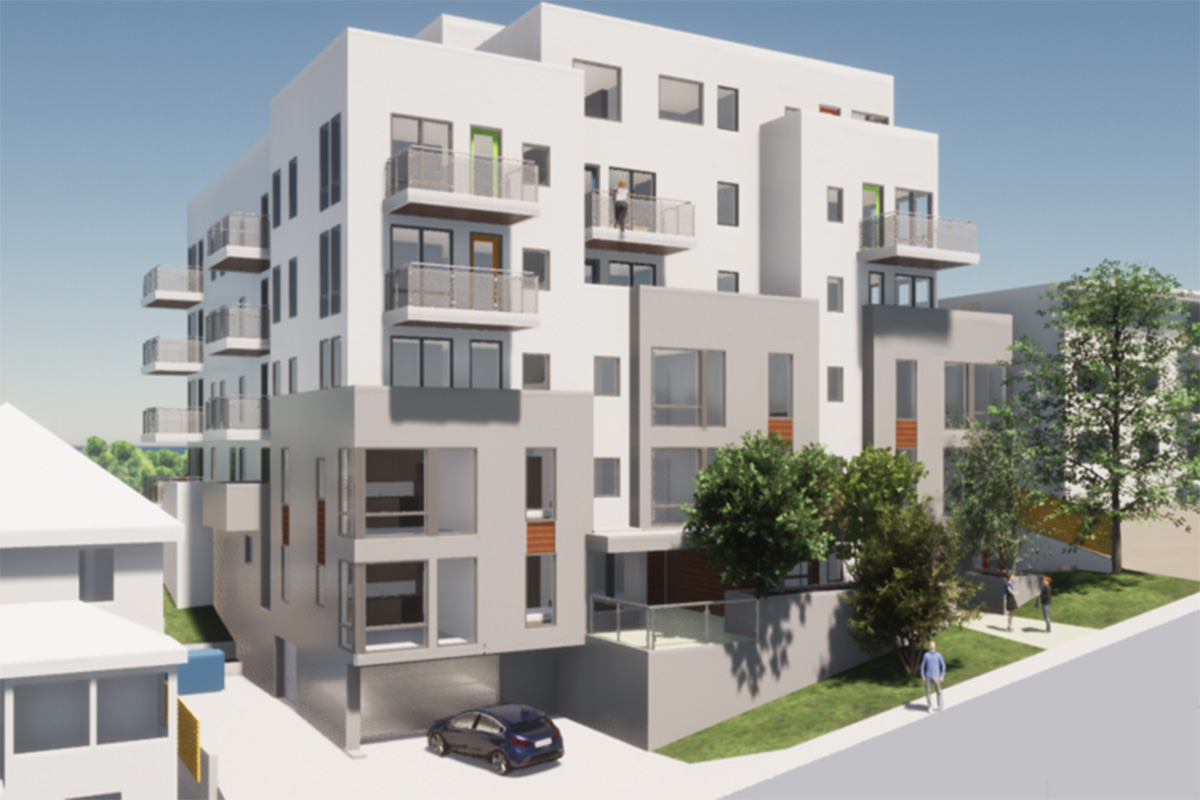 The Bridgeland 515 rental project is one housing development where Cohousing Connections hopes to implement the Intentional Neighbourhood Association model. Courtesy of Kanas Corporation
June 18, 2021 | Geoff Geddes
Intentional Neighbourhood Associations expand opportunities for cohousing
In the age of COVID-19, connecting with others is a lost art. Thanks to cohousing and a new model that aims to broaden its use, however, that sense of community could return with a vengeance.
"Cohousing communities are intentional, collaborative neighborhoods," said Sarah Arthurs, primary consultant with Calgary-based Cohousing Connections, an organization that establishes and supports partnerships between developers and individuals or groups who wish to live in cohousing.
"These communities combine extensive common facilities like kitchens, dining rooms, lounges and workshop spaces with private homes to create strong and successful housing developments."
Though traditional cohousing involves homeownership, Arthurs is applying a model called the Intentional Neighbourhood Association (INA) to create new cohousing possibilities for renters and other Calgarians outside of purpose-built cohousing communities.
"In the common model of cohousing, people must put down $80,000 or so to buy a unit that might cost $400,000 or more, so it is very much a middle-class venture," said Arthurs. "The INA model is designed to incorporate cohousing in rental projects and make it accessible without the need to own your living space."
Two such projects underway in Calgary are Kanas Corp.'s
Orion
and
Bridgeland 515
. Orion, located in southeast Calgary's Manchester neighbourhood, will consist of three apartment buildings. Arthurs' goal is to find 27 households interested in creating an intentional neighborhood within the Orion complex. She hopes to take a similar approach, but on a smaller scale, with the 36-unit Bridgeland 515 project.
"The INA model is designed to incorporate cohousing in rental projects and make it accessible without the need to own your living space." - Sarah Arthurs, Cohousing Connections
Regardless of location, there are a few elements of cohousing in a rental setting that Arthurs, a psychologist by training, believes are crucial to the model's success.
"I call them 'the four yeses.' The first yes is that it's all about the food," she said. "It's vital to nurture those things that make us feel friendly towards each other, and a big part of that is food because it's so central to who we are as human beings."
The second yes is the TMP factor, which stands for time, money and participation.
"When you own your home there is a strong financial commitment, so how can we create that cohousing culture without the price tag? We do that by investing our time and participating as a group, whether that is cooking, eating, organizing activities, holding regular meetings or celebrating birthdays and holidays together."
The three "ups" are the third yes: show up, speak up and listen up. The essence of this principle is that in thriving cohousing communities, people get involved, speak their truth kindly and listen hard to their neighbours.
Finally, the fourth yes focuses on gifts, as Arthurs finds neighbourhoods are stronger when residents share their talents and skills while appreciating the gifts of others.
For those who read the "yeses" and start nodding their heads, more information is available at
cohousingconnections.ca
or by emailing Arthurs directly at
arthurssarah2020@gmail.com
.
Tagged: Bridgeland | Bridgeland 515 | Calgary | Calgary Real Estate | Calgary Real Estate News | Calgary Real Estate News | Cohousing | Cohousing Connections | Community | Feature | homeownership | INA | Intentional Neighbourhood Association | Kanas Corporation | Manchester | neighbourhood | Orion | Rent | rental | residents | Sarah Arthurs
---
---
Connect With Us