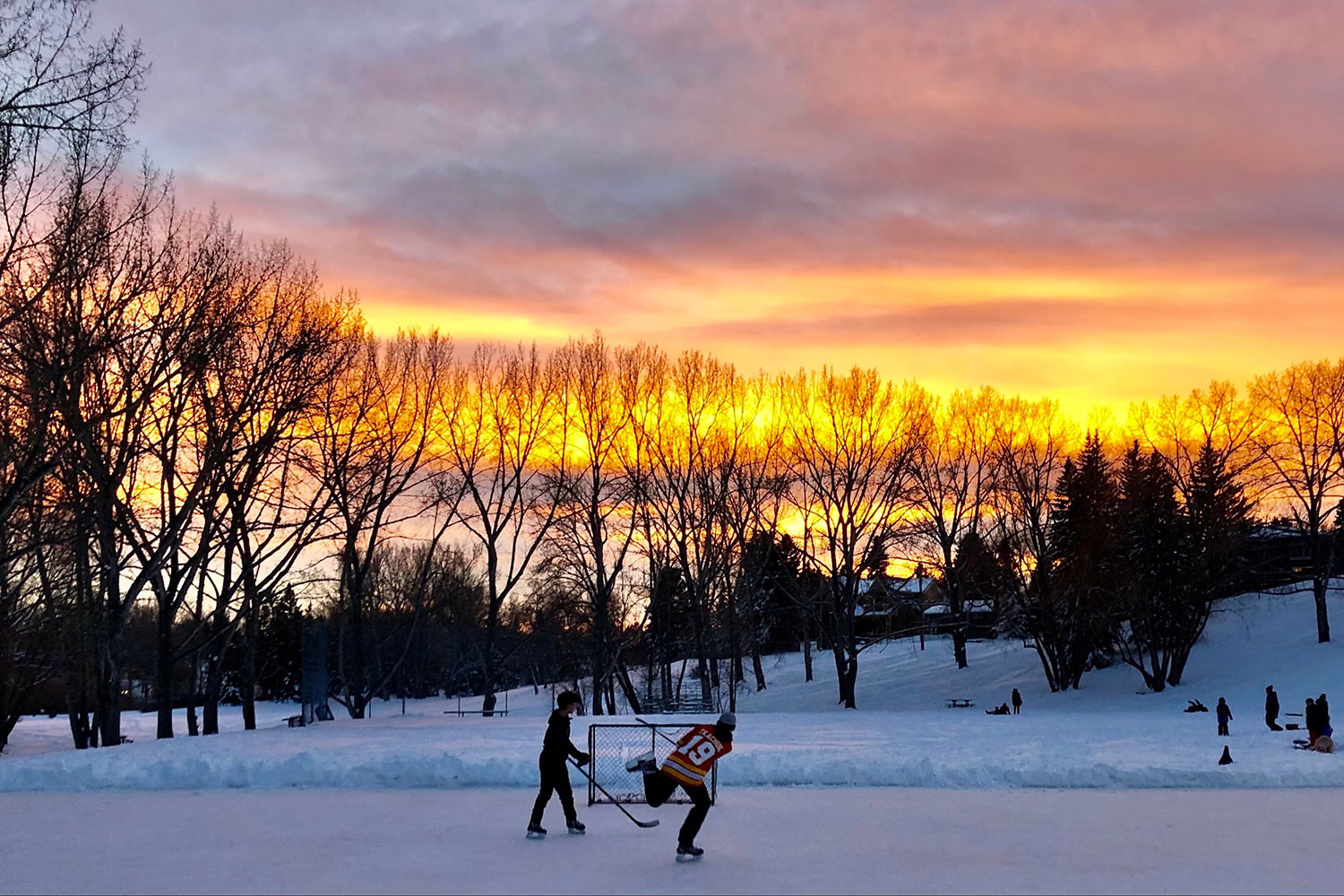 Cody Stuart / CREB®Now
Feb. 01, 2021 | Cody Stuart
Cold calling: Calgary's outdoor rinks provide much-needed outdoor activity option amid COVID-19 restrictions
With pandemic precautions forcing Calgarians to restructure their lives, the city's outdoor spaces have become a hot commodity this winter. Among the spots in highest demand have been the city's many outdoor rinks.
With eight City of Calgary rinks and dozens more maintained by community associations around the city, Calgarians have a host of choices when it comes to strapping on the blades and heading out for a skate.
One of the newest stretches of ice is in North Glenmore Park. The product of a City of Calgary pilot project, the skating track offers skaters close to a kilometre of connected ice with a small skating rink located in the centre.
"We had been considering it before, it's just that things all aligned and we had the right equipment and knowledge and the people to make it all happen, combined with a really strong desire for people to have things to do with the COVID restrictions," said Calgary Parks zone superintendent Mark Murias.
"It was an opportunity for us because we saw how people were really enjoying the parks and getting out."


The skating track, which opened in December, also features lighting, firepits and picnic tables, which has made the picturesque spot a popular one. The City has also added another skating track at Bowness Park, which stretches 1.6 kilometres along the Bow River and provides extra skating space to a park that has been at times forced to turn people away due to overcrowding this winter.

In addition to the North Glenmore Park skating track, the City has added skating rinks at Barb Scott Park and Thompson Park in the Beltline.

While Murias doesn't have hard numbers on attendance at North Glenmore Park so far this season, his eyes and ears have told him Calgarians are enjoying the new space.

"Anecdotally, I've seen really positive stuff," said Murias. "Over Christmas, with the warm weather, there were huge numbers and people really ground the ice right down. People have been really positive and thankful and hoping to see it stay – really nothing but positive stuff."

In addition to the City rinks, there are at least 35 community-run rinks dotted around Calgary. According to one of the volunteers responsible for maintaining one such rink, the increase in activity has been obvious there as well.

"This year has been very busy compared to previous years from what I observe," said Daniel Hanson, who has volunteered at the Rosemont Community Rink for the last three years, thanks in large part to his son's desire to have a great place to skate nearby.

According to Hanson, the increased attendance at spaces like the local outdoor rink has highlighted the importance of complete communities.

"I think the pandemic and the move to outdoor spaces for socializing has really highlighted the value that community park spaces and recreation spaces have," he said.

"And it's more than just having a field, it's having a place for kids to be entertained – trees to climb, snow piles to climb on. One of the things we are very proud of is that volunteers have put in a rink in Rosemont every year since the 1960s."

For a complete list of City of Calgary and community rinks, click
here
.
Tagged: Barb Scott Park | Calgary | Calgary Parks | Calgary Real Estate | Calgary Real Estate News | Calgary Real Estate News | City of Calgary | Community | COVID-19 | COVID-19 | Feature | ice | North Glenmore Park | outdoor | Pandemic | rink | Rosemont | skating | Thompson Park | volunteers
---
---
Connect With Us