Oct. 12, 2017 | Mario Toneguzzi
Naheed Nenshi - the incumbent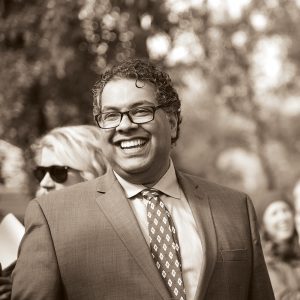 CREB®Now:
What is your vision for Calgary in terms of planning and development in the short and long term?
Naheed Nenshi:
Planning and growth are an important part of Calgary's economy and an important part of where we're going together as a city. So, when we think about planning and growth, we have to think about it in a way that is very thoughtful, that meets the needs of the Municipal Development Plan, that includes redevelopment of existing neighbourhoods, as well as greenfield development, and all of the infrastructure that goes along with it. And if I'm re-elected, one of the big things we have to do is continue our reform of the planning system to make sure that we're cutting red tape, that we're decreasing times it takes to get permits, that we're making sure that we're working together with applicants to build great stuff. I've said from the very beginning, our job needs to be to make it easier to build good stuff.
CREB®Now:
What is your opinion on a potential land transfer tax for Calgary and/or all of Alberta?
Naheed Nenshi:
This is a terrible idea. No one that I know of has been advocating for it. In terms of revenue sources for the City, this one is particularly market distorting, so I have never been a fan of it.
CREB®Now:
What are your thoughts on the future of energy-efficient homes and how they could potentially be classified?
Naheed Nenshi:
The market is likely to make this decision as we go forward. As the cost of energy efficiency comes down, and people see the math on it, the market will largely solve this. Some of the work the provincial government is doing, in terms of incentives on energy efficiency, is smart. Some of them are probably a bit overblown, but this one is going to sort itself out as consumers demand more energy efficiency.
CREB®Now:
What is your preferred approach to the issue of affordable housing in Calgary?
Naheed Nenshi:
Even with the easing of our vacancy rates, affordable housing remains a major crisis in the city. We have to work at every level of the housing spectrum. Helping people who are renting, but can't save enough for a down payment, get to homeownership – that's the role of Attainable Homes Calgary. We've helped more than 1,000 families get into homes now.
CREB®Now:
What are some infrastructure projects or improvements you would like to see in the next 25 years?
Naheed Nenshi:
One of the great things about the last seven years is we have really taken a very forward-thinking approach to planning our infrastructure. So, I can actually tell you very clearly what the priorities will be over the next 25 years, because we've thought about it and we've set it down. For example, RouteAhead – our 30-year transit plan – talks about what happens after we finish the Green Line, how we build a link between northwest Calgary and the West LRT called the Northwest Hub, how we build out the BRT network with the 52nd Street East BRT, and how we build a rapid transit link to the airport . . . Similarly, on the transportation/roads side, we know where the next sets of interchanges have to go . . .
Also, social infrastructure – we will have two new recreation centres come on board in the next couple of years. We need to continue to build recreation facilities, especially indoor facilities for soccer and track and field, as well as fire halls and libraries and all of the other things we need in order to make the city worth living in.
CREB®Now:
What is your position on the current secondary suite approval process? How could it be improved?
Naheed Nenshi:
It is without question a disaster. We have nearly 35,000 Calgarians living in illegal suites, who are living without the protection of the law. That is an untenable situation. If there's mice or mould, or the smoke detector doesn't work, there's no one you can complain to. We have to fix it. In 2016, council spent 20 per cent of its time approving secondary suites one by one. It's a terrible situation. It's very clear what the right answer is. We have to move the approval process out of council and into administration.
CREB®Now:
With federal legalization of marijuana on the horizon, some homeowners have concerns with the location of potential retailers and with other Calgarians growing marijuana in their homes. How would you manage these concerns?
Naheed Nenshi:
Ideally, the regulations from the federal, provincial and municipal governments on this should actually reduce the problems we're having with illegal grow-ops in neighbourhoods. We will likely have a retail chain similar to how liquor stores work and we'll zone those similar to how liquor stores are zoned.
CREB®Now:
Can you elaborate on your preferred location for a new Calgary Flames arena and how you would propose the City develop the surrounding area to best meet the needs of Calgarians?
Naheed Nenshi:
Very clearly the right answer here is Victoria Park. The West Village plan was never a great plan because simply the act of cleaning up the creosote, which we're working on, is a seven- or eight-year project. That much soil has to be removed. The infrastructure and the transportation on the West Village didn't make any sense. Victoria Park makes a ton of sense. Both the Red Line and the Green Line will have stops there. You'll have the opportunity to build a cultural and entertainment district around the arena . . .
So, you have to be super thoughtful about how an arena can be helpful for development, but is not going to automatically lead to it. We need to have an expanded convention centre around the BMO Centre. We need to refurbish Arts Commons and refresh Olympic Plaza to make this all part of a culture and entertainment district, and an arena can be a very important part of that. But any public investment must also come with public benefit and we've got to make a fair deal for the taxpayer.
Tagged: Calgary Real Estate News | City Council | City of Calgary | Mayor Naheed Nenshi | Naheed Nenshi
---
---
Connect With Us