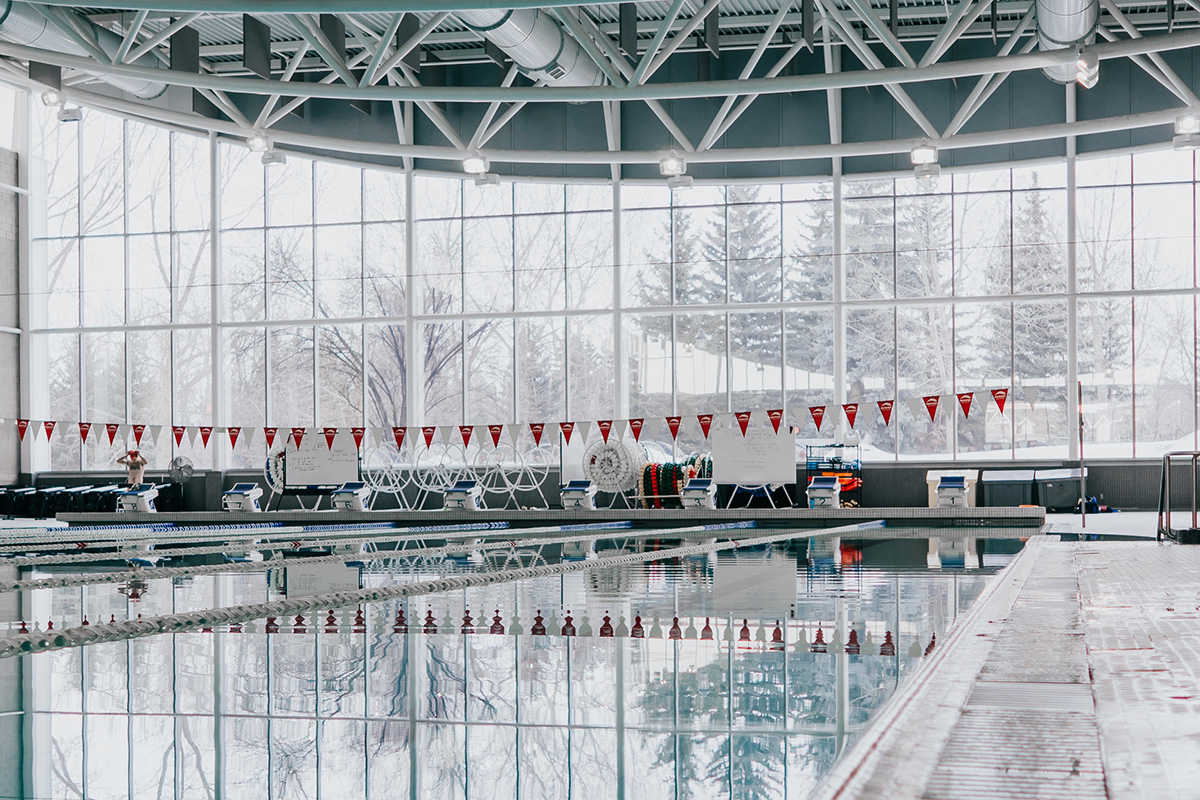 Repsol Sport Centre will be expanding its aquatic offerings thanks to a $45-million commitment from the City of Calgary. Courtesy of Repsol Sport Centre
July 19, 2021 | Josh Skapin
Repsol Sport Centre expansion to buoy inner-city swimming options
Recreational swimmers left high and dry by closures of pools around Calgary's core may find a new home at the Repsol Sport Centre.
The Macleod Trail S.E. facility will undergo a major expansion following a decision by city council in June to commit $45 million toward new leisure aquatic facilities.
This decision followed a City-led exploration process around serving the needs of people living in the downtown core and surrounding neighbourhoods.
Repsol presently features competition and training pools, but the facility lacks "leisure water," such as lazy rivers, water slides and waves pools. Specific programming for Repsol's expansion will be determined through community consultation.
"I think the city did that absolutely right," said Jeff Booke, Repsol Sport Centre CEO. "They recognized the need, but now we have to go to the people who live in these communities and say, 'what does that look like for you?' "
Demand for new aquatic amenities heighted following the closures of inner-city pools at the Beltline Aquatic and Fitness Centre and Eau Claire YMCA.
"Communities can be built around these types of facilities." - Jeff Booke, Repsol Sport Centre CEO
"The Repsol Centre expansion is a long overdue public investment in a modern leisure swim facility for the city centre that will provide greater opportunities for families seeking to live in more connected, vibrant urban neighbourhoods," said Peter Oliver, president of the Beltline Neighbourhoods Association.
Booke says he has seen an uptick in use at Repsol, before and after the COVID-19 lockdowns, and points to the growing need as residential areas around the centre densify.
"Having worked in this industry my entire life and being involved in both community centres and sport centres, they are real attractions," he said. "Communities can be built around these types of facilities.
"They would . . . encourage people to stay close if they are contemplating moving, or to move in if they are looking at new neighbourhoods."
Assuming for a "normal" pace, Booke estimates completion of the aquatic expansion is likely three to four years away.
In addition to this expansion, Booke says Repsol has been exploring a separate project that focuses on "auxiliary pieces" for about five years. This includes entryways and gathering areas, bigger locker rooms, and a build out of its competition pool and dive tank.
Booke says the auxiliary pieces, which are currently unfunded, are not necessary for the City-funded expansion to proceed, adding it has cleared several hurdles, including functional program and master plans, schematic design, land-use amendment and a development permit.
"This project balances this facility's operating model, which is quite unique," he said.
"That is to support equally citizens of Calgary that would use the centre as a place for fitness, health, wellness, recovery and play, and all those leisure activity needs, along with anyone who is pursing sport with passion at any particular level."
Tagged: aquatic | Beltline | Beltline Aquatic and Fitness Centre | Beltline Neighbourhoods Association | Calgary | Calgary Real Estate | Calgary Real Estate News | Calgary Real Estate News | City Council | City of Calgary | Downtown | Eau Claire | Eau Claire YMCA | Feature | Inner City | Leisure | New This Week | Pool | recreation | Repsol | Repsol Sport Centre | Swimming | wellness
---
---
Connect With Us