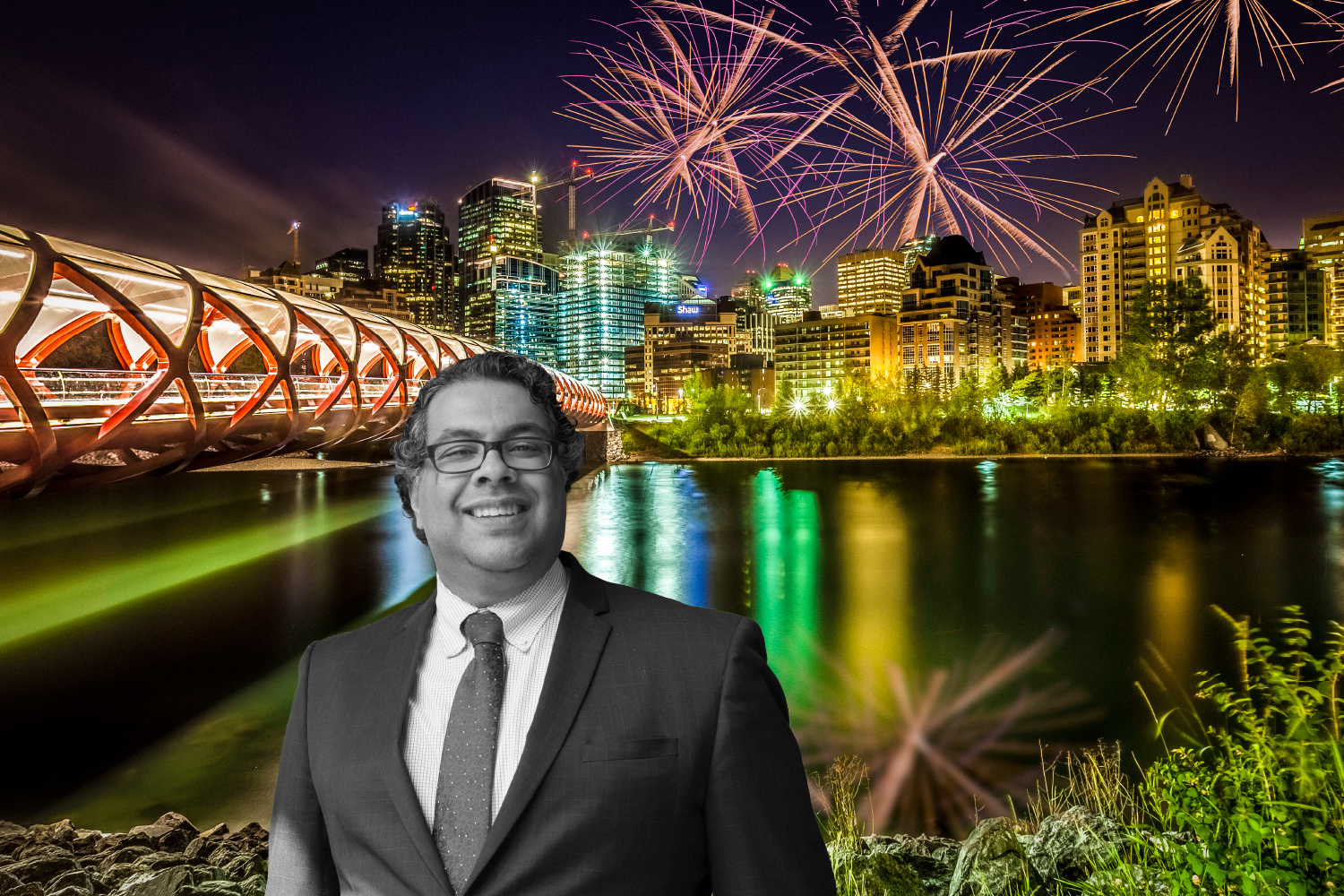 Courtesy Naheed Nenshi
March 05, 2021 | Mario Toneguzzi
Mayor one-on-one: Naheed Nenshi speaks with CREB®Now and reflects on the year
Mayor Naheed Nenshi is in his third term in office after winning the municipal election in October. Recently he spoke with CREB®Now about issues facing the city and what he sees moving forward in 2018. Here is an edited version of that conversation.
CREB®Now:
What were your highlights for 2017?
Nenshi:
It has been a crazy year from beginning this fragile economic recovery to what most would describe as a very unpleasant and divisive election to really getting some great early victories under our belt with the current city council. It's been a real year of ups and downs. I would say that there are many highlights. Opening a whole of bunch of new infrastructure this year. Four new interchanges. Securing the funding for the Green Line from all three orders of government which is going to be our largest public works project in history. And finally moving to a solution on secondary suites.
CREB®Now:
How much of a relief is it for you to have a resolution in this issue?
Nenshi:
I don't want to jinx this because there's still a bylaw to come to council at the beginning of 2018 and certainly councillors reserve the right to change their minds after public hearings. But if we're able to continue on the path we're on, this is a huge victory. Not for me. It's a huge victory for the tenants who can quietly know that the places they live are decent and legal. And that's what CREB® has been pushing for so many years and I'm just really, really happy we've gotten there.
CREB®Now:
What's it been like working with new members of council?
Nenshi:
It's terrific. We have 11 of us who are back and four who are brand new and I have to say the four who are brand new have brought a really great, refreshing vitality and fresh perspectives to the situations. We've had a council meeting almost every week, in fact every week, since the election and we've gotten a lot done. We've gotten a great early start and I think council is working together very, very well.
CREB®Now:?
What are your priorities for the housing and real estate industry?
Nenshi:
The first one is broadly continuing this economic recovery. It's still pretty fragile and while we've added tens of thousands of jobs in Calgary we need to continue to make sure we're growing the economy and particularly that we're attracting businesses to downtown Calgary. We have to continue that pace of economic development because ultimately that kind of core economic activity is what drives the housing, real estate market.
We're going to have to make a decision early in 2018 around what we generally call growth management which really is about how we're going to do our greenfield growth going forward and what parts of the city that growth is going to be found. And there's going to be some pretty tough debates on what sacrifices we're willing to make and what costs we're willing to incur to make sure that the development industry is healthy and we're getting development on the greenfields.
CREB®Now:?
How long before we can safely say Calgary's economy is out of the woods? Cenovus recently announced it was laying off 15 per cent of its workforce.
Nenshi:
There's certainly more good news than bad news these days. The Cenovus news... is striking because it's so uncommon in terms of the last few months. If that news had come out a year ago, it would have just been another drop in the bucket. But now there's more good news than bad. Calgary and Alberta are slated to lead the country in economic growth next year. Many of our indicators are starting to inch back towards 2014 levels but we're certainly not out of the woods yet.
CREB®Now:
Is a deal possible between the City and the Flames for a new arena?
Nenshi:
Of course a deal is possible. There are many, many permutations and deals that have worked in many cities that are absolutely possible. You've got to have willing parties on both sides and as I've said many times, the City's at the table and we're willing to look at any and all options.
CREB®Now:?
Do you have any New Year's resolutions?
Nenshi:
I'm going to try to get some more sleep and try to live a bit of a balanced life but continue to work hard to ensure that we are building that better economy and better community here.
Tagged: Calgary | Calgary City Council | Calgary Economy | Calgary Real Estate News | City Council | Economy | Feature | Mayor Naheed Nenshi
---
---
Connect With Us