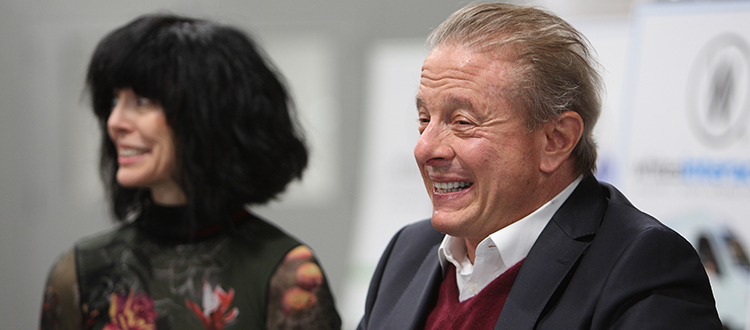 From left, Calgary Film Centre general manager Erin O'Connor and Paul Bronfman, CEO of William F. White International, which is the country's largest TV and film industry equipment provider and the centre's main tenant. Photo by Wil Andruschak/for CREB®Now
May 26, 2016 | Barb Livingstone
Driving diversity
Film centre represents just one example of efforts to transform local economy, say officials
Film production may be the world's glamour industry, but in Calgary it is shooting to become a new driver of Alberta's diversified economy.
Last week, the $28.2-million Calgary Film Centre opened in a Calgary southeast industrial park, about 20 minutes from downtown. The new facility includes three new sound stages spread across a total of 50,000 square feet and three multi-purpose workshop spaces offering an additional 15,000 square feet.
Calgary Economic Development president and CEO Mary Moran said the film and television industry is just one sector being focused on in attempt to diversify the local economy. CED predicts it could provide an annual $500-million injection into the economy in as little as five years, compared to its $175-million share today.
While it represents a relatively small slice of the $116-billion local economy, the ripple effect the film and television industry has on other critical areas such as tourism and the attraction of skilled labour, is important, she added.
"The key is innovation and we can be a centre of innovation."
Moran said investment in Calgary industry and infrastructure — such as the construction in the downtown East Village of the new $245-million Central Library and the $191-million National Music Centre — during a downturn, is critical. They give people additional reasons to want to stay in the city, and keeping a skilled labour force brings additional jobs.
"The key is innovation and we can be a centre of innovation," she said.
The centre is part of the 10-year strategy for the City of Calgary that will see more movement forward as a result of its success.
CED has identified key areas of diversification for the city in addition to film and television production that includes tourism, transportation and logistics, agribusiness, and renewable energy.
The film centre's opening follows "a thousand deaths along the way" during several decades of planning, noted Paul Bronfman, CEO of William F. White International, the country's largest TV and film industry equipment provider and the centre's main tenant.
William F. White has provided production support on Oscar-winning movies such as The Revenant and Spotlight, along with TV series Orphan Black.
Bronfman said the new facility's studios "are as good as any in the world. They are second to none."
Bronfman showcased film equipment to media at the centre's opening, some of it designed especially for Alberta topography (such as specialized vehicles that make it easier to film while chasing horses) that he described as "small studios on wheels."
Luke Azevedo, CED's commissioner for film, TV and creative industries, has worked on the film centre project for a decade, and said what started as a dream is no longer a "Unicorn," but is real and brings the culture industry in Alberta to a world-class stage.
The new development — which includes $10 million in funding from the City of Calgary, $5 million from the province and $1 million from William F. White — will allow year-round film production, unhampered by Calgary's unpredictable weather, all in one location.
At the centre's official opening, Mayor Naheed Nenshi, who recently went to Los Angeles along with senior members of the local film industry to tout Calgary as a film location, announced the first production to be filmed at the new facility will be Tin Star, a British western series. Another six film and TV projects are said to be looking at Calgary as a production site.
Bronfman – who is also CEO of ComWeb Group, which built and managed Canada's first Hollywood-style studio in Vancouver where the X-Files was filmed – said Calgary's film centre will be able to provide TV, movie and digital media production.
And, he added, it will ensure Calgary becomes known as more than just "the Wild West."
"This is the most under-utilized market in Canada," he said.
Calgary Film Centre general manager Erin O'Connor emphasized the facility's opening represents just phase one of the proposed development, with the 3.4-hectare site allowing for two future phases.
"The more we build, the more money will be brought into the economy."
Investment in the film industry will not only cultivate new local talent, but will also continue "purposeful diversification" of the local economy, said Azevedo.
Future discussions will include whether financial incentives to entice productions to Calgary should grow, and whether there will also be a focus on continued growth in the crew base and skills set of local members, he said.
Tagged: Calgary Economic Development | Calgary Film Centre | Calgary Real Estate | Calgary Real Estate News | City of Calgary | Economy | Economy | Mary Moran | Mayor Naheed Nenshi | tourism | YYCRE
---
---
Connect With Us