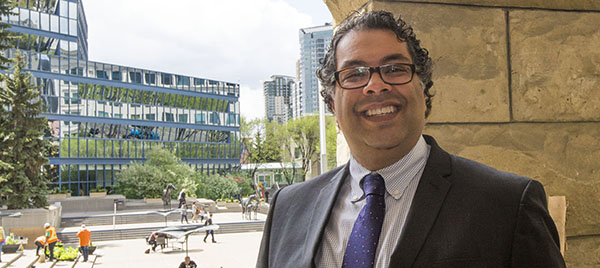 Calgary Mayor Naheed Nenshi hailed Calgarians for helping evacuees from the Fort McMurray fires this past year. CREB®Now photo
Dec. 21, 2016 | Jamie Zachary
Year-end sit down with Nenshi
CREB®Now
looks back on 2016 with Calgary mayor
CREB®Now
had the chance to sit down with Mayor Naheed Nenshi to get his birds-eye view on some of the city's most pressing issues over the past year, including who he believes is Calgary's hero for 2016. Here's what he had to say:
CREB®Now:
There has been a lot of discussion regarding the cost of doing business in this city, both in the core and the suburban areas. What is the city doing to minimize their burden in the current economic climate?
NENSHI:
The C.D Howe Institute just released a report that Calgary has the second lowest tax burden of any major city in Canada. That is a good place to be. We're having a very specific problem – that is, for a long time, our downtown market was so strong that people outside of downtown saw far lower taxes by comparison. Because downtown is having such a problem right now, people outside of the downtown, even though we've frozen the tax rate, may see a significant increase in their taxes this coming year ... So council had set aside $15 million to help those small businesses that have been struggling. The good news is we squirreled away some money during good times precisely in order for us to be able to help during these tougher times.
CREB®Now:
Where do you think Calgary's economy has an opportunity to diversify?
NENSHI:
We've been diversifying for a long time without anyone noticing. When I graduated from university in 1993, oil and gas was 50 per cent of Calgary's economy. Before the downturn in 2014, it was down to 30 per cent. Now 30 per cent is still pretty big, and we've certainly felt a rollercoaster these last couple years where we've gone from the lowest unemployment rate in the country to the highest. That said, we do have an economic development strategy that is looking at a number of industries where we already have strength for us to grow. Those include clean tech, transportation and logistics, agri-business, travel and tourism and the creative industries, including the opening of the new film studio this year.
CREB®Now:
What is stopping city council from moving forward with secondary suites being accepted in all communities of Calgary?
NENSHI:
As you know, this is my perpetual irritation. I've managed to accomplish everything I've promised I'd do in 2010 except for that. It is frustrating because every single opinion poll shows the vast majority of Calgarians are in favour of my position on this matter – that council should not have to debate every single secondary suite application in an R1 area. We've had something like 34 votes on reforming the secondary suite process. They generally fail 8-7 ... Going into the 2017 election, this is a particularly good time to tell your councillor that they have to
solve this problem.
CREB®Now:
How do you feel that high-profile topics from 2016 like bike lanes and ride-sharing speak to a city that is growing and evolving?
NENSHI:
The world is changing and the city is changing. We've very clearly built a city that is focused on the private ownership of the automobile. And we built a city where many families require two or three cars just to get around their daily lives. But the built form of the city is changing, and what people desire is also changing. Car2go, for example: Calgary is their most successful market in North America because people are willing to embrace something new ... If we can make it so that families can get by with one car instead of two or three, that saves them tens of thousands of dollars. We have to try to figure out the right ways to do this.
CREB®Now:
Who is Calgary's hero for 2016?
NENSHI:
The biggest issue our community faced this year was the response to the fires in Fort McMurray. So instead of one hero, I'm going to say all of the volunteers who both went to Fort McMurray to fight that fire and rebuild, as well as those who looked after the people who were evacuated here in Calgary ... We showed the world that in the face of crisis, we look after each other.
Tagged: bike lanes | Calgary | Calgary Film Centre | Calgary Real Estate | Calgary Real Estate News | Car2Go Calgary | City Council | City Council | City of Calgary | Energy | Fort McMurray | Mayor Naheed Nenshi | ride sharing | Secondary Suites | uber | YYCRE
---
---
Connect With Us