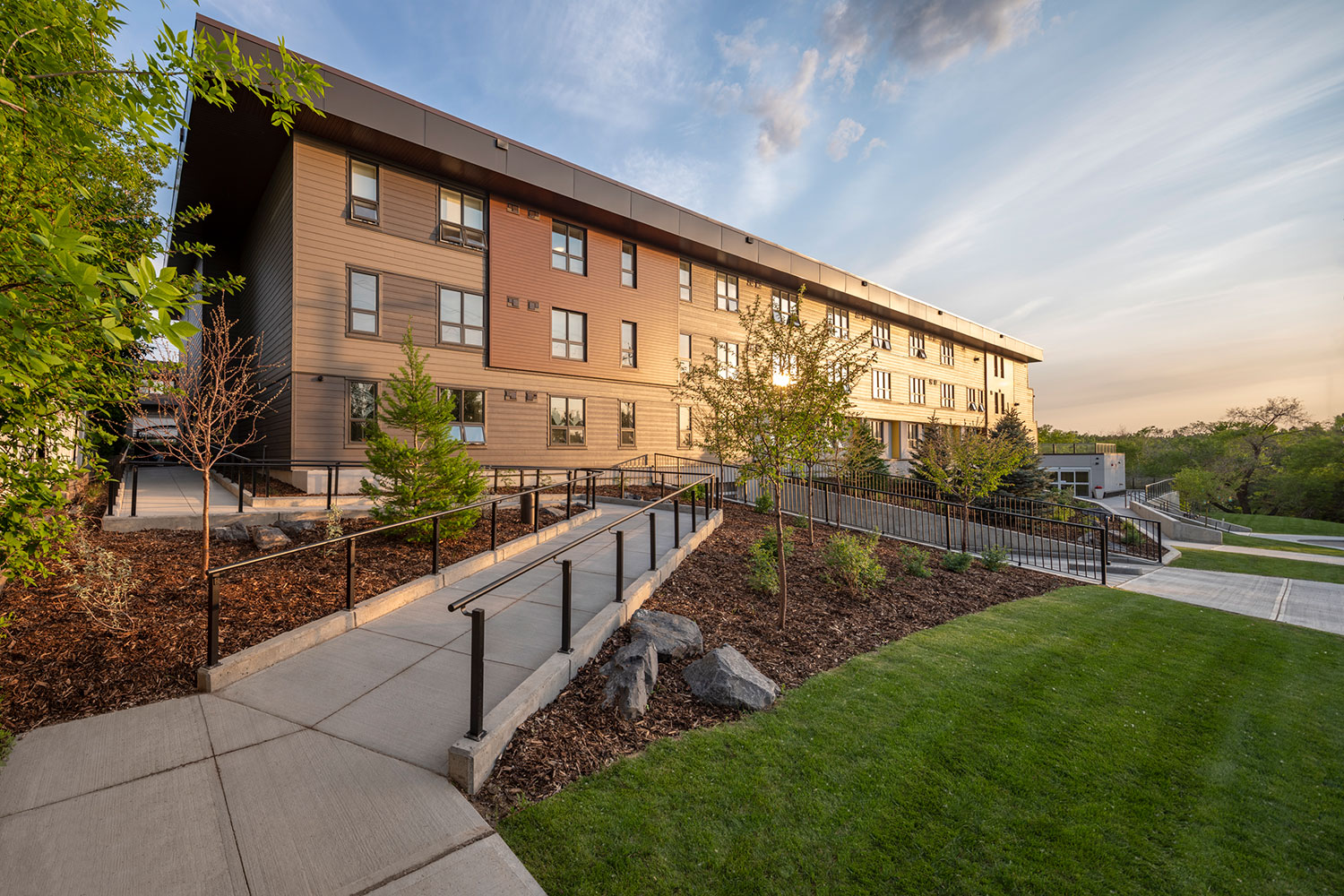 Courtesy Accessible Housing
Feb. 28, 2020 | Natalie Noble
Universal Design creates accessible and inclusive communities
Calgarians are seeing the value of universally designed spaces and inclusive communities. In fact, those close to the issue say that is the key – recognizing that intentional accessibility built in at the initial design phase is the most economical, adaptable and seamlessly integrated approach, rather than including it as an afterthought.
"Often accessibility is neglected when architects and builders strictly build according to code," said Darby Lee Young, founder and principal accessibility strategist with Level Playing Field, a Canadian accessibility consulting agency.
"If project teams are willing to go above code and engage with stakeholders who will guide them on how to create inclusive spaces, then accessible best practices can be implemented."
Following Universal Design, adaptable homes are ready for any mobility changes a family might experience, while also benefiting broader society. "We would like to encourage Universal Design within the realm of home developers as well, to continue pushing residential accessibility forward," said Young.
"Accessibility doesn't have to be thought of as expensive." - Stacey Stilling, Accessible Housing
Local non-profit organization Accessible Housing is paving the way with
Inclusio
, their 45-unit accessible housing development in Capitol Hill that has inspired discussion and international attention.
"We took the time to be thoughtful and intentional around the planning right from the start to really incorporate design features into the space and make it as usable as possible for everyone," said Stacey Stilling, executive director with Accessible Housing.
"Accessibility doesn't have to be thought of as expensive."
Despite their mobility challenges, Inclusio's residents value independence. The development's Universal Design features that support self-sufficiency include wide hallways and entry doors (with automatic opener capability) for each suite, adjustable furnishings (such as height-adjustable dining room tables and kitchen counters), pressure-touch drawers and level surface access throughout the building.
Non-slip, non-reflective, resilient flooring keeps residents safe inside, while a heated main ramp ensures unimpeded mobility outside. With the design basics handled, technology such as app- or voice-operated window blinds goes the extra mile.


To the south, Westman Village is also raising the bar for inclusive living. "Jayman controlled all aspects of Westman Village and had accessibility and Universal Design top of mind from the outset," said Wallace Chow, executive vice-president with Jayman BUILT Multi-Family.

Fully integrated into its surrounding lakefront boardwalk, park system and pathways, Westman Village's buildings and public spaces are accessible to community residents and the general public, with ramps and raised crosswalks for any wheeled personal mobility aids.

The community's 55-plus Odyssey development and senior care Journey Club, offer aging in place features, including wider hallways and suite doors, offset hinges, lowered light switches, wheelchair-accessible vanities, accessible shower thresholds, towel bars that serve as fully functional grab bars, and non-slip flooring throughout.

"All the buildings are designed with 'zero access' entries, meaning there are no steps leading from the street to the main building entry," said Chow.

"We very consciously graded all streets and sidewalks, so they remained level with the doors. We want to make accessibility so transparent and seamless you don't even notice it. We even took that idea to our main retail street."

Tagged: accessibility | accessible housing | Calgary | Calgary Real Estate | Calgary Real Estate News | Calgary Real Estate News | Feature | harmony | Housing Market | Inclusio | jayman built | Level Playing Field | multi-family | New Communities | New Communities | universal design | Westman Village
---
---
Connect With Us