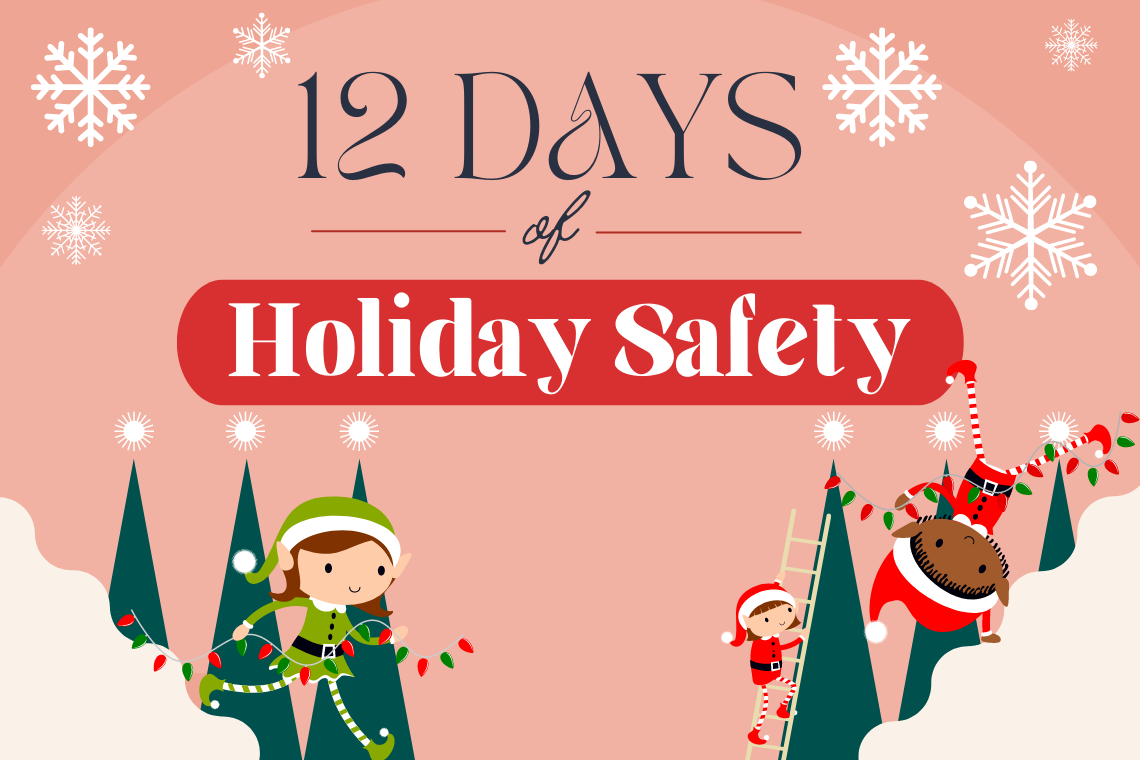 12 Days of Holiday Safety
Dec. 02, 2022 | CREB
The 12 days of holiday home safety
Don't let mishaps around the house turn you into a Grinch this holiday season! Follow these easy tips to keep your family and home safe and merry all winter long.
1. Double check detectors


Do you hear what I hear? Make sure you have a working carbon monoxide detector, smoke alarm, fire extinguisher and first aid kit handy at all times.

2. Don't leave open flames unattended


As you light those candy cane scented candles, make sure they are never left lit unattended. If you have young children or pets, consider battery-operated candles instead of traditional candles.

3. Light your tree safely


Traditional incandescent Christmas lights can get hot and create a potential fire hazard. When buying a real tree, check that it is fresh and water it daily. If buying an artificial tree, make sure that it is flame resistant.

4. Check light strings and cords


The holidays should be merry and bright but make sure you throw out any light strings and extension cords that are frayed or have exposed wires, loose connections, or broken sockets. Never run electrical cords through doorways or under carpets as they are a tripping hazard.

5. Watch out for dangerous items


Kids do the darndest things, especially if you add the excitement of the holidays. Avoid putting candles, metal hooks and breakable or small decorations within reach of young children and pets.

6. Deck the halls safely


When the temperature drops outside, we turn up the heat inside. Make sure to keep trees and flammable decorations away from fireplaces, radiators and other heat sources.

7. Place poisonous plants and decorations out of reach


There's nothing that gets you in the holiday spirit like a festive wreath, mistletoe, holly or a beautiful poinsettia, but they can be toxic! Make sure any poisonous plants and decorations are out of reach of your pets and children.

8. Ensure trees and ladders are stable


Snow is the only thing that should be falling this winter. If you have a tree, double check that it has a stable platform to keep it upright. The same goes with ladders – always make sure you have someone holding the ladder while in use.

9. Keep an eye on pets


The holidays bring extra risks to pets as they love to get their paws into everything. Accidental ingestion of chocolates, poisonous food and plants increases this time of year, so it's important to keep a close eye on your furry friends.

10. Prevent porch pirates


Holiday shopping includes online shopping. But, each year, millions have packages stolen from their homes — usually right from their front porch. Consider options such as porch cameras or providing detailed delivery instructions with a safe location.

11. Ensure your house is safe while away


Heading out of town for the holidays? Hold off on sharing your absence on social media until after your return. This could be an unintentional invitation for thieves. Make sure to leave a light or two on a timer and have someone come check on your house regularly to ensure everything is in proper order.

12. Clear your walkways


The weather outside can be frightful! If you get snow and ice, stock up on salt and shovels. Keeping the areas around your house walkable helps prevent slip-and-fall injuries.
Best wishes for a safe and happy holiday season!
Tagged: holidays | holiday decorating | Safety
---
---
Connect With Us