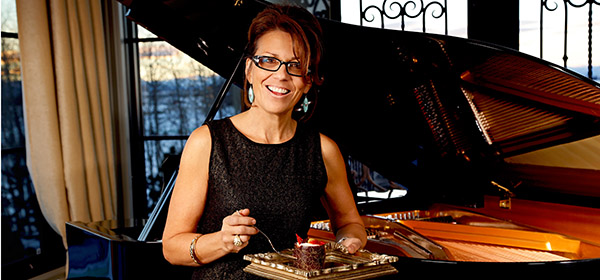 Dec. 22, 2015 | Deborah Harrison
'Twas the week before Christmas...
Setting the table for a perfect soirée
There is not a week more beautiful than the one before Christmas – despite the craziness of decorating the home, last-minute shopping, attending kid's concerts and, most importantly, planning holiday soirées.
The coming days will call for equal parts of cosy warmth, pops of posh, tasty appies and sparkling embellishments – whether to be hung on a tree or drank from a glass. All that sparkles matters at this time of year.
Try to keep it simple when planning your parties. You should enjoy preparing for it as much as being present at it.
Begin by creating the atmosphere, selecting a casual or formal setting. Try a moveable feast for ease – a cocktail supper converging with a cocktail hour. No matter how much room you have, a cocktail supper is an easy solution for hosting a dinner party. Abandon the sit-down meal by setting up stations of easy-to-eat dishes and signature drinks. Just some food for thought!
When creating your guest list, remember if you don't have a crowd that's the right mix, the party just falls flat like a soufflé.
Dress your table the way you might dress yourself for a fabulous festive party. Use brief thrills of jewel tone colours such as scarlet, gold and sapphire. The rooms are already populated with furniture; it's the seasonal bits and baubles that help create the Christmas ambience.
I like to design tablescapes, starting by pulling out my favourite vintage dishes, precious cake plates, metal trays and crystal vases. Here's a tip: place a plastic container or box upside down under a pressed tablecloth to create different heights to give your tablescape special points of interest.
Now for the eye candy: arrange squares and dainties directly on mirrors with elegant gold and silver frames. It's also important to low light your rooms; twinkle lights and lit candles give a glamorous illusion. Some might call it a little smoke and mirrors.
Choose a festive accent colour that flows between rooms. Fresh floral arrangements – such as ruby red roses with handsome branches of fir, aromatic cedar loosely designed to create centerpieces with presence and ease – can become a banquet for the senses an exclamation mark throughout the home. Or randomly toss flower petals all about, allowing them to land on the food here and there. Did you know rose petals are edible?
For a splash of colour in the wine glasses, adds some cranberries to flirt with the red color palette.
And don't forget the bouquet in the powder room – an unexpected Christmassy surprise for your guests.
Lastly, it's OK to rearrange your furniture to suit these gatherings, helping to promote mingling; store excess pieces in a bedroom to create more entertaining space. You might even like the new minimalist feeling and want to live with it after the holidays.
In essence, you're getting your house ready to welcome family and friends – to create memories by surrounding yourself with the people you love. No matter what decorating or entertaining style you have – whether party dresses or jeans – make your home fabulously guest worthy,
What I know to be true is Christmas is a blessed season – a state of mind that engages the whole world in a conspiracy of love, try and make it last the whole year through.
To all my readers, a very merry Christmas!
Deborah Harrison designer with Inside out Design please send your thought, questions and inspirations to soulifydesign@gmail.com.
Tagged: Christmas | Deborah Harrison | Design | Guest Column | holidays | interior design | YYCRE
---
---
Connect With Us