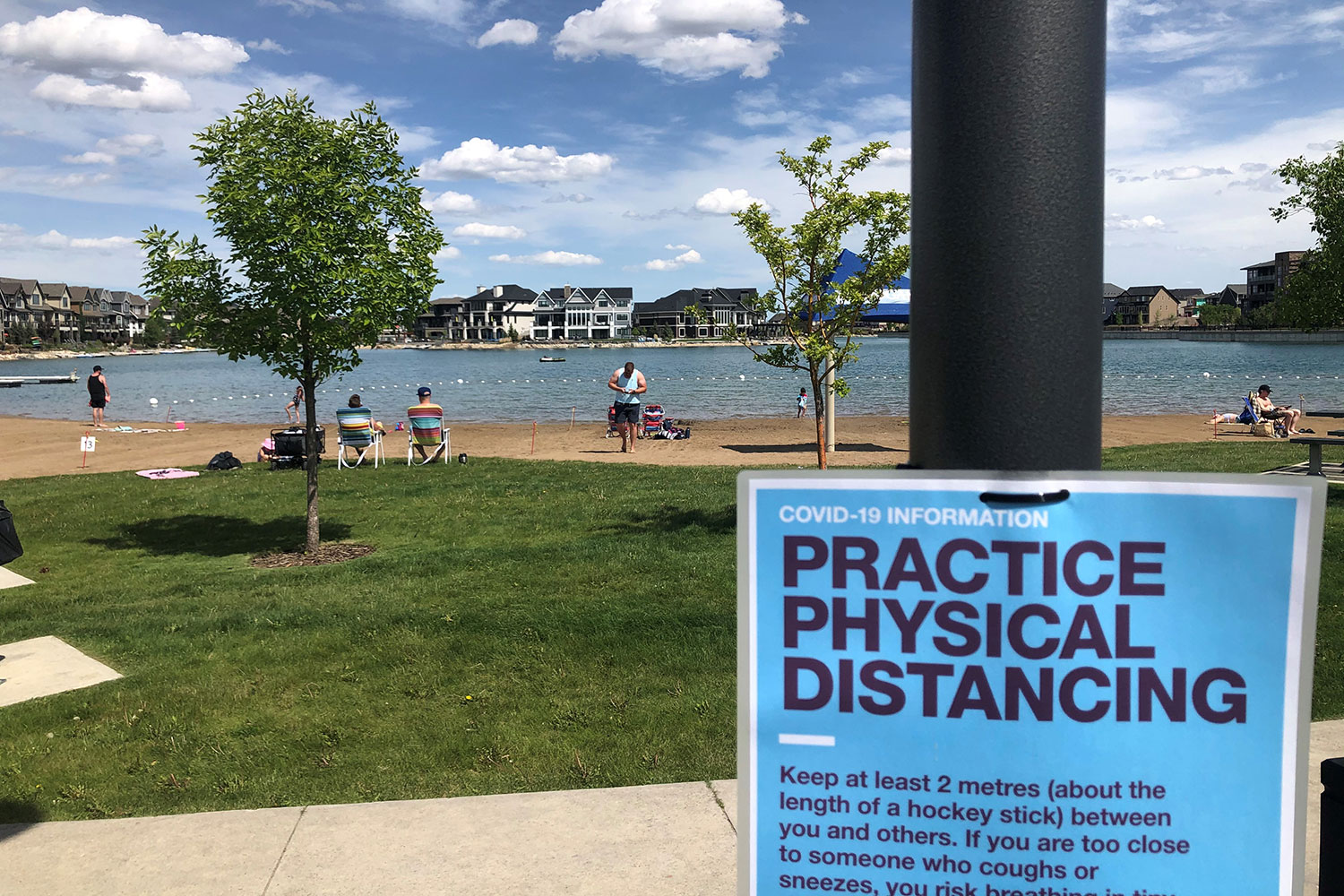 Courtesy of Mahogany Homeowners Association
June 22, 2020 | Barb Livingstone
Calgary's lake communities balance summer fun and safety as Alberta's COVID-19 relaunch continues
Get outside but practise physical distancing. Interact with nature but don't travel.
As Calgarians get used to the rules for weathering the COVID-19 pandemic, the city's lake communities are making sure residents can safely enjoy their abundance of unique water amenities.
"People have been told to stay home, keep healthy, but not travel – and in your backyard is a lake and its parks – so we needed to get it open," said Sally Lockhart, general manager of the Mahogany Homeowners Association (HOA).
Lake walking trails never closed, and Mahogany's lake and beaches opened May 23 with stringent safety protocols designed in conjunction with Alberta Health Services (AHS).
As Calgary's largest lake community, where 13,000 residents have access to the 25.5-hectare lake, Mahogany's online registration system ensures all members (no outside guests allowed) seeking access to beaches and amenities like tennis courts are accommodated.
Only one gate (out of 10 total) is open per beach to allow for accurate visitor tracking. To ensure physical distancing is maintained, residents can book a roped-off, 24' x 50' beach spot for a three-hour period (three sessions/day) with three cohort families (up to 15 residents) allowed per space.
"We would hate to ever get our lake closed – that's why people moved here." - Mike Mikkelson, Lake Bonavista Homeowners Association president
Lockhart says this ensures 3,000 residents per day can use the beaches, about the same number as before the pandemic.
Members bring their own equipment (tennis rackets, balls, life jackets, etc.) and no food is allowed (barbecues aren't available) except snacks for children.
Playgrounds and washrooms, which are cleaned every half hour, are open, and table seats, poles and shades are disinfected after each beach session. Rental space in the 25,000-square-foot club facility could also become available (following AHS restrictions) in several weeks for residents only.
Mike Mikkelson, Lake Bonavista Homeowners Association president, says his community's lake walking areas also never closed, with residents seeking safe outdoor exercise limited to the trails.
The Lake Bonavista HOA board has closely followed provincial health guidelines to ensure they can keep the lake open for residents. "We would hate to ever get our lake closed – that's why people moved here," said Mikkelson.
Entry is limited to the north gate and amenities are now 95 per cent open to residents. However, rental equipment (boats, lifejackets, etc.) is not available.
Outdoor fitness equipment, tennis and pickleball courts, and volleyball and hockey nets are open, but use is mainly restricted to members of the same household.
Residents must set up their towels and chairs on the expansive grassy areas around the beach, to ensure physical distancing can be maintained on the sand and lake. Outside guests – who have represented up to half of beachgoers in past years – aren't permitted.
COVID-19 safety guidelines are displayed on signs posted throughout Lake Bonavista, with additional updates appearing regularly on the HOA's website and Facebook page.
Tagged: beach | Calgary Real Estate News | Coronavirus | COVID-19 | COVID-19 | Feature | HOA | Homeowners | homeowners association | lake | Lake Bonaventure | Lake Bonavista | Lake communities | Mahogany | Mahogany Lake | physical distancing | Safety | water
---
---
Connect With Us