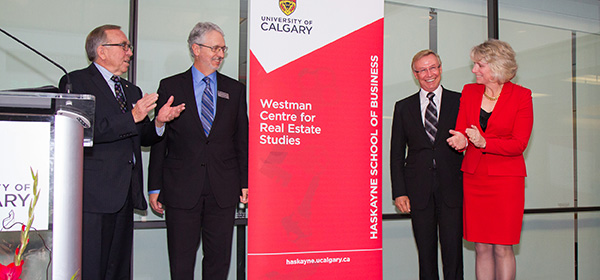 Nov. 27, 2013 | CREBNow
University of Calgary to Create Real Estate Studies Centre
The University of Calgary's Haskayne School of Business has announced a monetary donation that will allow them to create the Westman Centre for Real Estate Studies.
Jay Westman, Chairman and CEO of Jayman MasterBUILT made a $5 million commitment which will be used to advance real estate studies at the University of Calgary. "The gift supports the University of Calgary's Eyes High vision and we thank Jay Westman for his friendship and generosity," said Elizabeth Cannon, president of the University of Calgary.
Westman co-founded Jayman MasterBUILT with his late father in 1979; the company operates in Calgary and Edmonton, and builds about 1,000 homes per year. The company has taken the title of "Builder of the Year" eight times in Calgary.
Westman is currently a member of Haskayne's Management Advisory Council, and a member of the school's Real Estate Advisory Council.
"The real estate and development industry has had a strong hand in shaping this community and in building Calgary's reputation as one of Canada's most entrepreneurial cities," said Westman. "The industry has really come of age here. I am committed to its ongoing strength through the development of responsible business leaders, and I believe the Haskayne School of Business is the place to make that happen."
The Westman Centre for Real Estate Studies will offer academic and research programs, and serve as an industry resource through its community outreach activities. Benefits for the students will include case studies and course work pertaining to the real estate industry; this includes all aspects such as building, public policy, finance, development and marketing.
"Our school values innovation, entrepreneurship and leadership, so we are delighted to partner with an innovative industry leader such as Jay," said Haskayne School of Business Dean Jim Dewald. "Our vision is that the Westman Centre for Real Estate Studies will support educational programming, academic research and community integration at the Haskayne School with a goal of becoming the best in class business school in Canada for real estate education. This transformational gift will help take us there."
The donation will support the school's aim to offer a full, undergraduate concentration in real estate. The goal is to be able to offer an MBA specialization within the next two years.
The impact of the Westman Centre for Real Estate Studies will allow the centre to develop future leaders for the real estate industry, which is an important industry for Calgary and Alberta.
Tagged: Calgary Real Estate | Calgary Real Estate News | Jay Westman | Jayman MasterBUILT | University of Calgary
---
---
Connect With Us