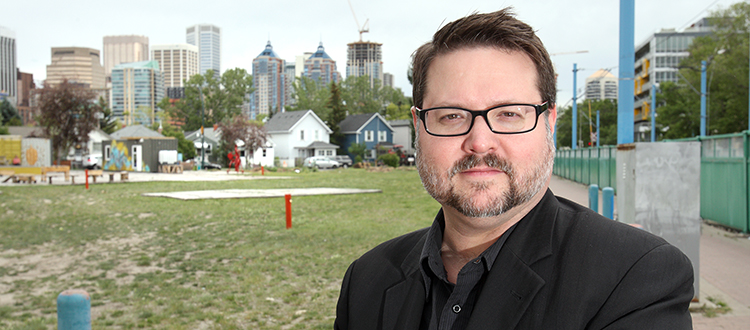 The rise of ride-sharing could also affect public transit ridership in Calgary, said Greg Morrow, the Richard Parker Professor in Metropolitan Growth and Change at the University of Calgary. Photo by Wil Andruschak/For CREB®Now
Nov. 19, 2016 | Cailynn Klingbeil
The ride-sharing revolution
Uber's impact already being felt in community development, say local officials
While ride-sharing giant Uber has yet to re-enter the Calgary market – a move that could come before the end of the month, and dependent on city council approval of amendments to the ride-share bylaw – the company's influence is already being felt locally, and not just within the transportation industry.
The rise of ride-sharing businesses are causing planners, developers, builders and city officials to rethink how cities are designed. From developers designing neighbourhoods that emphasize walkability to entrepreneurs imagining alternative uses for parking garages, the possibilities are plentiful, said Chris Blaschuk, manager of the transportation strategy division in the City of Calgary's transportation planning department.
"This is probably just as transformational as when we went from horse and buggy to car," he said.
Yet Blaschuk also cautions it's still early days for both ride-sharing services and self-driving cars.
"There are a lot of unknowns, which can make it challenging to plan for these things," he said.
"We're trying to be progressive and plan for a different future."
The city's first parking-free condo project, N3, was approved unanimously by council in 2015. In June, Blaschuk's department received direction from council to look into building more adaptable parkades that can be repurposed.
"We're trying to be progressive and plan for a different future," he said.
Blaschuk also points to the recent review of a parking strategy for downtown and the City's decision not to build any new parkades centrally, with the exception of in the East Village.
"This gives industry the flexibility to adjust the amount of parking in new buildings as the technology evolves and demand changes," he said.
CHBA – UDI Calgary Region spokeswoman Sophie Gowsell said whether Calgarians want to own a car, use Car2Go, bike, walk or ride-share, builders in the city have something for everyone. Most of the new communities being built in Calgary are complete communities, she said, with the goal of inspiring residents to work, live and play in their neighbourhood.
At Dream Development in Calgary, planning and development manager Josh White said factors such as ride-sharing services, as well as other demographic trends, are leading staff to think differently.
"We've been thinking very intentionally about how that might affect how we should actually design and build out our communities," he said.
Dream Development is currently in the design stage of Providence in southwest Calgary, in which such considerations are "actively in our minds," White said. The community is set to focus heavily on walkable amenities, including places nearby where people can work, shop, and be social.
White said Dream Development is also looking at creating streetscapes that are not dominated by large garages and driveways.
"We anticipate a future where car storage will become less relevant," he said, noting, instead, the company is considering building houses with garages that can transition to other uses.
Dream Development is also looking even further into the future. For example, if Uber fleets in Calgary will one day become a reality, White predicts uninterrupted drop-off and pick-up areas along curbsides will become more important than large parking facilities.
"If there's going to be reduced car ownership and more ride-sharing services, will those ride-sharing services be autonomous? How does that manifest itself into community design? he asked.
The rise of ride-sharing could also affect public transit ridership in Calgary, said Greg Morrow, the Richard Parker Professor in Metropolitan Growth and Change at the University of Calgary.
"We've got to starting thinking about how car sharing and ride sharing and self-driving cars work with public transportation, not as a replacement for it," he said. "I think that it can actually drive ridership, to the extent that we look at the first and last mile problem."
Public transit's "first mile" and "last mile" problem refers to the difficulty some riders have in getting from their home to public transit, and from public transit to their destination.
"Would more people take public transit if they had a convenient way, using ride-sharing, to get there?" Morrow asked.
Morrow also anticipates the rise of ride-sharing will lead to a reduction in the space set aside for storing cars. After all, cars are not used and sit parked 95 per cent of the time, he said.
"I think that's probably a good thing. We can put that land to more productive use and build others things, like housing," said Morrow.
Tagged: Calgary Real Estate | Calgary Real Estate News | chba-udi | City of Calgary | communities | dream development | greg morrow | home developer | homebuilder | Housing Market | neighbourhood | ride sharing | Transportation | uber | University of Calgary | YYCRE
---
---
Connect With Us