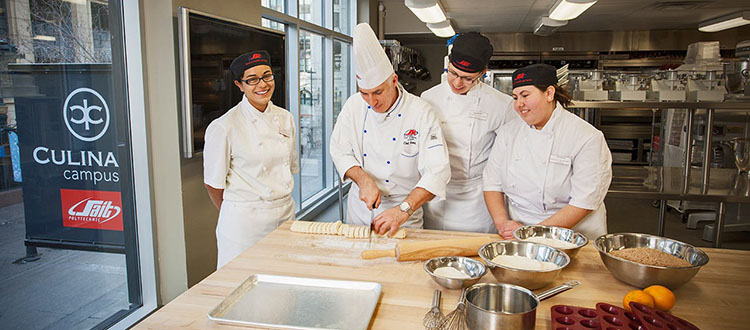 SAIT's culinary campus will be among 50 sites participating in this years Doors Open Calgary event. CREB®Now file photo
Sept. 15, 2016 | Kathleen Renne
By YYC, for YYC
Fifth annual Doors Open Calgary event returns Sept. 24
Being a tourist in your own town: That's how Alyssa Berry describes Doors Open Calgary.
"You get to re-discover, or newly learn, parts of the city you may pass by but don't know anything about," said the president of this year's citywide event, taking place Saturday Sept. 24.

The fifth annual celebration, which is expected to attract upwards of 8,000 curious Calgarians, will again have a variety of Calgary buildings and businesses – many of which are not typically accessible to the public – opening their doors to Calgarians via everything from self-guided tours to actual demonstrations.
"The entire concept of Doors Open Calgary is to engage the community and help residents learn about the behind-the-scenes of what actually makes their city work," said Berry.
Doors Open Calgary started in 2012 as a Cultural Capital of Canada initiative (Calgary was awarded this designation in 2012). Doors-open events actually started around the turn of the millennium in Europe and, since, have spread worldwide.
Unlike many other municipalities, the City of Calgary does not head up the local version. Instead, an independent not-for-profit, which is entirely volunteer run, stages the annual event.
Marking Doors Open Calgary's fifth anniversary will be a record number of participating venues – a total of 50 – across all quadrants of the city.
"No matter where you live in Calgary, there'll be something nearby. Furthermore, all sites are transit accessible," said Berry, adding the aim is to open as many doors to as many people as possible.
"In this economy, we're really proud we can still have this event and that it's still free."
Berry noted admission to Doors Open Calgary is also free.
"In this economy, we're really proud we can still have this event and that it's still free," she said.
New to this year's lineup are the Calgary Food Bank, Corus Entertainment and Ecco Recycling & Energy Centre.
"People may donate to the food bank, but now they'll be able to see behind the scenes what happens after they donate," said Berry.
The City of Calgary is back as a major partner, featuring locations such as the Shephard Waste Management Facility.
The University of Calgary is also opening up five sites this year, including The Gauntlet newsroom, where Calgairans can get an idea of what goes into publishing the University of Calgary's weekly student newspaper, and the CJSW Radio studio.
Berry anticipates one of Doors Open Calgary's most popular stops will be Fiasco Gelato, where attendees can watch chefs making gelato and sample the freshly made product.
Keeping with the food theme, SAIT will open the doors to its culinary campus where, this year, people can watch a cooking demonstration on vegetable pakora. There's even something for younger visitors, who will be able to entertain themselves at a cookie-decorating station.
Other stops include film-and-television scenery wizards F&D Scene Changes, Southern Alberta Pioneers Memorial Building, Assumption Ukrainian Catholic Church and Lougheed House, which will offer access to the otherwise-restricted upstairs floor.
"There is a huge cross section of buildings," said Berry. "Whatever your interests – architecture, arts, history, religion, sports, the outdoors – there'll be something for you to see," said Berry.
Doors Open Calgary runs Saturday, Sept. 24, 10 a.m. to 4 p.m. For a complete list of participating sites, visit
www.doorsopenyyc.org
.
Tagged: around town | Calgary Real Estate | Calgary Real Estate News | City of Calgary | clagayr food bank | Doors Open | Doors Open YYC | ecco recycling and energy centre | Fiasco Gelato | SAIT | shephard waste | Uncategorized | University of Calgary | YYCRE
---
---
Connect With Us