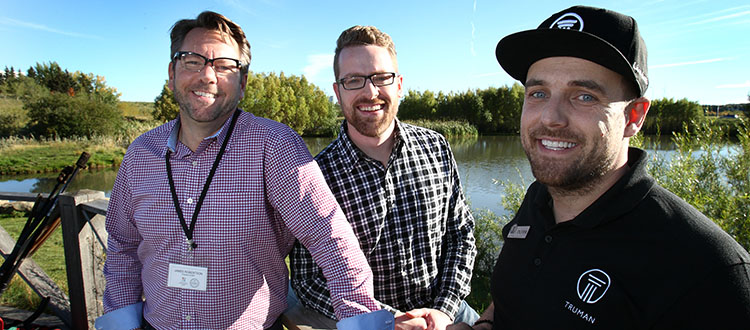 From left, James Robertson, president and and CEO of West Campus Development Trust; Ryan Moon, director of business development for Brookfield Properties; and Oliver Trutina, vice-president of Truman Homes. Photo by Wil Andruschak/for CREB®Now
Sept. 15, 2016 | Barb Livingstone
Event horizon
University District touted as 'once-in-a-lifetime opportunity'
It is the urban employment hub of northwest Calgary. And now, with a projected influx of 6,000 new residences over the next 15 years, the new University District community is slated to become the quadrant's residential core.
The first two housing developments just launched in the District — Ivy by Brookfield Residential and Noble by Truman Homes — will be uniquely positioned in the 81-hectare project between two hospitals (Foothills Medical Centre and Alberta Children's Hospital) and the University of Calgary, for potential buyers.
"There has been significant interest in the surrounding population, with people looking to downsize," said James Robertson, president and CEO of the West Campus Development Trust, adding communities around the development have been extremely supportive of the District vision.
And, with 20,000 to 30,000 people already employed in the area, he said the new neighbourhood will have the advantage of buyers who want to live closer to their work.
"We have seen that already in other areas like Quarry Park and Seton," said Robertson.
The West Campus Development Trust was created by the University of Calgary to develop the lands west of the campus and north and south of Children's Hospital, in a public-private partnership. Profits will go back to support future university initiatives.
University District will only offer multi-family housing — "there are a lot of single family options already around it" said Robertson — with the master-plan vision to develop a walkable community connecting homes with public spaces and services.
In fact, Robertson said conversations are underway that could lead, in early 2017, to an announcement of a grocery store, hotel and main street retail for the community.
The project will not only have amenities and services within. It will also link into the considerable recreational (including Olympic facilities, gyms, pools), cultural and community amenities afforded by its location adjacent to the university.
University District – whose lands have views of mountains, the Bow Valley Corridor and Canada Olympic Park – has already earned LEED (Leadership in Energy and Environmental Design) platinum certification — the largest residential development in Canada to do so. LEED awarded the district its highest designation for excellence in location, design and green building.
The work-live community design includes protection of wetlands and habitat, and recreational spaces that connect to transit (including LRT), as well as bike and pedestrian paths.
The first two housing projects reflect the District's intention to attract people at all life-stages. Both developments have already seen considerable interest even prior to this month's start of pre-sale reservations, said Robertson.
Truman's Ivy includes 100 apartment-style condos, starting from $259,000, and ranging from 549 to 818 square feet, across two four-storey buildings.
And in what Truman vice-president Oliver Trutina said is a first for Calgary, there will be the option of "Sky Towns" on the third and four floors of the condo building. They will range from 1,109 to 1,602 square feet, and are a smaller version of Noble's brownstone offerings.
The 36 executive two-storey brownstone townhomes will start at $590,000, and range in size up to about 2,500 square feet. Each will have two underground parking stalls and a rooftop garden.
Trutina described being part of the University District as a, "once-in-a-lifetime opportunity. This is the last and biggest infill property in the city — where you don't have to build roads and the amenities are already in place."
Brookfield's Ivy will have 131 three-storey townhomes ranging in size from 1,343 to 1,857 square feet. Prices will start at $500,000, though Brookfield business development director Ryan Moon said there will be a select number of homes in the lower square footage for under $500,000.
"A community like this, in a location like this, has not existed before," said Moon. "And it is more than just the location — it's the vision for a connected, sustainable, inner-city community."
Tagged: Brookfield Residential | Calgary Development | Calgary Real Estate | Calgary Real Estate News | high density | multi-family | neighbourhood | new community | Truman Homes | Uncategorized | university district | University of Calgary | walkability | YYCRE
---
---
Connect With Us