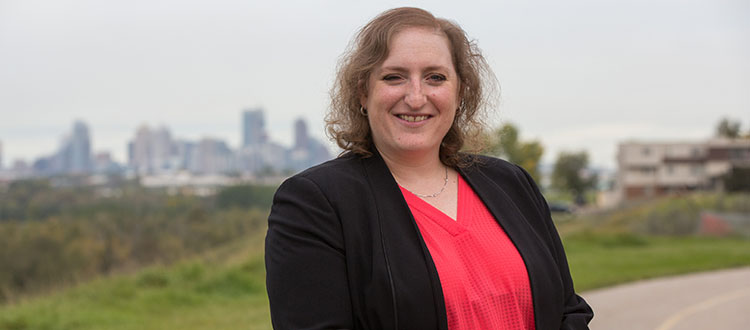 CREB® chief economist Ann-Marie Lurrie said the price of homes in Calgary's sandwich communities is predicated primarly on land value. Photo by Adrian Shellard/For CREB®Now
Sept. 07, 2016 | Joel Schlesinger
Stuck in the middle
Calgary's aging sandwich communities seek their place in shifting housing landscape
What's old is new again. It's an apt description of homebuyers' newfound interest in Calgary's sandwich communities – those not-quite-inner-city neighbourhoods that long outgrown their suburban roots.
Built along what was then the city's outskirts starting in the late 1950s, these detached-heavy communities such as Thorncliffe, Huntington Hills, Ogden, Winston Heights, Albert Park, Fairview and Kingsland represented optimism and prosperity synonymous with the post-Second World War era.
Fast-forward several generations later and upwardly mobile generation-Xers and millennials are returning to their birth places, attracted by location, ample amenities and familiarity.
"In Calgary, we refer to these sandwich communities as the middle ring because it really is a ring around the city," said Bev Sandalack, associate dean of landscape and planning and professor at the University of Calgary's Faculty of Environmental Design.
"What has happened is people started rediscovering that they could be a lot closer to the inner city and that urbanity is good and has a lot to offer."
there's a big NIMBY undercurrent where people are sometimes ... reluctant to accept higher-density housing in their neighbourhoods."
Yet as the city has grown up around these so-called hidden gems, many have struggled to find their respective identities – especially when it has come to redevelopment.
"For example, there's a big NIMBY undercurrent where people are sometimes ... reluctant to accept higher-density housing in their neighbourhoods," said Sandalack.
Sandalack, who recently co-authored a study on the subject, said she's seeing more cases of existing residents in these sandwich communities feeling caught between two seemingly opposing concerns. The first is with newcomers coming in and tearing down character bungalows in favour of mighty modern-day structures.
According to CREB®, detached homes in many of these sandwich communities generally sell for upward $650,000. That's roughly $200,000 more than the benchmark price for similar homes situated farther out from the city centre, noted CREB® chief economist Ann-Marie Lurie.
"Most aren't necessarily valued on the price of the home," she said, adding pricing can vary depending on the neighbourhood. "Their price is based on land value."
While higher housing prices are good news for existing residents when it comes time to sell, it presents challenges for communities when it comes to affordability and diversity, said Federation of Calgary Communities (FCC) executive director Leslie Evans.
"The City's municipal development plan (MDP) talks about diversity of housing. And in redevelopment, we should be seeing densification," she said.
"But in those bungalow communities that are being redeveloped, we're seeing only high-end building and that is not consistent with the MDP."
On the flip side, the second competing concern Sandalack sees from sandwich community residents is centred around plans to increase densification, affordability and diversity – high-rises that obstruct views and create traffic headached.
Yet instead of focusing on high-rise developments that opponents argue will ruin their neighbourhoods' character, Sandalack encourages other options such as small-scale multi-family dwellings (i.e. duplexes and triplexes) on single-family lots.
She also suggests other approaches such as laneway housing, which are secondary dwellings — such as a repurposed and renovated garage – facing the alleyway.
"If you want a healthier mix with different families with different income levels, you need to introduce different building types," she said.
"The need is great because there are a whole bunch of communities going through the same challenges."
Despite current initiatives such as the laneway housing pilot in Hillhurst-Sunnyside, Sandalack said the City of Calgary has generally been slow to create a comprehensive, community-focused plan that addresses issues such as updated zoning.
"All the City planning documents are unified in saying they want modest redevelopment in established areas to accommodate new population growth in the middle ring rather than at the edges," she said.
"But it is still very much case-by-case right now. The need is great because there are a whole bunch of communities going through the same challenges."
In the meantime, families seeking affordable housing in communities with easy access to amenities face a dilemma, said Carrie Yap, an urban planner with FCC.
While the suburbs will generally be less costly, "they don't enjoy the services that they require right away like schools and proper green-space," she said, adding full build-out for a new community can take 25 years.
"On the flipside, in the older communities, the amenities may be there, but affordability isn't."
As a result, "you don't have that base to support, for example, the schools there," and many communities face closures of important community infrastructure.
Tagged: affordability | Bev sandalack | Calgary Community | Calgary Real Estate | Calgary Real Estate News | densification | detached | federation of Calgary communities | Inner City | laneway housing | sandwich communities | University of Calgary | YYCRE
---
---
Connect With Us