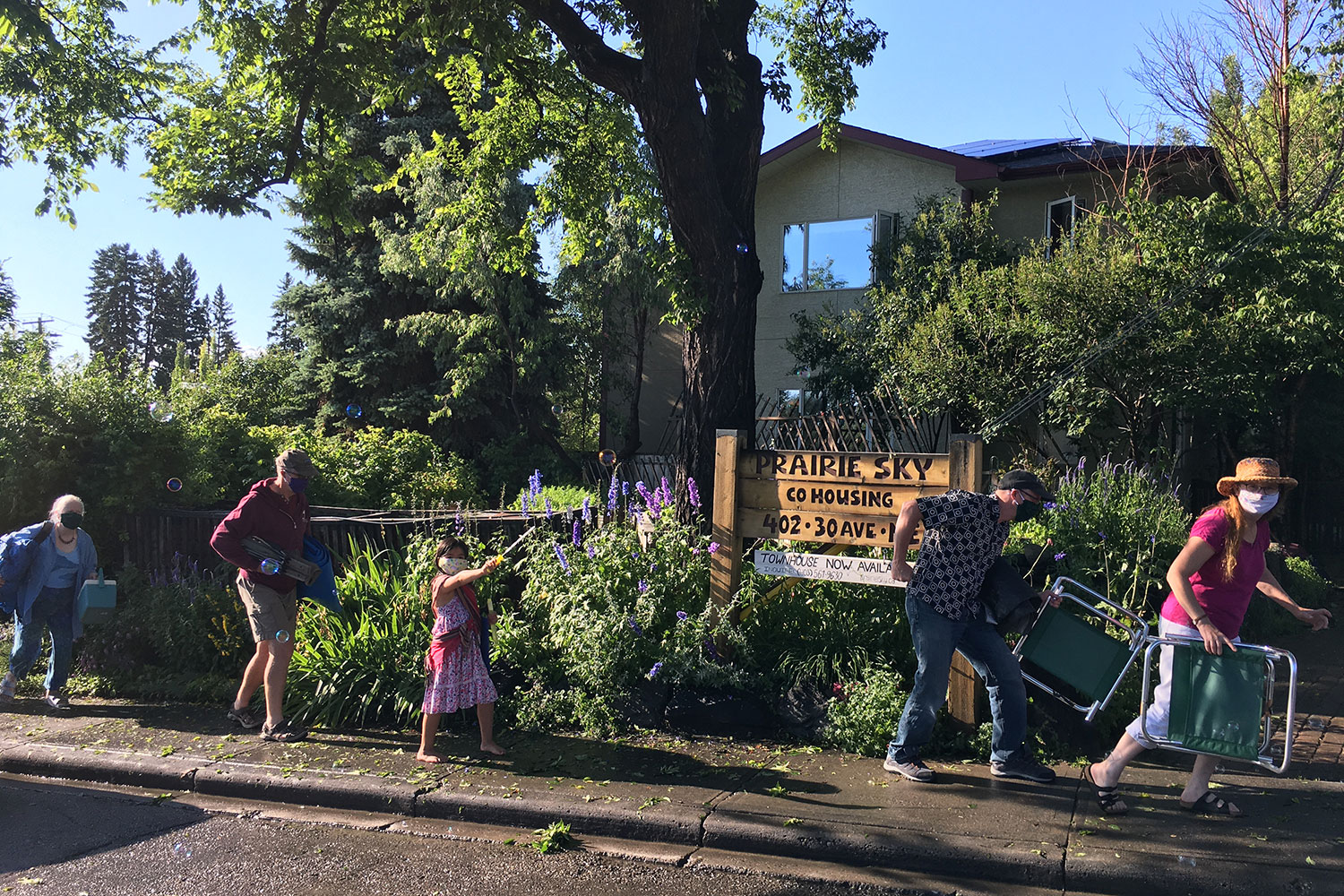 Courtesy of Prairie Sky Cohousing
Dec. 09, 2020 | Natalie Noble
Stronger together: the surging popularity of cohousing communities across Canada suggests isolation may define our current reality, but it won't define our future
As Calgarians continue to navigate the challenges of an intense economic downturn and a global pandemic – in addition to the standard curveballs life tends to throw one's way – many are re-evaluating their priorities in hopes of a brighter future.
As people tire of self-isolation and its negative health impacts, the idea of cohousing is becoming more attractive than ever. Imagine neighbourly, small-town friendliness meets convenient city living; the privacy and independence of single-family living, but with added space and social amenities available in the form of shared common areas; and a diverse mix of residents, from retirees to young families.
If it sounds too good to be true, people like Kathy McGrenera,
Canadian Cohousing Network
board member and Quayside Village Cohousing member in North Vancouver, can speak from experience. "I moved in with a newborn baby and it was incredible to live here as a new young parent," she said.
McGrenera's daughter, now 22, is an only child, but it didn't feel that way growing up. "She had friends here she considers sisters still to this day since they grew up together, people here she considers grandparents," said McGrenera. "It's a lovely way to raise a family, and for those older people to have kids in their lives they can know on a daily basis is great, too."
Henning Mortensen, Prairie Spruce Commons Cohousing member in Regina, says the popularity of the concept has grown significantly since arriving in North America in 1988. "We've got nine new communities in Ontario, two in Nova Scotia, one in Manitoba and four in Alberta," he said. "It's blowing up across the country right now."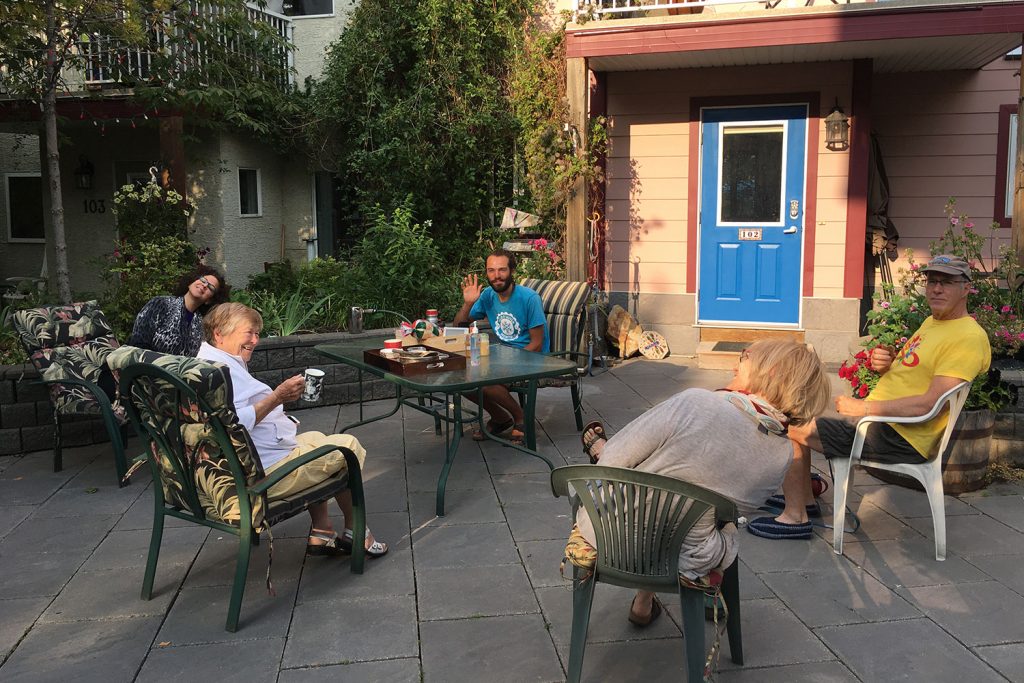 Cohousing defined
It's easy to make assumptions about cohousing or confuse it with other multi-family housing types, such as townhomes, condos or seniors' residences.
Noel Keough, an associate professor in the University of Calgary's Faculty of Environmental Design, says it breaks down to "a social movement of people who want to live together in a community that offers a little more than the norm."
Cohousing itself is not a legal housing model, but rather a lifestyle approach of best practices around designing communities to support interconnectivity. From a legal standpoint, Canadian cohousing typically operates in one of three ownership forms. There's the traditional condo/strata title model with a condo association, individually purchased units with a homeowners' association, or the co-operative model – the main distinction being that strata models are market forms, while co-ops are not.
Instead of buying and selling, co-op members purchase a share and market value increases do not affect the property over time, explains Keough. "This maintains affordability over time and generations."
"We've got nine new communities in Ontario, two in Nova Scotia, one in Manitoba and four in Alberta. It's blowing up across the country right now." - Henning Mortensen, Prairie Spruce Commons Cohousing member
Finally, cohousing is not to be confused with affordable social housing developments, such as those run by the Calgary Housing Corporation, which are not self-managed like cohousing and co-op projects. "Desire in these models is based more on affordability than the social aspect," said Keough.
The COVID-19 pandemic has highlighted the unique solutions cohousing's social model offers to its members, as well as the greater community.
"It's a group of people putting in the effort to take care of themselves and eliminate situations where anyone might fall through the cracks with issues, challenges or problems over their lifetime," said Keough. "Rather than becoming dependent upon the state or other programs, there's typically a good level of support within these communities that is a big benefit."
Here in Calgary, two cohousing communities at different stages of development offer a glimpse of both the challenges confronting the cohousing movement and its undeniable potential.
A tale of two communities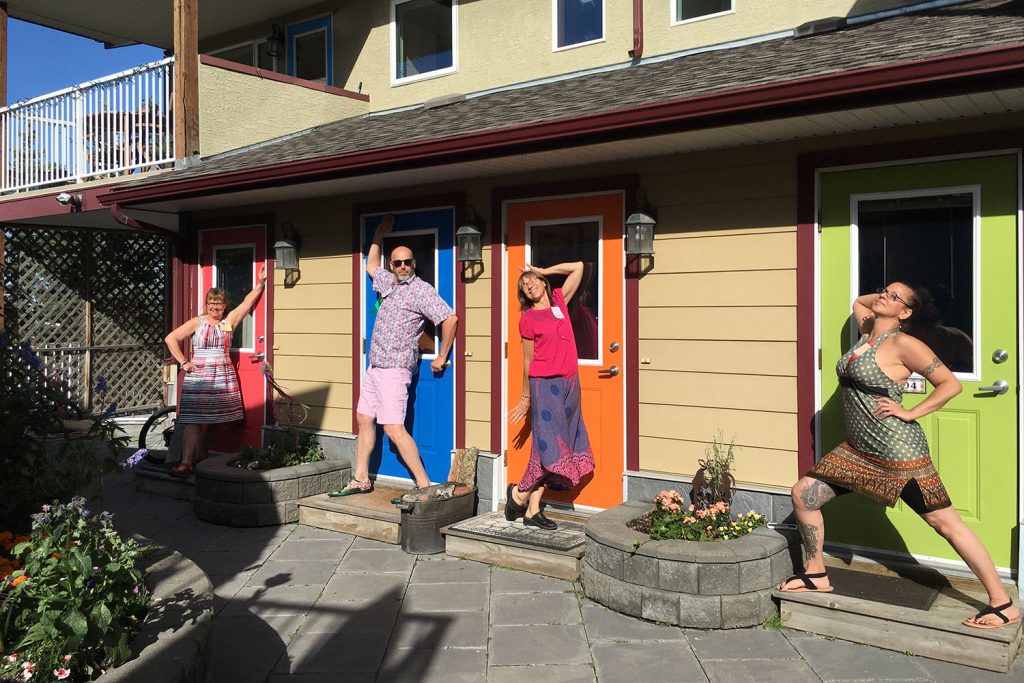 Prairie Sky: an intentional community
Prairie Sky Cohousing
was built in Winston Heights-Mountview in 2003. The seven-year process demanded considerable education, financial investment, time and effort. "It's the longest and most expensive personal development course you'll ever take," said Kathleen Ryan, a Prairie Sky member. "And in the end, you get a house."
The group struggled in its first five years just to find suitable land. Once they did, however, they were moved in within two years. There was a silver lining in that lengthy wait time, Ryan says. "We really had our meeting processes under control with good decision making," she said. "We were already forming our community before we moved in."
The group decided to incorporate as a co-op. "We're governed by the co-operative legislation, which is a great fit, but we own our own homes like a condo scenario," said Ryan. One downside, she adds, is banks seem resistant to work with both co-ops and cohousing projects, despite the added security within the groups.
At the time of purchase, the group included seven households and hoped to build 25 units. Unfortunately, the land was only zoned for 18. "We're a bit small for an ideal group," said Ryan. "The range we see in cohousing literature is around 15 to 35 units."
"It's the longest and most expensive personal development course you'll ever take. And in the end, you get a house." - Kathleen Ryan, Prairie Sky Cohousing member
Ryan's home is a two-bedroom, apartment-style flat, a configuration that is fairly typical in cohousing. "But in my backyard, I have a large courtyard, a climbing wall, a fire pit with new second fire bowl, a vegetable garden, and quiet spots," she said.
"In my common house, I have a place large enough to host courses, family reunions, meetings of all kinds, there's a large projector to go watch movies and a big workshop. It makes living much easier and richer by sharing things."
She recalls another member who moved in from B.C. the first year, a widow with adult children in Calgary. "She got a pass to the zoo so she could take a three-year old here to the zoo once a week. It was good for everyone involved," said Ryan. "We have these kinds of things happen here and it's wonderful that way. We're friends, not just neighbours."
However, cohousing communities can sometimes struggle to maintain a diverse mix of ages and generations within their ranks.
"One issue we're having right now is that as we're aging, we're sort of becoming a seniors' complex," said Ryan, who is 61. "We have some adult children here and a seven-year-old, but we would love to attract more young families. Unfortunately, it's expensive as a starter home, especially those larger units designed for families."
After 17 years, 12 of the 18 original owners still live at Prairie Sky.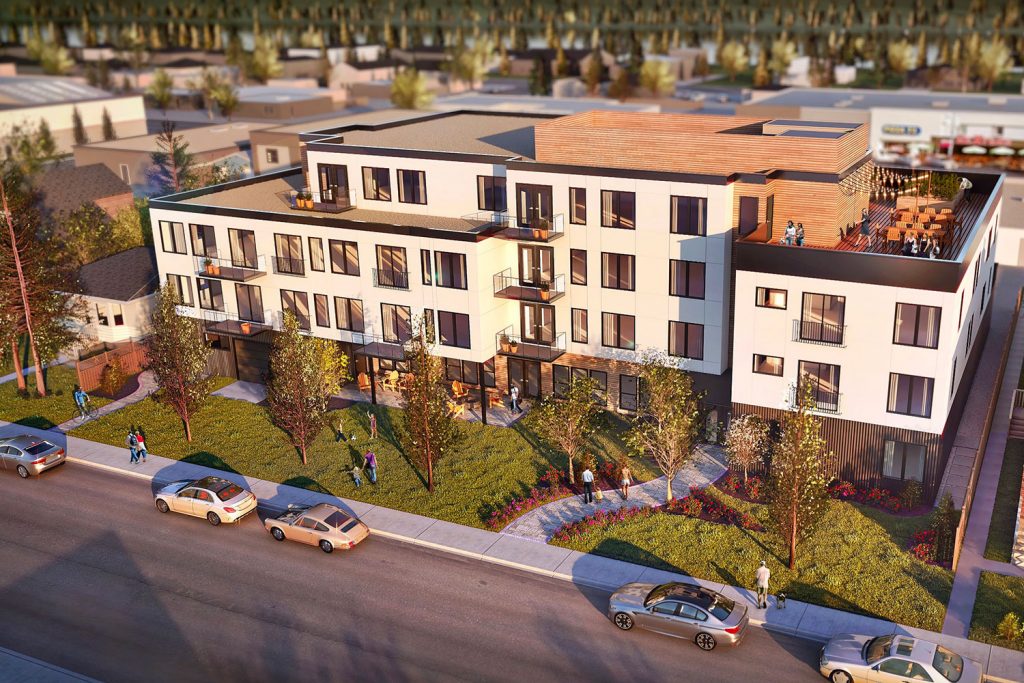 Mosaic Village: coming soon
Five-and-a-half years ago, the Munghams held the first meeting for the development of
Mosaic Village Cohousing
. John Mungham, in his 60s, has a background working with older adults, but he was not happy with the housing options he and his wife faced.
"I understand the issues of aging and the benefits of aging in place," he said. "I work on that strategy, but I hadn't thought about where I was going in the next 15 years. I knew people at Prairie Sky and was chatting with some of them after a meeting about co-ops."
The journey to Mosaic Village began with a seniors' cohousing project in mind. However, six months down the road, the original eight members – all of whom were 50 or older – decided they wanted families and an intergenerational aspect in their group.
Like Prairie Sky, their biggest challenge was finding land, as the group assessed nearly three dozen properties. "Nothing fit what we were looking for until we found land in Bowness that ticked off all our deal-breakers," said Mungham. "It's community based, close to parks and schools, walkable, bikeable, has access to amenities, including coffee shops and more. We are very happy with this piece of land."
"While we build a community for ourselves, we want to be responsible to our larger community with a good relationship there as well." - John Mungham, Mosaic Village Cohousing member
Mungham's home goes far beyond its 900 square feet when he imagines himself in the village's common house. The design includes an extra 3,500 square feet of living space in the main common area.
"It's the hub of our community, an extension of our living rooms," said Mungham. "It will have a common kitchen and dining room. We'll have scheduled meals where people can come home from work with the kids and enjoy a meal with everyone."
An art space, as well as a glassed-off children's area for little ones to safely play and make noise, are also included, as is an outdoor barbecue space that will occupy half of the fourth floor. Many Mosaic members are musicians, so a music room was a must-have feature for hosting community concerts.
"While we build a community for ourselves, we want to be responsible to our larger community with a good relationship there as well," said Mungham.
The complexity of cohousing's organizational process led the group to discover they couldn't go it alone. They sought professional guidance, assembling a team that includes a real estate developer (a must because they are often the first to find out about land availability), an architectural firm, a REALTOR
®
(who brokered the land deal), an accountant, legal advisors, and an expert consultant.
Mosaic Village's development permit process is nearly complete, with final approval expected by the end of the year. Until then, they're unable to give potential buyers an exact price to join, which has been a challenge as they look to add more investing members. Further complicating the matter are fears related to the economic situation and general uncertainty surrounding the pandemic. Last spring, the group lost two families.
Their investment currently sits at just under 50 per cent of the project, with the goal to reach 75 per cent prior to starting construction. If all goes according to plan, they'll break ground this spring and be move-in ready 18 months later.
Calgary's cohousing future
These experiences highlight some of the obstacles faced by Calgary's cohousing communities, but cohousing advocates believe these are more than outweighed by the significant benefits these communities offer. Sarah Arthurs, primary consultant with
Cohousing Connections
and a member at Prairie Sky, is one such believer.
Her work recently received a big boost in the form of an
Alberta Real Estate Foundation
sponsorship grant for $10,000. It's a nod that acknowledges the potential of cohousing, today and in the future.
"Cohousing is launched by the desire of its potential residents to create and contribute to 'intentional community,' which combats the negative impacts of uncertainty and isolation," said Arthurs. "But getting started is a big ask in terms of financial risk."
Her project explores the potential of working with her developer associates to create a co-operative housing project with all the hallmarks of cohousing, including common house, consensus decision making, and shared work and play. In essence, this would combine "the best pieces of cohousing – building a nurturing neighbourhood with supportive community structure – with the affordable entry opportunity provided by co-operative ownership and a long-term mortgage," said Arthurs.
Members of Canada's cohousing community would love to see the lifestyle available to more people. For now, cohousing's affordability issues are a byproduct of the same market forces that dictate conventional home prices across the country. However, Arthurs' work provides some hope that this will not always be the case.
Tagged: Alberta Real Estate Foundation | Architect | Bowness | Calgary | Calgary Real Estate | Calgary Real Estate News | Calgary Real Estate News | City of Calgary | Co-op | Co-operative | Cohousing | Communal | Condos | Connected | COVID-19 | developer | Development | Environmental Design | Feature | Mosaic Village Cohousing | multi-family | Planning | Popular This Year | Prairie Sky Cohousing | REALTOR | regina | Shared | Single-Family | Social | The Deeper Dive | townhomes | University of Calgary | Vancouver | Winston Heights-Mountview
---
---
Connect With Us