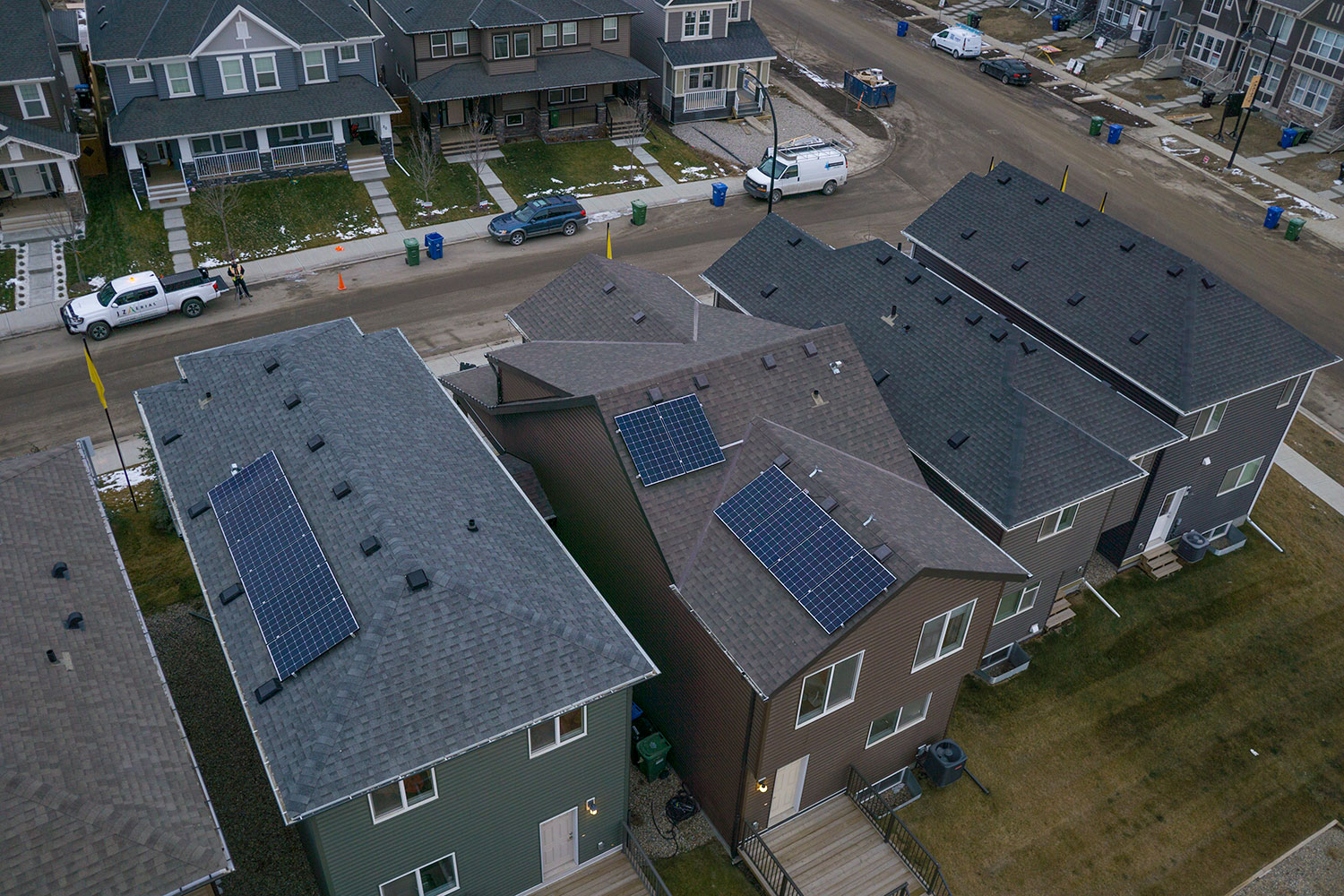 Courtesy Jayman Built
March 20, 2019 | Barb Livingstone
Jayman Built makes solar panels a standard feature for all new homes
More than 750 new single-family homes in Alberta will be powered by solar this year, as Jayman Built makes the green technology a standard feature in a first-of-its-kind offering by any Canadian builder.
Jayman, one of Alberta's largest builders, will include six solar panels in all its 2019 homes, says Dave Desormeaux, president and COO of Jayman's single-family division. "It's not an option, you can't take it off."
The addition of solar will not increase the cost of Jayman homes, he says. In fact, homebuyers can expect to save money on their electricity bills (about $200 per year) and see increased resale value for their home thanks to the low-maintenance technology.
Of the 750 Jayman solar homes predicted to be built this year, 450 will be in Calgary communities.
Desormeaux says the move is a natural progression for the company that, led by CEO Jay Westman, has long been at the forefront of environmentally friendly homebuilding initiatives.
The company championed the establishment of Built Green certification and has been including the solar option in homes (roughing infrastructure within all model designs) for some time.
"Solar is the exclamation point in the home purchase." - Dave Desormeaux, Jayman Built single-family division
However, Desormeaux says uptake by consumers had been low.
"They had struggled with the decision because they want to do the right thing, but weren't willing to spend the extra money," he said.
So, while planning for 2019, Desormeaux says Jayman saw a housing market that could be as bad as the 1980s and decided to go in the opposite direction from the competition, which was "stripping houses and making them cheap and cheerful."
With increased corporate buying power, support from trade and supply partners, and the provincial solar rebate program, the company decided to "innovate and differentiate" by making solar the standard.
The panels are installed on the roof of the home and/or garage, depending on lot and optimization of sun exposure. The cells convert sunlight into electricity within the home – it remains connected to the utility grid for times when the sun isn't providing power, including at night – and savings are reflected on utility bills.
Desormeaux says the response from homebuyers has been positive.
"People come in comparing prices to see if it is really included and find (the home) is the same price, and in some cases less," he said. "Solar is the exclamation point in the home purchase."
Jayman's January and February sales are already 25 per cent higher than budgeted.
As to whether others will follow Jayman's lead, Desormeaux says it's doubtful, at least in the short term, as it would require a redesign of home models to include the infrastructure.
Tagged: Alberta | Built Green | Calgary | Calgary Real Estate | Calgary Real Estate News | Calgary Real Estate News | Energy | Green Living | Jay Westman | jayman built | New Communities | New Communities | new-build | solar
---
---
Connect With Us