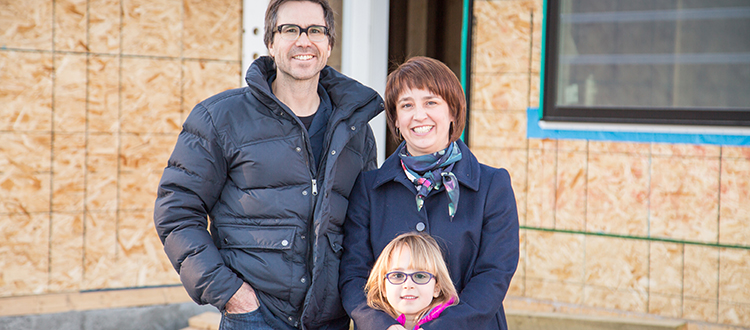 Paul and Jill Robert, pictured with their daughter, are currently building a laneway home in West Hillhurst for Jill's parents, who were looking to be closer to family. Photo by Michelle Hofer/For CREB®Now
March 31, 2016 | Joel Schlesinger
Little house on the alley
Laneway homes could soon turn Calgary's back alleys into thriving mini-communities
Paul and Jill Robert have big plans for the little home they're building on their back lane.
Only the dwelling isn't for them. The Roberts already live in the wartime house in the northwest neighbourhood of West Hillhurst on the same lot where Paul, a professor at the Alberta College of Art and Design, grew up.
Instead, the diminutive back-lane house is for Jill's parents who are selling their home in Edmonton and moving to Calgary to be closer to family.
"They had originally been looking at condos and then they were talking with friends who said, 'Well, Jill and Paul have a lot of property. Why don't you build on their land?'" said Paul.
That got the Robert family thinking.
"From there, we just started researching and went to Google ... and laneway housing came up," said Jill, who works with Alberta Health Services.


Many Calgarians have probably never heard of a laneway house, let alone seen one in their neighbourhood. But they soon will as the City of Calgary and other industry partners consider innovative ways to increase density in centrally located neighbourhoods, as well as mitigate rising housing costs.

The City is currently working on a plan to test the concept along the back lane of 10-10A Street N.W. in the community of Hillhurst Sunnyside.

The University of Calgary is also investigating laneway housing's potential through a pilot project involving students from its Faculty of Environmental Design.

Already, the concept has its proponents.

"Laneway housing can provide an attractive and affordable housing option while creating an appealing interface between the residential and retail areas," said Paul Donker, co-ordinator of local area planning and implementation with the City of Calgary.

"It is one strategy among several that the City is using to achieve sensitive intensification, which is one of the major goals of the municipal development plan."

A laneway house is essentially a mini-home built on the same lot as an existing house, only it generally faces the alleyway.

"There are a lot of different names for it such as a carriage house, garden suite or garage suite, but we prefer to say laneway housing because we like the idea of it facing the alley and addressing it as a thoroughfare," said Mark

Erickson, creative director at Studio North in Calgary, the firm designing and building the Robert's laneway house.

"Instead of it just being a living space on top of a garage, we are addressing how these little houses can create micro-communities in larger communities."

Although still in its infancy, Erickson said the housing alternative is catching on with existing homeowners seeking affordable solutions to suit a variety of needs. Like the Robert family, many are building to accommodate aging parents. Others want to generate revenue by renting out the dwelling.

"There are a lot of different scenarios we're encountering, but it's basically making inner-city housing more feasible," said Erickson. "We think it will help spur a revolution in how we inhabit our city."

The University of Calgary pilot project is a joint venture involving the school's O'Brien Institute for Public Health and Faculty of Nursing, as well as industry partners such as Homes by Avi and the Alberta Real Estate Foundation (AREF).

"The idea is we're building with the mindset that my parents can age in place."

The project first involved designing and constructing a laneway home to help facilitate aging in place for seniors. The pilot has now moved onto the next phase: the construction of a second prototype that could have modular applications.

AREF chair Charlie Pond said the project represents the increasingly diverse housing options to address Calgarians' needs.

While new to Calgary, laneway housing is already well established in other jurisdictions in Canada. In Vancouver, more than 1,800 units have been built since the municipal government put in place zoning bylaws permitting their construction in 2009.

"Almost every builder in the city is doing it," said Bryn Davidson, designer with Lanefab Design/Build, which constructed one of the first laneway homes Vancouver in 2010.

He added the success of laneway homes in the city has been directly attributed to council's support.

"When they changed the zoning, something like 60,000 properties became eligible for this development," said Davidson, adding an industry was created almost overnight.

"For us, we wouldn't have a business if it was a pilot project."

Regulation also reduces uncertainty, added Erickson, who believes it will be a crucial piece of the puzzle for Calgary moving forward.

"Every time we put in a development permit for a laneway house, it seems we're pushing a boundary in one way or another and it can take months to figure out whether or not it's OK," he said.

The Roberts agree. It took months to get approval from the City for their project.

But with construction finally underway, the couple hope to have Jill's parents living in their backyard by the summer.

"The idea is we're building with the mindset that my parents can age in place," said Jill, noting that their five-year-old daughter will benefit by being able to spend more time with grandma and grandpa.

"Who knows what will happen? Maybe someday we'll move into the laneway house and [our daughter will] live here."

Tagged: aging in place | Aging in Place Calgary | Alberta Real Estate Foundation | Calgary Real Estate | Calgary Real Estate News | City of Calgary | Density | Hillhurst Laneway | Hillhurst/Sunnyside | laneway housing | Prices | Uncategorized | University of Calgary | Vancouver | YYCRE
---
---
Connect With Us