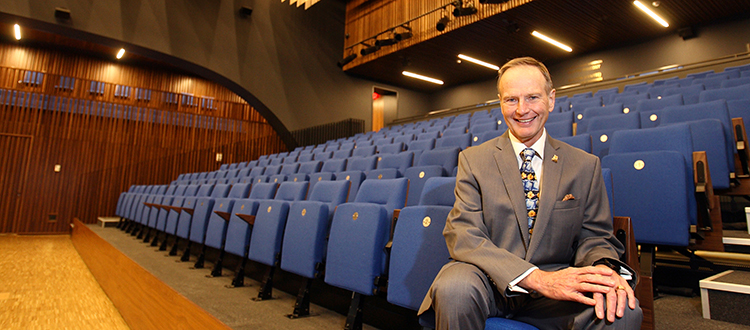 Tom Keenan, a professor at the University of Calgary's Faculty of Environmental Design, expects new facilities such as Studio Bell's National Music Centre will attract more newcomers to the city. Photo by Wil Andruschak/For CREB®Now
Aug. 19, 2016 | Barbara Balfour
Work of art
City's evolving arts scene a good news story for real estate
Recent high-profile additions to Calgary's cultural scene stand to benefit the city's real estate market in a big way, say experts.
New facilities such as Studio Bell's National Music Centre and the Calgary Film Centre will go a long way toward helping the city shake off its stodgy Cowtown image, said Tom Keenan, a professor at the University of Calgary's Faculty of Environmental Design.
"Interesting people, things to do, cultural amenities like the opera – these all play a role in making a city appealing to live in," he said.
"In a smart community, we think about technology, being connected, and the ability to do all kinds of things online. The real part of it is what happens when you disconnect — when you're not sitting in front of your computer and want something intelligent to do. Smart communities need smart people, and all the evidence shows the tech sector is growing in Alberta, because it's attracting people who would not have considered living in Calgary 20 years ago."
And they're part of the reason why more young people are increasingly choosing to stay in Calgary instead of moving to other Canadian hubs such as Vancouver or Toronto, added Graham Livesay, associate dean and professor in the master of architecture program at the U of C's Faculty of Environmental Design
"They might come with a two- to five-year plan, but then they discover that vibrancy and newness here that's so much more than just Stampede."
"One major factor in being able to draw a lot of talent here over the last 15 to 20 years is because of the strong economy. But there's no doubt people also like the quality of life here, to be able to do things you can't do in Toronto," he said.
"A lot more people are also staying here when they retire. There used to be the notion that you would move to B.C. but many stay for the wealth of activities here, which are part of a continuum of well-established cultural industries in the city."
Calgary real estate professional and actor Scottie Grinton said the city's arts scene has encouraged many of his clients to stay in Calgary for longer than they thought they would.
"They might come with a two- to five-year plan, but then they discover that vibrancy and newness here that's so much more than just Stampede," he said.
"When I moved here from Toronto 35 years ago, there were 650,000 people, and the population has since doubled in size. I remember Alberta Theatre Projects was at Heritage Park in a crummy little theater and now it's a stalwart part of the community."
As the city and its arts scene continues to grow, the need for better transit and walkability in communities will need to increase as well, added Grinton.
"A neighbourhood like the East Village is a great development from a real estate perspective, for people who like the urban lifestyle where you don't need a car, can go out and get a glass of wine and walk to art galleries and theaters," he said.
When the Calgary Municipal Land Corp. (CMLC) first put together a master-plan vision of the East Village in 2008, they thought it was opportunistic to re-establish it as an arts and cultural district, said Susan Veres, senior vice-president of strategy and business development.
"Research suggested young people were leaving the city and pursuing careers in other major markets because they were seeking a downtown experience they couldn't find in Calgary. Our vision showed we could attract young talent to stay in our community," she said.
"This community was disconnected - you couldn't easily get in or out or readily identify it on the map. So we put in road systems, pedestrian crossings and streetscaping. We also chose the type of partners we wanted. The National Music Centre fits our concept and is a key cultural anchor. The library will be another."
While Veres noted there is much more than arts and culture that drives interest in the East Village – a fully master-planned, mixed-use community bound by two rivers and active park spaces – nearby amenities such as the music centre have had an indirect benefit to CMLC's residential sales program, helping to sell out one tower in 48 hours last September that caters to the 24-34-year-old demographic.
"It comes down to spending money on your lifestyle or your house. Many people considering the condo lifestyle would rather go with a smaller space where they sleep, not where they spend all their time," said real estate professional Laura Christie, who is also the site co-ordinator behind this fall's Doors Open YYC program. The fifth annual event, to be held Sept. 24, is a free open house to unique places in the city offering behind-the-scenes experiences to the public.
"The nice thing about an economic downturn is it sparks creativity – unique businesses coming out of the woodwork and working together to save money," said Christie.
"We're seeing all these new creative recreational areas pop up like St. Patrick's Island and Kensington's container art park, which bring the community together. And lots of people in arts communities can now afford to buy places because they're not being outbid by oil and gas money."
Tagged: arts | Calgary Film Centre | Calgary Municipal Land Corporation (CMLC) | Calgary Real Estate | Calgary Real Estate News | Calgary Real Estate News | CMLC | East Village | entertainment | National Music Centre | Tom Kennan | University of Calgary | YYCRE
---
---
Connect With Us