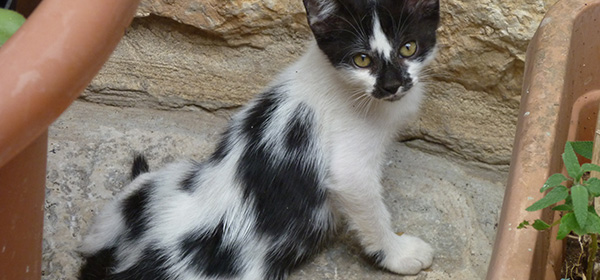 April 02, 2014 | Donna Balzer
Keeping A Happy Cat
Cats are different from dogs.
If you arrive home late, cats pretend they don't even remember you. They scoot under your bed, spill their water or mess with their cat box if you are late or even think of being late. Dogs however, are licking your face before the key is out of the lock and demanding to know if you want to go for a walk. From watching YouTube and watching my friends, I realize cats can bring you great happiness. So naturally, in exchange, are you wondering how to boost your cat's happiness ratio this spring?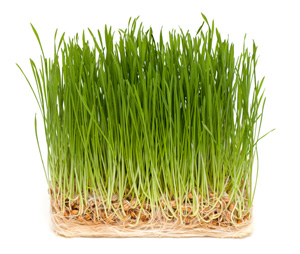 CAT GRASS
Last spring I decided to share a little happiness with Roscoe, Jan's picky palette purebred Burmese cat.
If you don't know cat grass, it is like wheat grass used in green drinks. It took seven days from seeding to sprouting to grow the cat grass to perfection. Not a big time commitment, but a thoughtful gesture.
As I presented the grass I had grown, Jan frowned and looked uneasy. She feeds Roscoe wild seafood and purchases expensive crunchies at the vet.
"Donna, Roscoe is a very picky eater," she said. "I have tried cat grass before and he just doesn't like it." With that Jan put the grass on a shelf, explaining she would offer it to the neighbor's more common cats in the morning.
I was driving home a few minutes later when the excited call came. "Donna! Roscoe was sniffing and now, now he is eating his cat grass! I just can't believe it. I got video of it on my phone — I'll send it to you."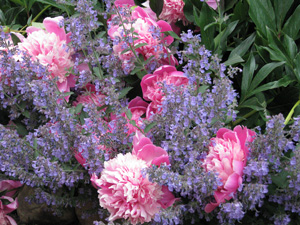 CATNIP
Jean moved from Saudi Arabia to the small mountain town of Blairmore, Alberta where she made a friend who had a cat. Not sure what would thrive in the cold climate of the Crowsnest Pass, Jean decided to fill her planters with hardy catnip and share the happiness of the harvest with her new friend's feline.
Jean planted catnip in her half-barrel planters on her deck in May. By early September, just prior to harvest, Jean's barrels were bursting with colourful catnip, petunias and lobelia. The very next morning the planters were destroyed.
Plants were tossed out of the pot scattered on her patio, smashed and flattened to smithereens. Jean sadly salvaged a little catnip for her friend's cat and was sweeping soil off the deck when she noticed trucks and wildlife personnel across the road.
Wardens were hauling away a deer killed by a cougar and preparing to set up a trap for the predator. Jean introduced herself and heard the gory details. She was told the deer would attract the cougar back to the site unless it had been completely eaten so they were taking the carcass away to prevent that.
"And what could possibly be more attractive to cougars than fresh bloody deer meat?" asked Jean, now more curious than ever.
She was told the wildlife personnel would use catnip as, like their smaller cousins, cougars fall for catnip every time.
So this spring, if you are thinking of growing cat pleasing plants, start a little crop of cat grass indoors right now and in May, if you are sure you don't have resident cougars in your back yard, fill your outdoor pots and planters with catnip.
The prescription for people happiness is to take up gardening. The prescription for cat happiness is to grow their favorite plants. Dogs are happy digging up compost, no special plants required.
Balzer is a garden writer and speaker. In the garden, she makes mistakes so you don't have to. Check out her blog at
www.gardenguru.net
.
Tagged: Calgary Real Estate | Calgary Real Estate News | Donna Balzer | Guest Column
---
---
Connect With Us