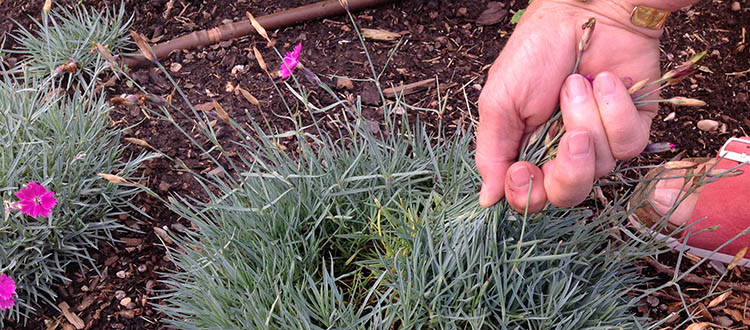 Deadheading involves cutting flowers off after they fade to encourage more flowers. Photo by Donna Balzer/For CREB®Now
Aug. 26, 2016 | Donna Balzer
Deadheading boosts blooms
But beware of Calgary's famous hail belt
What's with crazy gardening terms like "deadheading?" It sounds like something done in a dark alley, in private, after midnight.
Patrick Horner, a reader and fairly new gardener, wasn't sure at first, but he figured out from an online search that it meant cutting flowers off after they fade to encourage more flowers. He sent me an email: "If I am deadheading [my dianthus], what do I remove?"
Horner's plant in question is a perennial dianthus – a hardy dwarf relative of the common-cut flower the carnation. If he deadheads it, it may bloom again a bit this season, and will certainly bloom more heavily next year because it won't use up its energy making seeds this year.
"Do I just pull the brown petals out of the tube? Or cut it off below the tube where it meets its stem? Or cut it off at the bottom of the stem where it meets the stock?
"And then could I cut [the plant] back after all the blooming is done? [I want] to encourage a fall second bloom."
While deadheading is fine, a heavy haircut – or cutting back – is going to result in a bad look and weak plant. Our growing season is too short to encourage reblooming.
A harsh cutting of the leaves to the ground means most of the plant's energy, stored in the green leaves, gets tossed when the plant is cut to the ground. Even if the plant survives and manages to send up new leaves, it may be too weak to get ready for winter.
In warmer climates, yes, you can cut an entire plant back to the ground as late as early summer. But here in Calgary's famous hail belt? No way. So if you, like Horner, like to keep your garden tidy, encourage a few late blooms and stop the seeds from spreading all over the garden, deadhead as soon as you can.
If Horner just removes the petals "from the tube," he is leaving the seeds behind. If he cuts just below the tube, he leaves a dead stick above the foliage. After the blooms fade, Horner is best to cut the flower stem back to where the stalk meets the foliage. If there is a second bloom coming on the flower stem, just cut it back to that new flower and then cut the whole stalk back later.
So while Horner is concerned with tidiness and a second bloom, he could probably relax a bit and simply trim off the unsightly flowering stems as flowers fade. Summer is short and we can't double the blooms just by trimming. It's a nice thought though!
Donna Balzer is an enthusiastic gardener and entertaining speaker. Sign up for her e-newsletter at
www.gardenguru.net
or follow her on Twitter
@NoGuffGardener
.
Tagged: advice | backyard | Calgary Real Estate | Calgary Real Estate News | Donna Balzer | flowers | front yard | Gardening | Guest Column | weather | YYCRE
---
---
Connect With Us