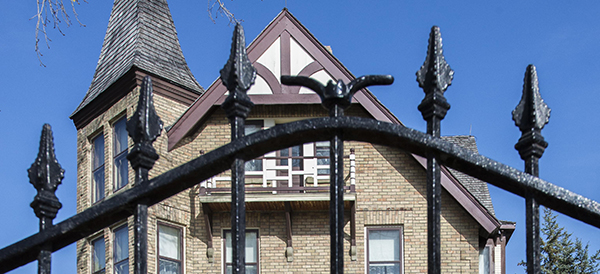 Oct. 22, 2014 | Cody Stuart
Home is where the haunt is
* In this three-part series, CREBNow takes a look at the sinister and spooky side of Calgary's haunted housing history
Touring Heritage Park's eerie abodes
The accounts all sound like something out of the classic ghost story: lights that turn on with no electricity; windows and doors that seem to open and close themselves; even sightings of a long-dead figure - returned from beyond the grave for reasons unknown – in an upstairs window. Speaking with Barb Munro, who serves as the communications specialist and unofficial ghost hunter at Heritage Park, it quickly becomes clear these aren't just tall tales meant to conjure up a little press. She wants to believe there's something paranormal taking place at the park.
"I want to believe, but I don't really go looking for it," said Munro of her susceptibility for the supernatural. "I'm open. If something happens, I think that would be kind of cool – as long as it wasn't something mean or painful happening."
The Airdrie House, although smaller in stature than some of the more well-known haunts at the park such as the Prince House and Canmore Opera House, is included in our tour of the park Built by Samuel John Bushfield in Airdrie in 1906 and donated to the park in 1964, the modest Airdrie House makes up in spectres what it lacks in size.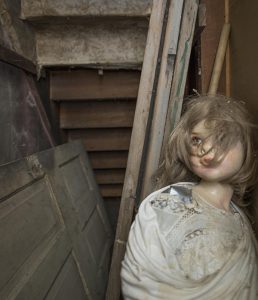 "Whereas a lot of these other houses have stories associated with them, we can't really find out anything about Airdrie House. But staff don't like going in there," said Munro, who recalls the time the park had a visit from a local clairvoyant. Before the group could even enter the home, Munro said the clairvoyant felt an evil presence emanating from within.
In recent years, several incidents have taken place in the home, including Christmas decorations that refuse to stay upright, items that appear to relocate themselves between visits, the sound of locked doors slamming shut and an even more chilling tale involving Munro herself.
"Last year, I brought some people to the house because I wanted them to investigate it. It was about midnight and we all walked up and we opened the front door. As we all walked in, every single one of us heard footsteps from upstairs, including me," she said. "It was very freaky."
The dimly lit rooms and dusty hallways of Prince House provide another stop on our tour, and is the basis for many eerie occurrences at the park.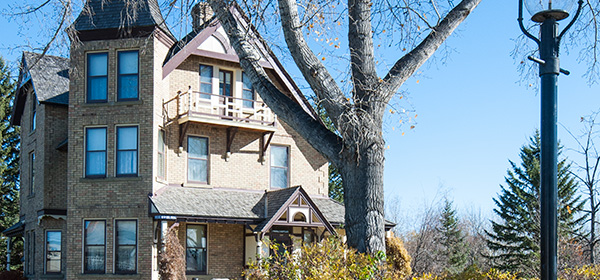 Built in 1894 by lumber magnate Peter Anthony Prince, the home was once host to Prince and his succession of wives, three of whom met with untimely ends while living in the house. Prince's fourth wife, Emily, survived him by 19 years, eventually passing away in 1944.
"Everybody always says, 'there's the presence of a woman here." Everybody – hands down," said Munro. "It's not an unwelcoming presence, but you can definitely feel a presence."
Stories at the stately manor home include sightings of a woman, dressed in a flowing white dress, tending to a child in the home's upper-floor nursery; as well as third-floor lights turning on, despite the fact the only working light in the home is on the main floor.
Nearby, Livingston House (built in 1883) has provided the setting for even more sightings, as visitors have reported spotting the ghost of Sam Livingston – Calgary's "first citizen" – perhaps looking for his farm, which now lies beneath the waters of the Glenmore Reservoir. Guests have been known to hear footsteps from the unoccupied second floor, and have even seen the home's rocking chair gently sway to and fro all on its own.
Livingston has also been spotted at the Canmore Opera House, perhaps awaiting a performance from the park's ensemble of apparitions.
Even at the less-than-historic Sandstone House, constructed in the early 1970s to represent the sandstone homes built in Calgary following the great fire of 1886, staff members have reported unsettling stories.
"There's a story about a security guard going in to check on the house and there was an 'orb' floating in the kitchen," said Munro. "And right at the time he saw it, another security guard radioed to see if he was OK because he'd heard the voice of a young girl come across the radio."
Whatever your experience at the park may be, it's safe to say the stories surrounding its many historic haunts provide visitors with the perfect amount of curiosity and consternation leading up to Halloween.
Although the park is now closed for winter, Calgarians hoping to check out the stories for themselves can head down to the Ghouls' Night Out. Taking place from Oct. 23 to Oct. 26 between 6 and 9 p.m., the annual multi-day event is perfect for families with little ghouls, aged three to nine, who are looking for a fun and safe night out.
For more information, visit www.heritagepark.ca or call 403-268-8500.
Tagged: Airdrie House | Calgary Community | Canmore Opera House | ghosts | Haunted | Heritage Park | Prince House | Sam Livingstone | spectres
---
---
Connect With Us