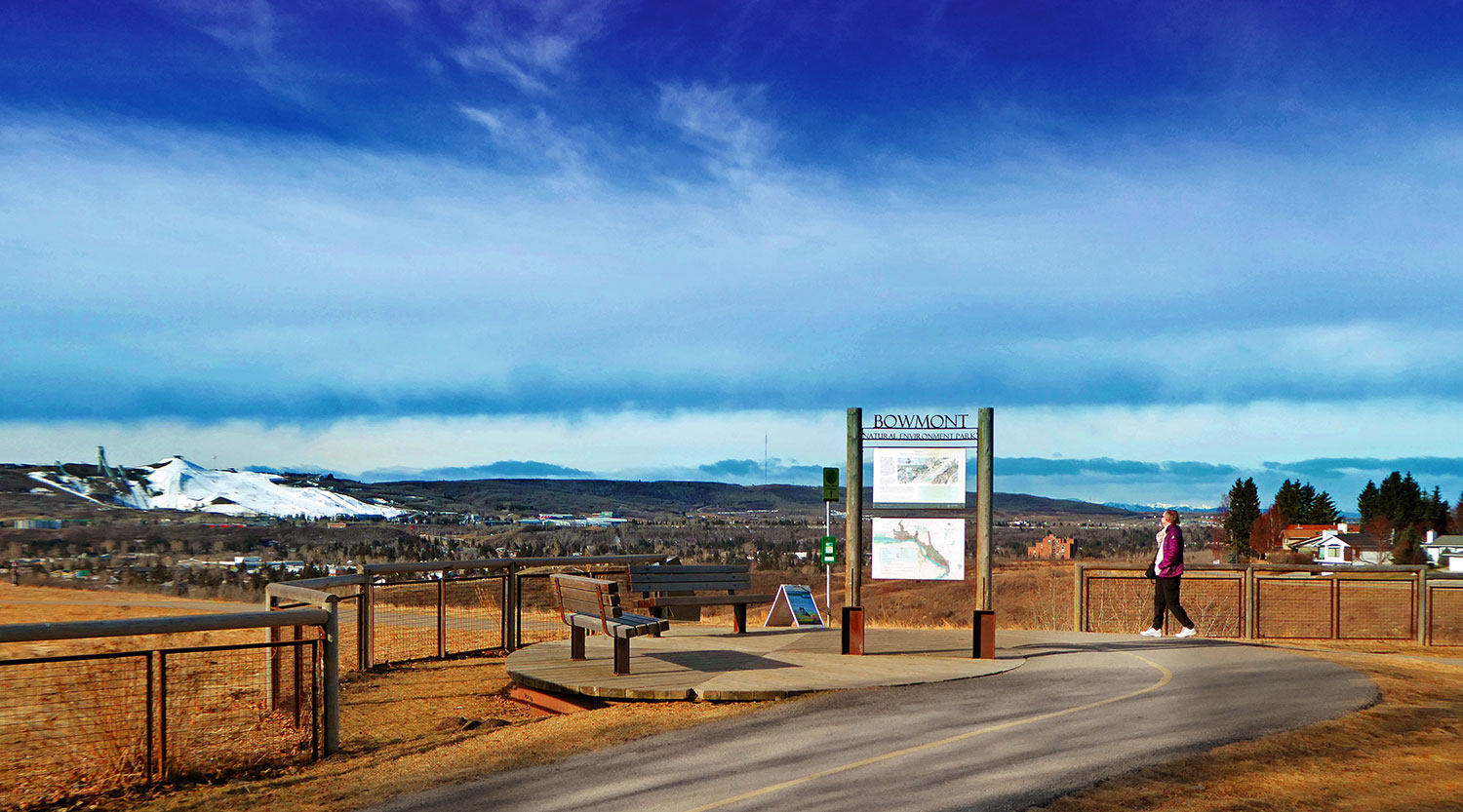 Bowmont Park runs along the northern bank of the Bow River in northwest Calgary. Photo by Cody Stuart / For CREB®Now
March 05, 2021 | Kathleen Renne
Northwest appeal: with a diverse mix of old and new neighbourhoods, Calgary's northwest residents say they share a common identity
Ascend to the summit of Nose Hill Park on a clear, sunny day and you'll have a spectacular vantage from which to survey the city. It's just one of the many parks in the city's northwest that Calgarians know and love.
As a quadrant, northwest Calgary is an area roughly bordered by Deerfoot Trail to the east, the Bow River to the south, Calgary's city limits to the west, and Stoney Trail to the north.
The northwest is diverse, in both demographics and geography. Several new communities now exist farther north and west of Stoney Trail and one of city's oldest neighbourhoods, Bowness, dates back to the turn of the 20th century.
Despite the varying ages of the communities, residents from different backgrounds say they all share a "northwest identity."
Tammy Roberts has lived in Thorncliffe, another "old northwest" community, for the past nine years. "The northwest was the quadrant we leaned most strongly towards," said Roberts, speculating it's because both she and her husband grew up in northern Calgary.
"Thorncliffe is further from the centre than we wanted, but price point pushed us here," said Roberts, adding the couple was looking to buy a house "with character." Thorncliffe offered them that, as the four-level split they settled on is circa 1961.
Roberts say she and her husband were also looking for walkability, transit access and "visual interest," which Thorncliffe's mature trees and varied streetscapes lined with homes of varying architectural styles provides.
"I love, love, love that Thorncliffe is so diverse, ethnically, in terms of household income and age," said Roberts, adding that she wants her twin toddlers to experience diversity.
Montgomery Community Association president Marilyn Wannamaker lives closer to Calgary's city centre.
"We were looking for a neighbourhood in which to raise our kids and thought this was a little jewel," said Wannamaker, of her family's decision to move to Montgomery 25 years ago.



We loved the northwest, the access to Highway 1 to get to the mountains, the proximity to downtown ... There's something about the northwest, a spirit here that feels really family oriented and community oriented.



"We loved the northwest, the access to Highway 1 to get to the mountains, the proximity to downtown ... There's something about the northwest, a spirit here that feels really family oriented and community oriented," she added.
A lot has changed in Montgomery since Wannamaker moved there, and now there is a renewed sense of growth. For example, along one of Montgomery's two main streets sits a relatively new condo building, whose ground floor is home to several businesses, including award-winning chef Michael Noble's NOtaBLE restaurant, which opened in 2010.
According to City of Calgary statistics, Montgomery's population is projected to increase about 50 per cent by 2042. Wannamaker points to nearby employment centres like Foothills Hospital and the University of Calgary (U of C) as helping boost the local population.
Ashley Corcoran, a social worker in her 20s, says the community's proximity to the U of C is the main reason she and her fiancé moved there last summer.
"My fiancé loves being able to walk to the university," said Corcoran, adding the couple also likes having easy access to the mountains.
Wannamaker says Montgomery's many green spaces like Shouldice Park, Edworthy Park and Bowmont Natural Park are other enticing features of the community, something with which Corcoran concurs. "I love the proximity to the Bow River."
Wannamaker emphasizes the cooperation that exists between northwest communities, highlighting the quarterly meetings between northwest-community-association presidents, as well as the South Shaganappi Area Strategic Planning Group, which meets monthly.
"All of our communities are experiencing a lot of redevelopment ... It's sad to lose some of the old bungalows but, at the same time, if we revitalize developed communities, that's a good thing," she added, noting that bikeability, connectivity and walkability are all features Montgomery wants to encourage with its revitalization.
Farther to the northwest, Tessa Sakamoto lives in the new community of Rocky Ridge.
"I really like the northwest. It's where I grew up," she said, admitting she considered a couple of the new, planned communities in the southeast "for only a millisecond."
"But they were so far ... My husband's commute into downtown took just that much longer than from Rocky Ridge," said Sakamoto, adding it takes her husband about 25 minutes to drive to work.
"It doesn't feel like I live in a big city living in the northwest," said the mother of two young children, adding Rocky Ridge, just like its older counterparts, has a community feel. "People are proud of where they're from in the northwest."
Sakamoto says another benefit of Rocky Ridge is the ample availability of pathways and parks – including Big Hill Springs Provincial Park – and proximity to the mountains. "I can actually see the mountains from my window. That's a huge plus."
Tagged: Calgary Community | Montgomery | Northwest Calgary | Rocky Ridge | Thorncliffe
---
---
Connect With Us