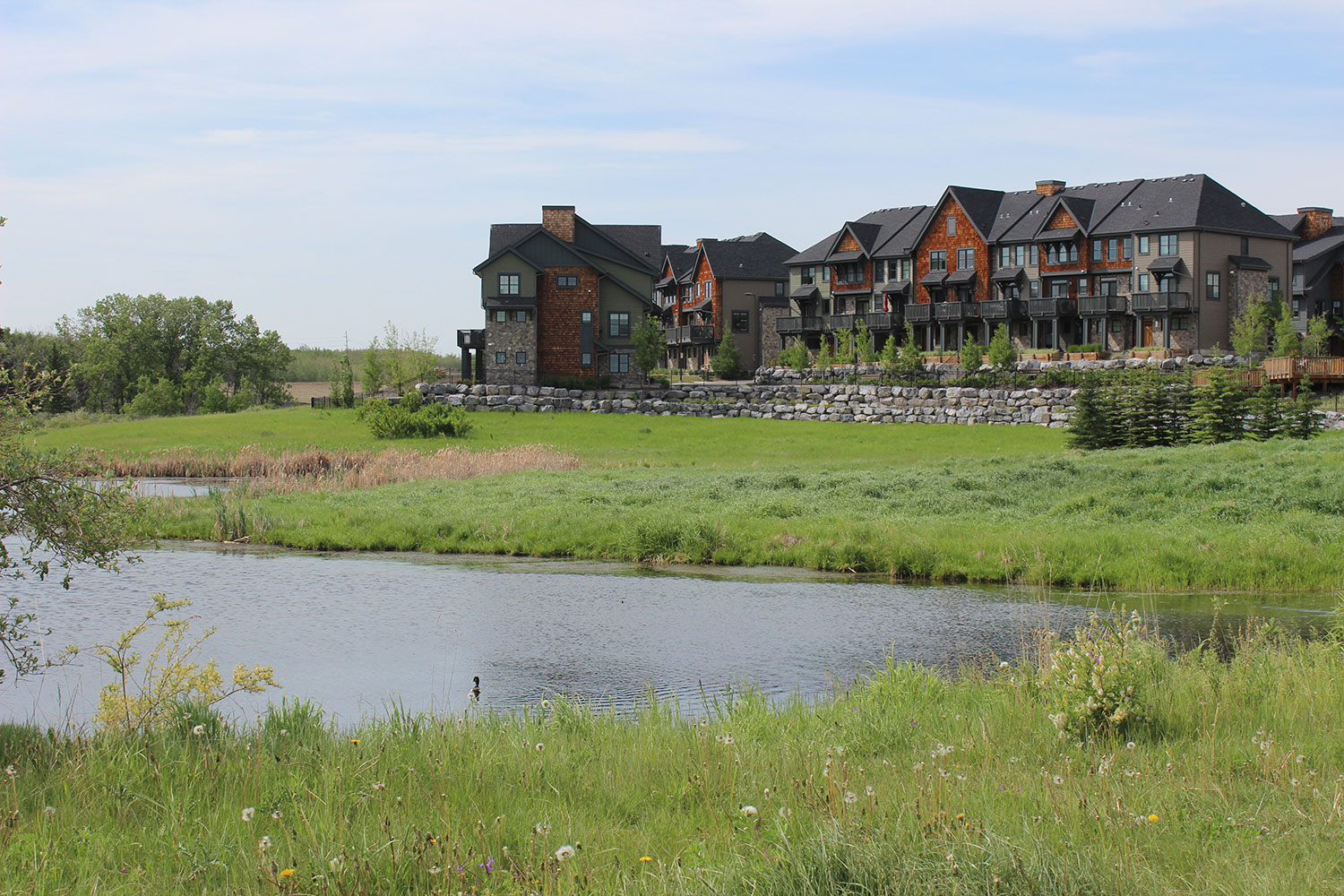 As an older, established Calgary community, Dalhousie is packed with mature trees, large yards and beautiful green spaces. Courtesy Dalhousie Community Association
March 05, 2021 | Andrea Cox
Community rebirth: revitalized East Village is becoming "the place to be" in downtown Calgary
The summer sun rises eagerly in the early morning sky, casting a glittering cascade of twinkling light on the surface of the Bow River. Joggers and dog walkers scoot along the river pathway, enjoying the public art and the perfection of nature against the city's skyline. The smell of freshly roasted coffee and savoury bready morsels wafts from the Simmon's Building, its glass-sheathed doors flung open in anticipation of the day. Just steps away, store owners set out their wares in the newly launched pop-up retail park, as brightly coloured shipping containers frame the backdrop and the East Village hums to life.
"The East Village is all about connecting people and the new pop-up retail park – East Village Junction – is one of the major place-making initiatives happening this summer," said Jessa Morrison, senior manager of marketing and communications for Calgary Municipal Land Corporation, the developer behind the East Village, a 49-acre revitalization project on the east side of Calgary's downtown.
Fifteen years ago, this neglected and run-down patch of real estate that borders the Bow River, Macleod Trail, 9th Avenue and Fort Calgary was a place to be avoided. Thanks to some cutting-edge urban planning, it's become the place to be and to live.
World-class architecture, a walkable location just steps from the downtown core, several interesting programming initiatives and a variety of housing offerings make this project an award winner.
The new pop-up retail park is just one extraordinary initiative that is making waves. Located in a vacant lot immediately north of Studio Bell at the confluence of 4th Street and 8th Avenue SE, East Village Junction is a place to buy freshly baked bread, organic fruits and vegetables, meat, and seafood, as well as locally crafted wares.
"It's a collection of 12 local retailers that have led the way in their maverick style and come on board to create this innovative shopping concept," said Morrison. Each store is housed in a brightly coloured, modified shipping container – patio tables, a hammock and lots of soft seating create a space for people to mingle and hang out for the day.
A variety of Calgary food trucks are onsite and Lululemon, one of the retailers, is offering a free running program and a Friday yoga class. The pop-up market is open Thursday through Sunday from June 1 through to Oct. 1.
"We really want to bring vibrancy to the space," said Morrison.
The East Village is all about connecting people and the new pop-up retail park – East Village Junction – is one of the major place-making initiatives happening this summer.
Public art installations, live DJs on Friday nights, arts-incubator initiatives spearheaded by local artists and performing arts groups, craft workshops, and an 88-plot community garden with an apple orchard all add to the mix.
But the East Village is about more than just programming. It's about architecture that pops, and is home to the newly launched National Music Centre. The building was designed by Portland, Oregon firm, Allied Works Architecture, with a roof in the shape of a guitar. The centre spans 160,000 square feet with five floors of exhibition space filled with interactive vignettes that tell the story of music in Canada. It also offers a 300-seat performance space and several meeting rooms. CKUA operates from the base of Studio Bell and the artist-in-residence program kicks off this year.
The East Village is also home to the New Central Library, with its organically inspired contours and breathtaking glass facade, which will open its doors in the fall of 2018.
Peppered throughout the neighbourhood are a collection of housing offerings, including N3, Knightsbridge's parkade-free condominium tower offering; Verve, a 23-storey condominium tower with a five-floor podium offering live-work homes from Toronto developer FRAM+Slokker; and Embassy Bosa's Evolution, with its garden roof deck and selection of fitness rooms.
The Hat, an upscale, 28-storey, family-friendly (there will be three-bedroom designs) rental project by Cidex Developments Ltd is in the works. 5th and Third, a block-long development with a Loblaws City market in the podium and Arris – is a two-phase, multi-family development.
Upon final build-out in 2027, the East Village will be home to more than 11,000 residents and inspire hundreds of thousands with its top-notch facilities, restaurants, retail offerings, community programming and natural beauty.
Tagged: Allied Works Architecture | Calgary Community | Calgary Municipal Land Corporation (CMLC) | Cidex Developments Ltd | CKUA | East Village | Embassy BOSA | FRAM + Slokker | Jessa Morrison | Knightsbridge | National Music Centre | Simmons Building | Studio Bell
---
---
Connect With Us