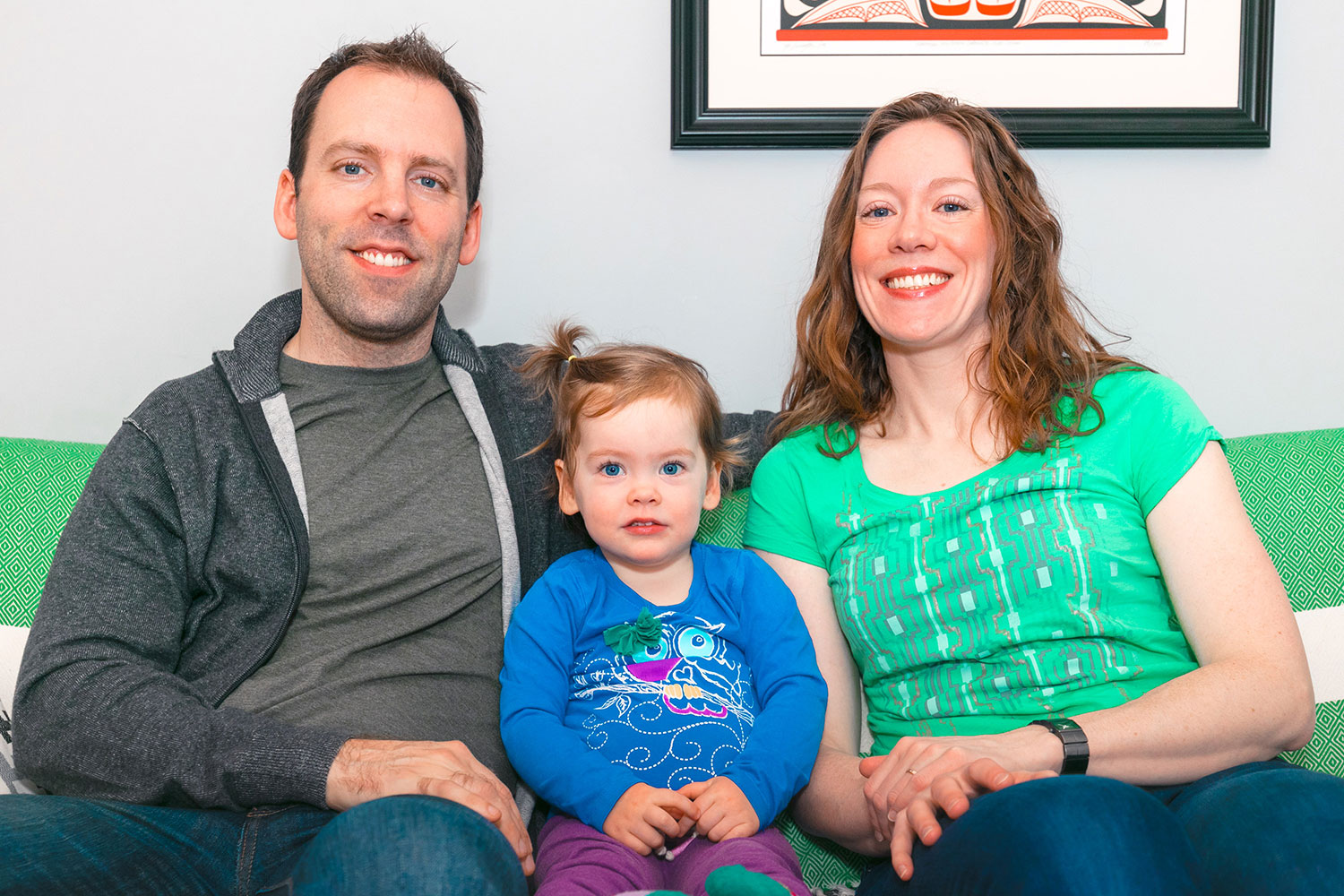 Andrea Cox / For CREB®Now
March 05, 2021 | Kathleen Renne
Appealing apartments: whether empty nesters or new parents, in the city centre or suburbs, Calgarians find apartment-style condos a perfect fit
Matt Greer is not a fan of car travel. "Anytime I drive in Calgary, I feel it's a disconnected, slow way to get around," he said.
Greer's attitude toward driving has been shaped by his decade long experience living in Calgary's Beltline community. Greer estimates he and his wife, who also have a two-year-old daughter, only use their car once a week. They can often bike or walk where they need to go. It's something he considers the ultimate benefit of living in the city centre.
In fact, proximity to the workplace was the main reason Greer purchased his apartment-style condo in the Beltline in 2007.
"Not ever needing to be stuck in traffic is excellent," said Greer, adding that both he and his wife bike to work.
En route, Greer even drops off his daughter at daycare. "I've often wondered what would happen if my work moved to the suburbs ... If I couldn't live and work downtown, I would probably change work," Greer speculated.
Greer says raising a child in a city centre condo is actually quite convenient. "When we found out we were pregnant, we thought we'd probably need a house in the suburbs. We figured having a kid in a two-bedroom condo would be a nightmare," Greer recalls. However, the couple waited until their daughter was born before deciding whether to move and soon discovered that it was unnecessary.
Greer's neighbours, Daorcey Le Bray and his wife, are also rearing a two-year-old daughter in their unit. Le Bray says that living in a city centre condo is helping his toddler gain experience with inter-personal interactions. "On the acreage where I grew up, if I wanted to visit my friends, it was a 10-minute walk. Here, you can have dinner and the neighbour is only four levels down," said Le Bray.
"There are all these great public shared spaces nearby ... I get to meet people, and my daughter gets to meet other kids, just by going to the playground," he added.
Le Bray first moved downtown in the early 2000s. Now a father, Le Bray says a family feel does exist in the city centre, just as it does in the suburbs.
Unlike Greer and Le Bray, Marleen Spittal lives in an apartment-style condo in suburbia, though that's not how she describes her location. "I live in the inner city of McKenzie Towne," Spittal laughs, referring to McKenzie's centrally-located High Street, where she lives nearby.



There are all these great public shared spaces nearby ... I get to meet people, and my daughter gets to meet other kids, just by going to the playground.



"On High Street, you have a doctor, dentist, dog parlour, dollar store, pub, grocery store, flower shop and restaurants. I'm from Europe originally, and this is how Europeans live. They go grocery shopping twice a week ... This part of McKenzie Towne isn't a typical suburb. It's like living in a little town," said Spittal, highlighting the walkable nature of where she lives.
Spittal has been living in her condo for nearly six years, after moving out of her bungalow in Bridgeland once her children had grown. "Being on my own, I didn't want to have to shovel snow or mow the lawn," said Spittal, referencing one of the key advantages of condo living.
While Spittal admits she would have preferred to remain in Bridgeland and buy a new condo there, price point is what made her opt for McKenzie Towne instead.
"What I could get for my dollar in McKenzie Towne, I would have paid much more for in Bridgeland," said Spittal. It's a primary reason many people choose the suburbs over the city centre.
"Apartment-style condo living is not for everyone, but I've taken to it," said Spittal.
Not unlike her city centre counterparts, Spittal also lives ten minutes away from work, though she travels the distance by car.
And despite what people may think about living in the suburbs, Spittal says she doesn't feel at all disconnected from the rest of Calgary.
"McKenzie Towne is five minutes off Deerfoot and a couple of minutes off Stoney Trail. The access is amazing. And if I ever want to get out of town, I'm literally a couple of minutes away from being out in the country," she said.
"I live here, I work here, I play here," she said, echoing the aim of many new suburban developments in Calgary.
Tagged: Calgary Community
---
---
Connect With Us