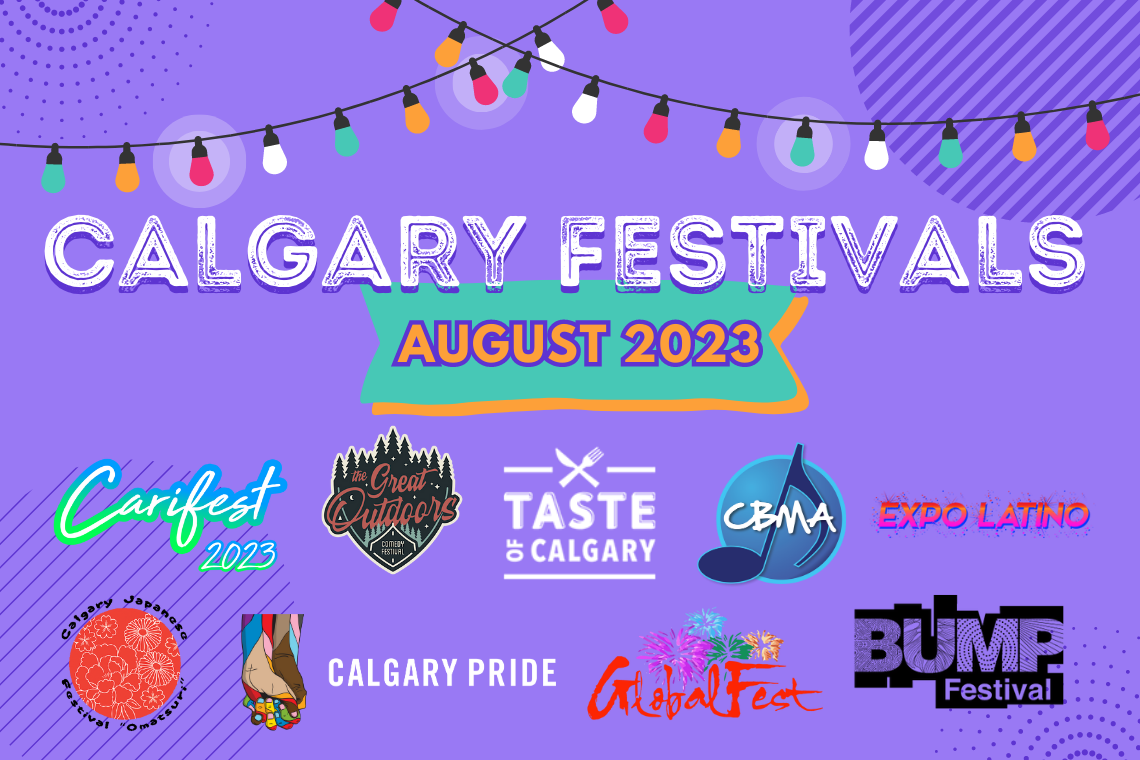 YYC events food festivals
July 19, 2023 | CREB
Festivals coming to Calgary in August
Your cowboy boots can rest for a while, but that doesn't mean you have to.
August in Calgary means festival season, and this year, there are many festivals you can squeeze in for what remains of the summer. From cultural to culinary events, there is something for every taste! Here are some you could check out:

MUSIC & ENTERTAINMENT

Calgary International Blues Festival
August 3-6, Shaw Millenium Park, 1220 9 Ave S.W.
Coming up to its 19th anniversary, this four-day festival honours and recognizes the best in blues with delightful concerts featuring award-winning musicians, special events and musical workshops.
Tickets

The Great Outdoors Comedy Festival
August 25-27, Prince's Island Park, 698 Eau Claire Ave S.W.
With renowned comedians such as Nick Offerman (Parks and Recreation) and Jonathan Van Ness (Queer Eye), this festival promises to fill your weekend with fun and a few punchlines.
Tickets


FOOD

Taste of Calgary
August 3-7, Calgary Parking Lot #6 311 8 Street S.W.
Calling all foodies! Enjoy a unique variety of dishes and savoury drinks from your favourite local restaurants, food trucks, breweries, and distilleries.
Tickets


CULTURE

BUMP Festival
August 5-26, Several locations
A city-wide, community-led, artist-focused street art festival, BUMP reimagines Calgary's public spaces through the visual arts.
More information
Incredible India Fest
August 7, The Westin Calgary Airport, 671 Aero Dr N.E.
From cultural and musical performances to mouthwatering dishes, this festival offers the chance to immerse yourself in Indian culture and celebrate its heritage and richness.
Free admission at the door
More Information
Calgary Japanese Festival "Omatsuri"
August 11-13, Max Bell Centre, 1001 Barlow Trail S.E.
Experience the colours, flavours, and sounds of Japan in YYC! Throughout the weekend, attendees can admire authentic Japanese customs, dance and music performances, martial arts, and more.
Tickets
Franco Festival Calgary
August 12, Olympic Plaza, 228 8 Ave S.W.
Make the trip downtown to celebrate Calgary's francophone community through dance, music, food, arts and crafts.
Tickets
Calgary Arab Festival 2023
August 12-13, Shaw Millennium Park, 1220 9 Ave S.W.
Tasty dishes from over 10 countries, coffee, cultural tents, and folk-dance performances are just a few of the many things you can expect at this festival. It's one you don't want to miss!
More information
Marda Gras Street Festival
August 13, Marda Loop, 3rd Ave S.W., between 18th and 22nd Street.
This New Orleans-themed festival will bring the carnival's vibrant energy to the streets of Marda Loop and offer attendees the joy of live music and mesmerizing shows and dance performances.
More information
GlobalFest: International Fireworks Festival
August 17-26, Elliston Park, 1827 68 Street S.E.
A celebration of Calgary's multiculturality, Global Fest offers culinary delights from across the globe, performances featuring national and international talent, and a world-class firework spectacle.
Tickets

Expo Latino
August 18-20, Prince's Island Park, 698 Eau Claire Ave S.W.
As Western Canada's largest Latin festival, Expo Latino brings lively music, dance, art, and appetizing food from Latin America to the city.
Tickets
Carifest 2023
August 18-20, Shaw Millenium Park, 1220 9 Ave S.W.
Bring your best vibes and celebrate Caribbean culture with reggae performances, a colourful and energetic parade featuring masquerade dancers, and the best Caribbean cuisine at Carifest.
More Information
Chinatown Street Festival
August 19, Chinatown, 328 Centre Street S.E.
Stop by the cultural zones, buy a gift at the market, grab a bite of delicious treats, and tune into the wonderful musical and dance performances at the 18th edition of the Chinatown Street Festival, which honours the cultural heritage of Japanese, Korean and Southeast Asian community in the city.
More information
Calgary Pride
August 25-September 4, Multiple locations
The last weekend of August will be filled with the colours of the rainbow to celebrate and honour the 2SLGBTQ+ community in Calgary and beyond with patio parties, social gatherings, and a high-spirited pride parade.
Free and ticketed events
Tagged: Events | Calgary | Calgary Art | Calgary Community
---
---
Connect With Us