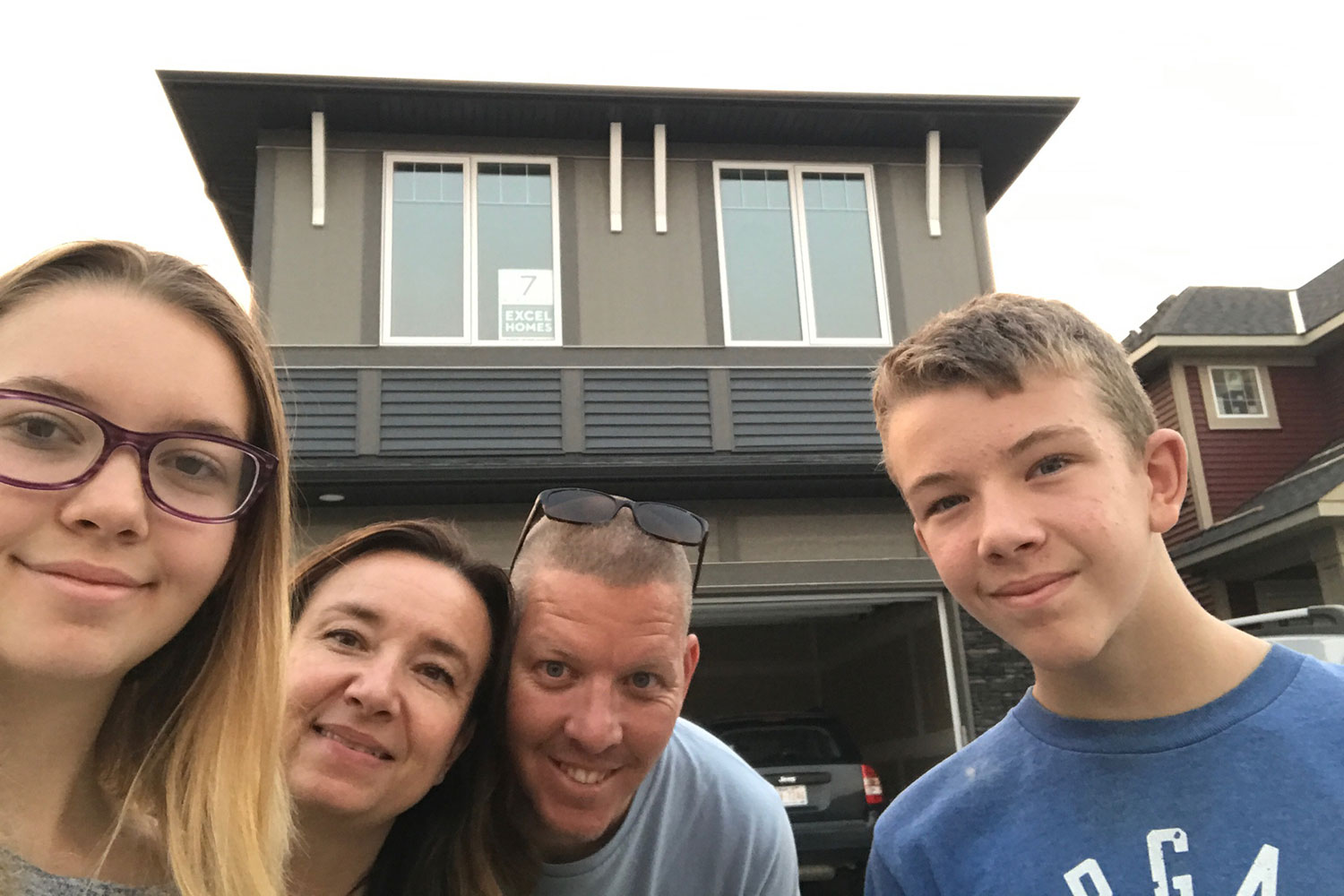 Courtesy Andrew Palmer and Vicki Bernier
Nov. 01, 2017 | Andrea Cox
Close-knit community
Ontario transplants Andrew Palmer and Vicki Bernier built their dream home in Okotoks' MountainView
Andrew Palmer and Vicki Bernier had been tossing around the idea of relocating to the Calgary area to be closer to family and to carve out a better lifestyle for their family. With two teens – Kaelyn, 15, and Jake, 13 – and two dogs, finding the right home in the right neighbourhood was a key factor in the couple's decision-making process. They found the perfect match with Excel Homes in the Okotoks community of MountainView.
CREB®Now:
What attracted you to Okotoks and the community of MountainView?
Andrew Palmer:
We recently moved to Calgary from Kitchener, Ont., and our goal was to find a home in an area that had that close community feel. We'd spent some time in Mahogany while we were staying with my brother and we really liked it, so we initially looked for a home there, but we couldn't really get all of what we wanted for the price we wanted to pay.
Plus, we really liked the small-town appeal of Okotoks. It has all the amenities, from grocery stores to Costco to Walmart, and it's still close enough to the city that you are not far away from anything.
MountainView was the first neighbourhood that we looked at. We toured around others, but this one fit and we were able to get the home model that we wanted. Our street is still under construction, but MountainView seems like a close-knit community. When we take the dogs out for a walk, everyone says "hi." It's very friendly.
CREB®Now:
How did you choose your builder and home model, and how does the home work for your family and your lifestyle?
"Our street is still under construction, but MountainView seems like a close-knit community. When we take the dogs out for a walk, everyone says 'hi.' It's very friendly."
Andrew Palmer:
We looked on the MLS® System while we were still in Ontario, so we had an idea of what was available in Calgary. And we also looked at new neighbourhoods. My wife found the Excel home model that we ended up purchasing online before we even moved here.
It's a 2,000-square-foot, two-storey, three-bedroom home with a bonus room on the second floor. Everything that she wanted on her wish list, she got. The home design was a big factor. The master bedroom is at one end of the house and the kids' bedrooms are at the other end with the bonus room in between, so we really have a separate adult area.
Having an ensuite was a major must-have, and we upgraded to a six-foot deep soaker tub – she wanted a place to have a bubble bath and relax. There is also a separate glass shower, which is something that I wanted. That and the attached, double-car garage were big on my list.
We also wanted a great kitchen with a long island. We upgraded it to seven feet because we do a lot of cooking and entertaining – hosting dinners with my brothers and all their kids – so it can get to be quite a big group.
CREB®Now:
How was the build process? Do you have any tips for those considering building a new home?
Andrew Palmer:
We had a great experience with Excel. We had built a home in Ontario, but as soon as we signed the papers with the builder there, we didn't have any communication until it was time to get the keys. Excel was so much better. There were constant updates and communication. It is so different and so much better to build a house out here.
Before we purchased with Excel, my wife emailed about 30 questions and I brought my family out to see the show home and then we asked another slew of questions and they answered everything. If they didn't have the answer, they got back to us within a day with an answer.
The build process was also much faster than anticipated – it took five months and we were able to move in by August, so the kids could start school in our new home.
My advice is to ask a lot of questions, and if you don't get an answer that is a red flag. Nothing is going to be perfect, but if you do have issues, then communication is key.
Tagged: Andrew Palmer | Buyer Profile | Excel Homes | Kitchener | Mahogany | MLS® System | MountainView | Okotoks | Surrounding Areas | Vicki Bernier
---
---
Connect With Us