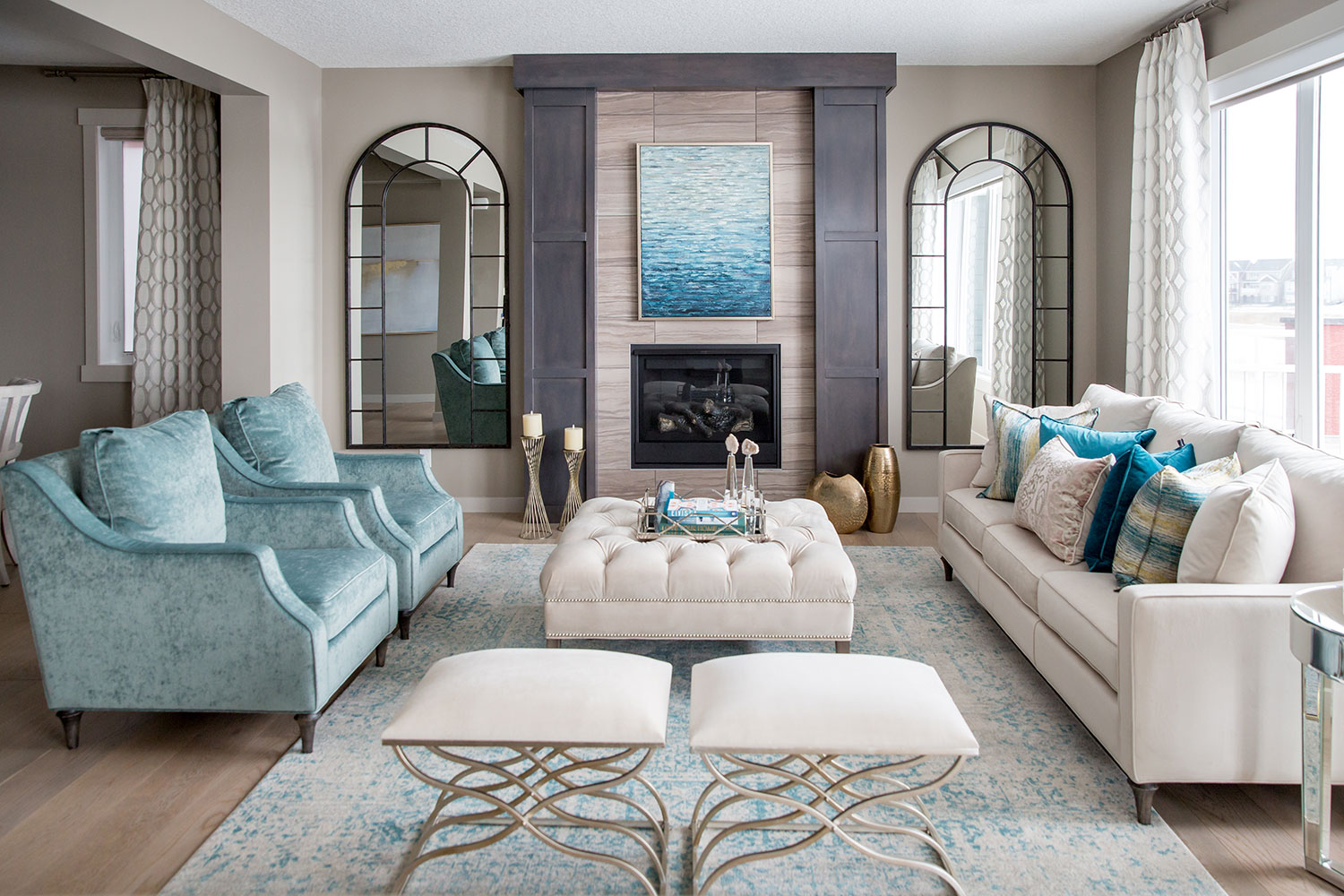 Courtesy Lindsay Nichols Photography
Feb. 28, 2018 | Andrea Cox
Family-friendly facelift
For Patricia Kan and Sam Schnitman, finding the right designer made their dream home a reality
Whether it's adding a few pops of colour and some fabulous artwork, or completely redoing the interior aesthetic, a designer can make all the difference when it comes to creating a polished look. That's why Brazil natives Patricia Kan and Sam Schnitman, who moved to Calgary three years ago, turned to Katie Rioux of DWK Interiors when it came time to furnish and decorate their new home in Mahogany. The couple wanted a family-friendly design for their three girls, aged 10, 14 and 21 – one that would highlight the home's stunning views of the surrounding wetlands. Rioux utilized neutral shades and soft textures, highlighted by pops of "bling" in the fixtures and hits of soft turquoise, creating an elegant and warm ambience that's perfect for cozying up by the fire or entertaining large groups.
CREB®Now:
Could you describe your home?
Patricia Kan:
We really purchased the home because we fell in love with the view. It was a spec home, the 3,000-square-foot Downing model by Homes by Avi. The home has plenty of windows and four bedrooms, but it was a bit dark due to the choice of wall colour.
CREB®Now:
What inspired you to hire a designer, and what look did you want to achieve?
Patricia Kan:
We didn't want to make the mistake that many people do of spending money on furniture that, once put together inside the house, doesn't create the desired atmosphere. I'll be candid – I didn't know what look I wanted for the house, but I did know what I didn't want, and that was a dark/heavy look.
CREB®Now:
Could you chat a little bit about the interior design and the process?
Patricia Kan:
When we bought the house, we decided not to keep any of the furniture that we had. My favourite room is the living room, because it is so comfortable and inviting. It has a piece of artwork that reminds us of the wetlands, so even during the winter, when everything is frozen, we can still feel the lake environment as it is in the summer. I also love the powder room. It is like a jewel box.
CREB®Now:
Would you recommend hiring a designer?
Patricia Kan:
Definitely. It has been one of the most rewarding decisions that I have made. Once you find the perfect match – by that I mean the professional that really captures your style – you can just close your eyes and wait for the results. I love my house.
Tagged: Brazil | Buyer Profile | Design | designer | DWK Interiors | Homes by Avi | Katie Rioux | Mahogany | Patricia Kan | Sam Schnitman
---
---
Connect With Us