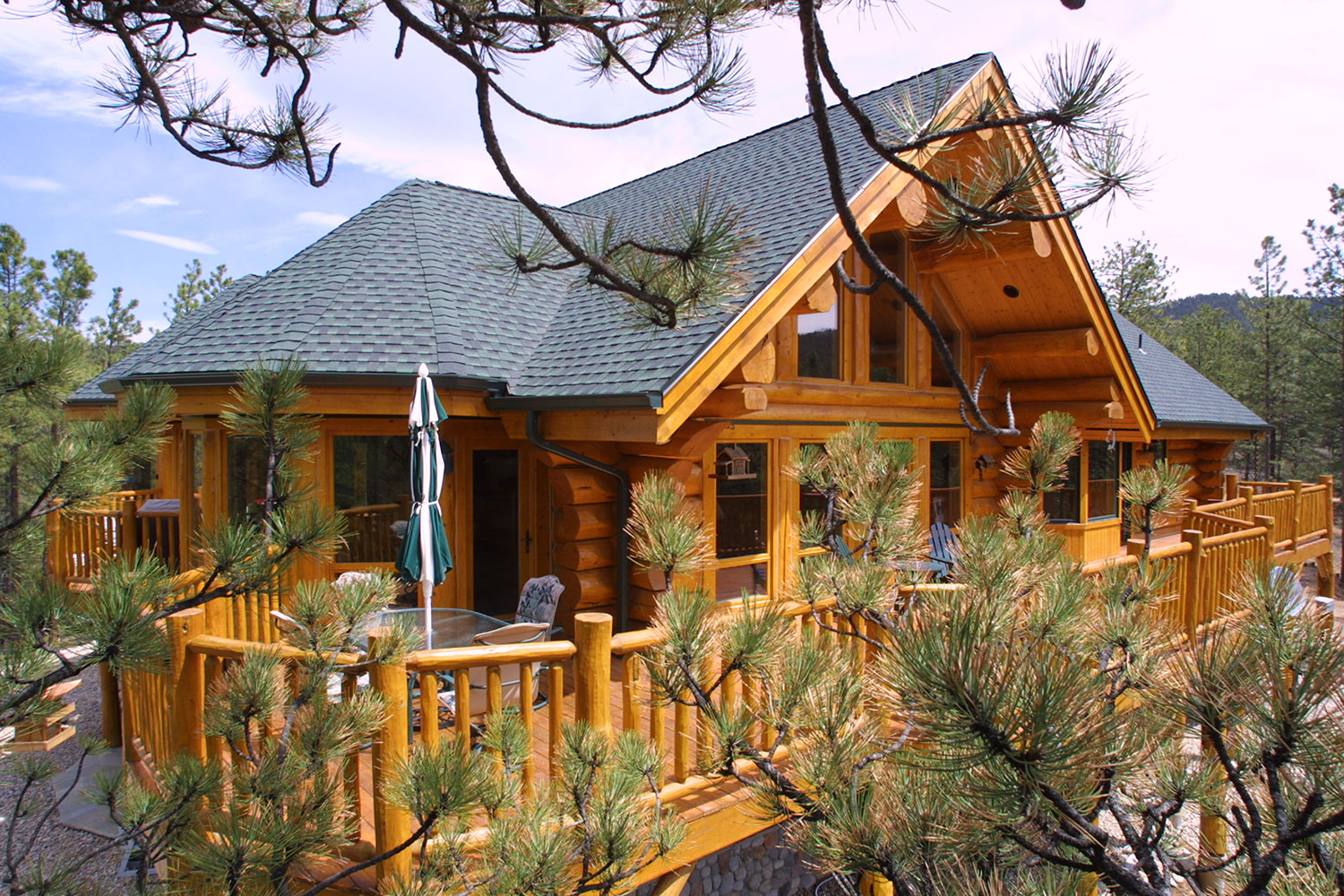 The rustic aesthetic of timber-frame and log homes is a perfect match for the natural backdrop of acreage properties. Courtesy Moose Mountain Log Homes Inc.
Feb. 14, 2018 | Gerald Vander Pyl
Heritage homebuilding
Classic timber-frame and log homes are the perfect fit for many Alberta acreage properties
Attractive acreage properties lend themselves beautifully to some classic building methods: timber-frame construction and natural log homes.
Each has its own appeal, and while the homes come at a premium cost, Alberta specialty builders say the results are worth the money.
Lloyd Beckedorf, president of Moose Mountain Log Homes Inc. in Cochrane, says the look of a log home is timeless.
"You can look at log buildings that are decades and decades old and they haven't lost their original charm or appeal," he said.
"There are homes we built more than 30 years ago that, other than if you walked through them and looked at the appliances, you couldn't tell if they were two years old or 30 years old."
He says some log buildings in Europe from the 1200s are still in daily use today, almost 800 years later. In fact, boreal forests can regrow to maturity numerous times to during the lifespan of a log home.
"You can look at log buildings that are decades and decades old and they haven't lost their original charm or appeal." - Lloyd Beckedorf, Moose Mountain Log Homes Inc. president
Beckedorf says log homes are energy efficient and eco-friendly. The thick log walls provide good insulation value, while the thermal mass of the structure helps maintain an even temperature, reducing the use of air conditioning in summer and heating in winter.
"You (also) have a building product that has no artificial, chemical off-gassing," he said. "And you don't have mould in a log building, they naturally breathe."
Beckedorf says log-home construction costs on average about 25 per cent more than traditional methods, but some of that premium is due to a tendency among customers to choose high-quality interior finishes.
As for construction timelines, Beckedorf says, on a recent project after the design stage was completed, owners were able to move into the completed home about 10 months later.
Timber-frame homes are also appealing to acreage owners, says Marla Brown, co-owner with her husband Rod of Crazy Creek Timber Frames Ltd. in Okotoks.
"Our clients are building on lake property, on family farms, on rural properties – something that they're not going to flip," said Brown.
"A common denominator is that they just want the best. They like the architecture, they like the classic look.
The fact that 100 years from now the house will still be in style, the house will be relevant and it will be structurally sound."
Brown says timber-frame construction lends itself to large, open floor plans.
"The design of timber frame historically is that you create these vaulted areas and a lot of volume in your living space, and that creates a lot of character."
She says they have also completed some dream project for clients, including one who imported an old, oak timber-frame barn built in the era of Shakespeare, and had it reconditioned and assembled into a new home.
"It's one of the most intriguing and enchanting living spaces that I've ever seen," she said.
Timber-frame construction costs on average about 25-30 per cent more than a traditional home. Customer can have the company come up with a design, bring their own from an architect or draftsperson, "or see a picture in a magazine and say, 'this is really what I want.' "
Tagged: acreage | Alberta | architecture | Cochrane | Crazy Creek Timber Frames Ltd. | eco-friendly | europe | Feature | Lloyd Beckedorf | log home | Marla Brown | Moose Mountain Log Homes Inc. | Okotoks | Surrounding Areas | timber-frame
---
---
Connect With Us