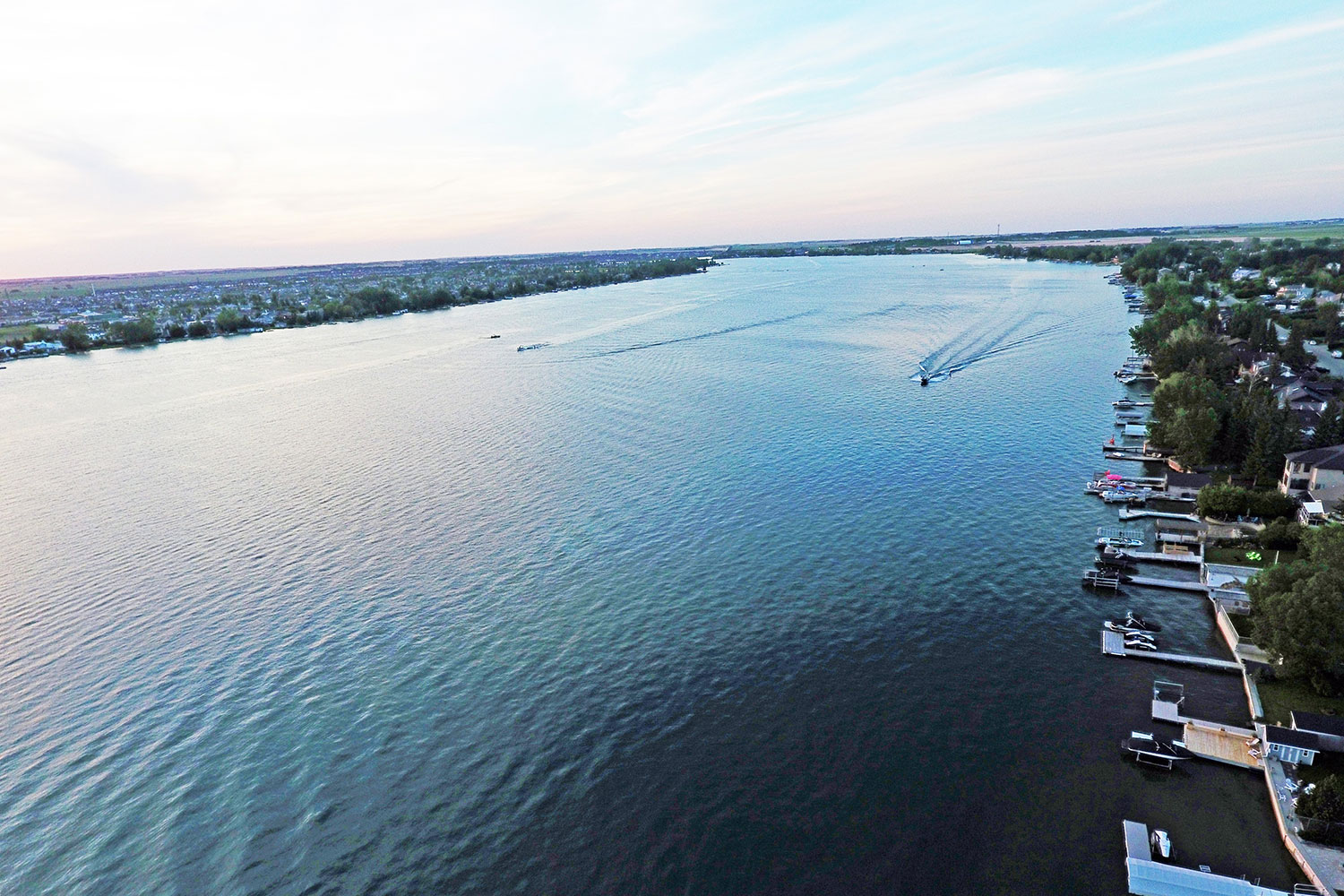 Courtesy Marjorie McKay
July 25, 2018 | Kathleen Renne
Charming Chestermere gives Calgary lake communities a run for their money
Long-time Chestermere REALTOR® Marjorie McKay can't say enough about living in the small, friendly city on Calgary's eastern edge. "What a lifestyle," she said. "It's like resort living."
A rapidly increasing number of people are discovering Chestermere's allure. When McKay moved to the community 27 years ago, the population barely topped 900. Today, it sits around 20,700, with growth of just under two per cent last year.
Even though Calgary has several lake communities of its own, at 750 acres, Chestermere Lake is nearly 700 acres larger than its largest Calgary counterpart. Additionally, as Chestermere Lake is part of the Western Irrigation District – a network of waterways responsible for providing irrigation water from the Bow River to surrounding farmland – its water changes over every four days.
"The water is very clean," said McKay. "I swim in the lake, and I don't worry if I don't have time for a shower."
The lake is perfect for swimming, kayaking and lounging on any of its three beaches.
"It's an amazing spot for all seasons." - Marshall Chalmers, Chestermere Mayor
Also, unlike Calgary's community lakes, Chestermere Lake permits sailing, waterskiing and motorboat use. As an added bonus, the lake's fish stock is wild, originating from the river water that flows into the irrigation district.
Chestermere Mayor Marshall Chalmers says the lake has become so popular with residents and visitors alike that Chestermere's city council is currently developing a lake-use management plan to better control the pressures on the area.
"It's an amazing spot for all seasons," said Chalmers, citing cross-country skiing, hockey, ice fishing, skating and snowmobiling among popular winter-time activities.
McKay says homes in Chestermere remain an "incredible value" when compared to homes in Calgary's lake communities. Prior to 1975, owners of lakefront homes in Chestermere could only lease the lots on which their houses stood.
"Our cost per square foot is so much lower than in Calgary. Lakefront properties here are underpriced," said McKay.
She adds there's "good inventory" on the market right now, including lots starting at $700,000 and older cottages.
In total, McKay says there are about 400 lakefront homes in Chestermere, each with their own dock.
"We have everything in Chestermere that Calgary has, and we are actually closer to Calgary's city centre than most lake communities," she said, noting it takes about 20 minutes to drive from Chestermere to downtown Calgary.
Chalmers says Chestermere's "future is bright," and its city council continues to encourage non-residential development in the area, so more residents can live and work within its boundaries.
Chestermere is celebrating its lake lifestyle with the annual Water Festival on July 28.
"Lots of people don't have access to watercraft, so this gets them out on the lake," said Chalmers, highlighting the festival's boat tours.
Visitors can also enjoy a vendor market, musical performances, beer gardens, children's activities and evening fireworks over the water.
Tagged: Chestermere | Chestermere Lake | Feature | fish | lake | lakefront | Marjorie McKay | Marshall Chalmers | REALTOR | Surrounding Areas | Water Festival | waterskiing | Western Irrigation District
---
---
Connect With Us