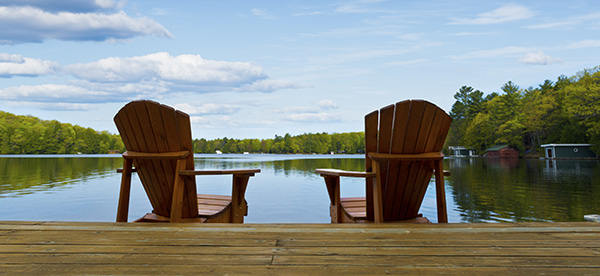 Aug. 07, 2014 | CREBNow
Go jump in a lake
Lake communities offer waterside fun in the sun
Vanessa Verkley needs little encouragement to grab a towel and head to the lake these days.
Like other Calgarians, the Auburn Bay resident has been feeling the heat of the second hottest July in seven decades. The good news for Verkley is she's walking distance from Auburn Lake – among dozens of lakes in the city offering cool respite from hot temperatures. "Once I started going, I loved it," said Verkley, who has called Auburn Bay home for the past three years, but didn't start making the lake a regular stop until recently.
"And the great thing is ... there's not a ton of people to the lake. So if you're going on a weekday or anything like that, it's really not that busy. The lake is very clean. They do a really good job with the grounds. It's really great."
Choosing to live in Auburn Bay was almost predestined for Verkley, who grew up in nearby Sundance, another lake community in the city.
"I just remembered how fun it was," she said. "I just like having the amenities [in Auburn Bay], even if I don't use them. It's nice knowing they're there."
Verkley's not alone. Since 2010, Auburn Bay has nearly tripled its population growing from 4,217 to 11,127 according to the 2014 civic census.
Other lake communities in the city, even those that are more established, are undergoing a similar transformation. Chaparral has grown from 10,537 in 2010 to 12,407 in 2014, while Lake Bonavista (10,502) and Sundance (10,364) have remained relatively steady despite growing out-migration.
Other lake communities in the city include the more established Midnapore with a population of 6,956, Arbour Lake (10,987) and McKenzie Lake (14,189).
Even if a lake community is not home, Calgarians can still hit the beach with their families at Sikome Lake, located in Fish Creek Provincial Park. Sikome is open from June to
September and includes playgrounds, change rooms and concessions.
For those looking to expand their lake living options, the Calgary region also has plenty on tap.
Nearby Chestermere, which has doubled its population over the past decade, draws crowds during all seasons for activities that range from waterskiing to ice fishing.
The 17,203-person town is also in the midst of redeveloping the popular Anniversary Park. Located on West Chestermere Drive, the plan calls to expand the park by as much as 60 per cent, as well as add a promenade plaza and increase parking spaces. Construction is expected to be completed this fall.
Further south, Little Bow Provincial Park offers Calgarians camping and recreation opportunities,
as well as cottage lots for sale. McGregor Lake, meanwhile, is a popular haunt for swimmers, anglers, boaters, campers and bird-watchers.
To the north, many Calgarians keep cottages and properties at Sylvan Lake. Originally called Snake Lake at the time of settlement, the area eventually became a popular camping destination for those living in nearby Red Deer and today remains an attractive destination year round.
Tagged: Arbour Lake | Calgary | Calgary Community | Chestermere | communities | Feature | lake | Lake Bonavista | Little Bow | McGregor Lake
---
---
Connect With Us