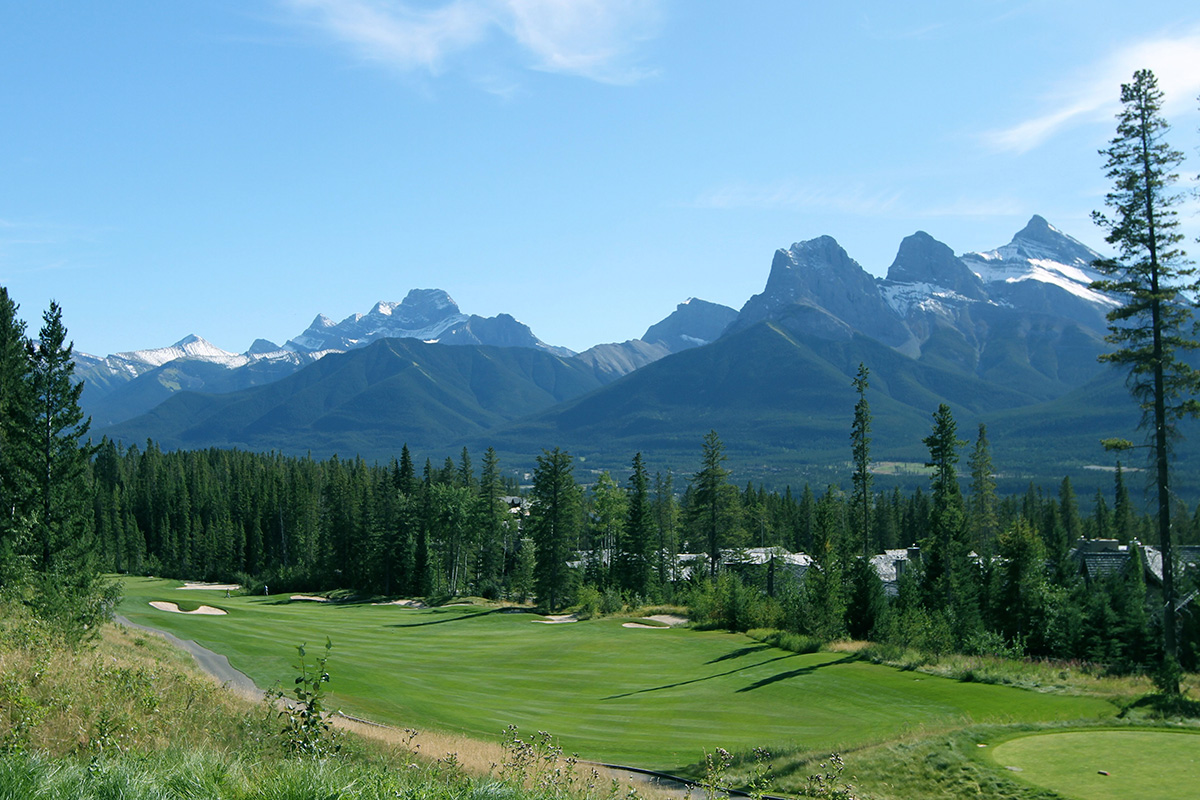 Some of the new homes coming to Silvertip Resort as part of two proposed subdivisions will offer views of the golf course. Courtesy of Stone Creek Resorts
June 30, 2021 | Barb Livingstone
Two proposed subdivisions set to create new opportunities for luxury homebuyers in Canmore
Canmore's sizzling real estate market is about to get a welcome influx of new product for interested homebuyers.
Two new proposed phases of the 600-acre Silvertip resort development, perched atop the slopes to the east of the TransCanada Highway, will include more than 100 luxury tourist homes.
Marketing for one of the phases – the development's first-ever resort chalets, known as Silvertip Village Lane – is expected to begin by September, says John Third, vice-president of marketing and sales for developer Stone Creek Resorts.
The 40-to-50 resort chalets will range from 1,800 to 3,000 square feet with expected prices of $800,000 to $1.5 million, and each will be part of the resort's rental program. Third says the larger apartment-style condos, in particular, will offer the option of multiple locked-off units (sectioned areas to provide what amounts to separate luxury hotel rooms) earning additional income for owners.
The second phase, Mountain Tranquility Lane, will be a 58-lot subdivision of 34 single-family homes and 24 semi-detached units. Some lots boast views of Silvertip Golf Course, but extensive views of the surrounding mountain and wildlife corridor dominate.
"The product has real visitor appeal and the ability to generate six-figure income for owners while still having personal use." - John Third, Stone Creek Resorts
Third says there's already a waiting list of potential buyers, as it's been a decade since Silvertip released new lots.
Lot sizes reach as large as half an acre and are priced from the high $900,000s up to more than $2 million. Third expects some buyers will consolidate more than one lot.
The two new phases have been approved in principle, having met the requirements of the area structure plan (ASP) first developed for Silvertip in 2007.
According to Lauren Miller, manager of planning and development with the Town of Canmore, while the resort housing proposal is not what previous councils might have considered to be commercial development in a complete community – "generally, commercial would include a place to pick up milk and bread," she said – it qualifies under the original ASP and will be taxed commercially.
Most tourist accommodation in Canmore is zoned for shorter-term rentals, while Silvertip's new resort chalets will not have any time use stipulation.
She says next steps for the two phases will be detailed subdivision design, followed by work on integral services like roads and utilities.
Third says the chalets, with full concierge services, represent a niche market in an increasingly popular recreational community where many people don't just want a hotel room.
"The product has real visitor appeal and the ability to generate six-figure income for owners while still having personal use," he said.
He adds that while Silvertip buyers have come from other parts of Canada, the U.S. and the United Kingdom, 65 per cent are from Calgary, and he expects that trend to continue.
Tagged: area structure plan | Calgary | Calgary Real Estate | Calgary Real Estate News | Calgary Real Estate News | Canmore | Commercial | Condos | Feature | golf | Homebuyer | hotel | luxury | Mountain Tranquility Lane | mountains | New This Week | Planning | rental | Residential | Rocky Mountains | Silvertip Golf Course | Silvertip Resort | Silvertip Village Lane | Stone Creek Resorts | Surrounding Areas | Town of Canmore
---
---
Connect With Us