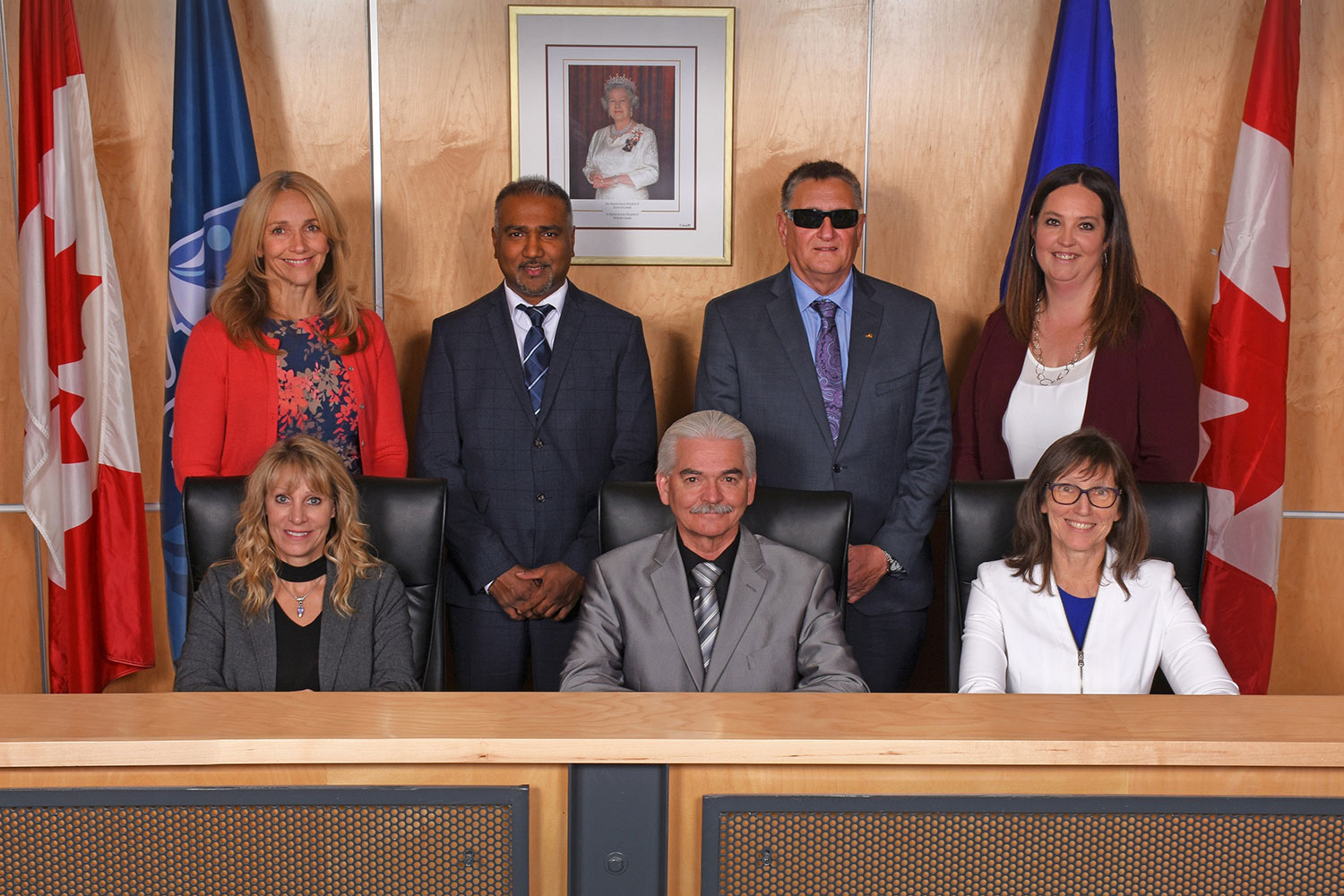 According to Chestermere Mayor Marshall Chalmers (front row, centre), the new city council's first priority is to address Chestermere's taxes and utility rates. Courtesy City of Chestermere
Nov. 15, 2017 | Gerald Vander Pyl
A fresh start
Chestermere's local government gets a facelift, with new mayor and councillors on the job
In October's municipal election, residents of the City of Chestermere elected both a new mayor and an entirely new city council. The fact that no incumbents were re-elected would have been notable, except that in Chestermere's case, no members of the previous council chose to run again.
As a result, the new council is planning a fresh start for the community after several tumultuous years that saw rampant complaints from residents over utility rates that increased by more than 50 per cent in five years and property taxes that some homeowners claimed had doubled over the course of a decade.
Newly elected Chestermere Mayor Marshall Chalmers says he spent eight to 10 hours a day during the campaign walking the streets of the community, knocking on doors and hearing what people had to say.
"Going forward, we need to try to bring some normalcy to our taxes and try and bring some normalcy to our utility rates," said Chalmers. "That's really what our marching orders are from the citizens."
He says, like balancing your chequebook at home, tax relief will mean either spending less or finding more money, so council will be looking at both short-term and long-term solutions.
"Short term, it will be about reviewing our projects and expenditures that are on the books right now," he said. "It is the intention of this new council to get in there and see if we can't find some savings somewhere to bring some relief sooner than later."
Long term, Chalmers says council needs to address an imbalance in the city's tax base.
"We have a real heavy residential tax base here. Almost 96 per cent. Something comfortable might be in that 70/30 or 65/35 range," he said.
"The past is in the past ... and now I really feel this is the time for Chestermere to get a fresh set of eyes. You get fresh opinions, you get a different way of looking at things, and then away you go." - Michelle Young, Chestermere city councillor
"In order to find and bring some relief on the residential tax base, we have to try and pull every lever we can on the non-residential tax base, so now you're talking commercial and light industrial and industrial."
Chalmers gives credit to the previous council for getting that process started.
In 2015, the city purchased 101 acres of land to create the Webster Industrial Park, and in November, the new council was told that almost 28 per cent of the park is now spoken for.
Robin Impey, founder of the Chestermere Chamber of Commerce, agrees the city needs to expand its tax base, and says the community is well situated to do so.
"We are right on the Trans-Canada Highway, close to Highway 2, and near a large city, Calgary," he said. "So, in terms of business, it's a great location."
Impey says the local chamber would also like council to help bolster businesses that are already in the community, so people thinking of setting up a business can see Chestermere is viable.
"It's always a goal of a chamber to figure out how to get people to shop local, so we want to work closely with the new mayor and council on how we support Chestermere businesses," he said.
Michelle Young, who received the most votes among Chestermere's rookie councillors, says her priorities are to get an evaluation of Chestermere Utilities Incorporated "and go over really carefully the budgets and finances of the city, and see where things are and what will be needed in the future."
Young says having an entirely new local government is a unique situation, and it represents a chance for a clean slate.
"The past is in the past ... and now I really feel this is the time for Chestermere to get a fresh set of eyes," she said. "You get fresh opinions, you get a different way of looking at things, and then away you go."
Chalmers struck a similarly positive tone when discussing the way forward for Chestermere's new government.
"It's always about trying to do better. We've just got to keep listening to the community and making sure we're driving our efforts down the path the community wants," he said.
"At the end of the day, like any other community, we need to work towards being affordable and sustainable."
Tagged: Chestermere | Chestermere Chamber of Commerce | City Council | City of Chestermere | Feature | Highway 2 | Marshall Chalmers | Michelle Young | Robin Impey | Surrounding Areas | Trans-Canada Highway | Webster Industrial Park
---
---
Connect With Us