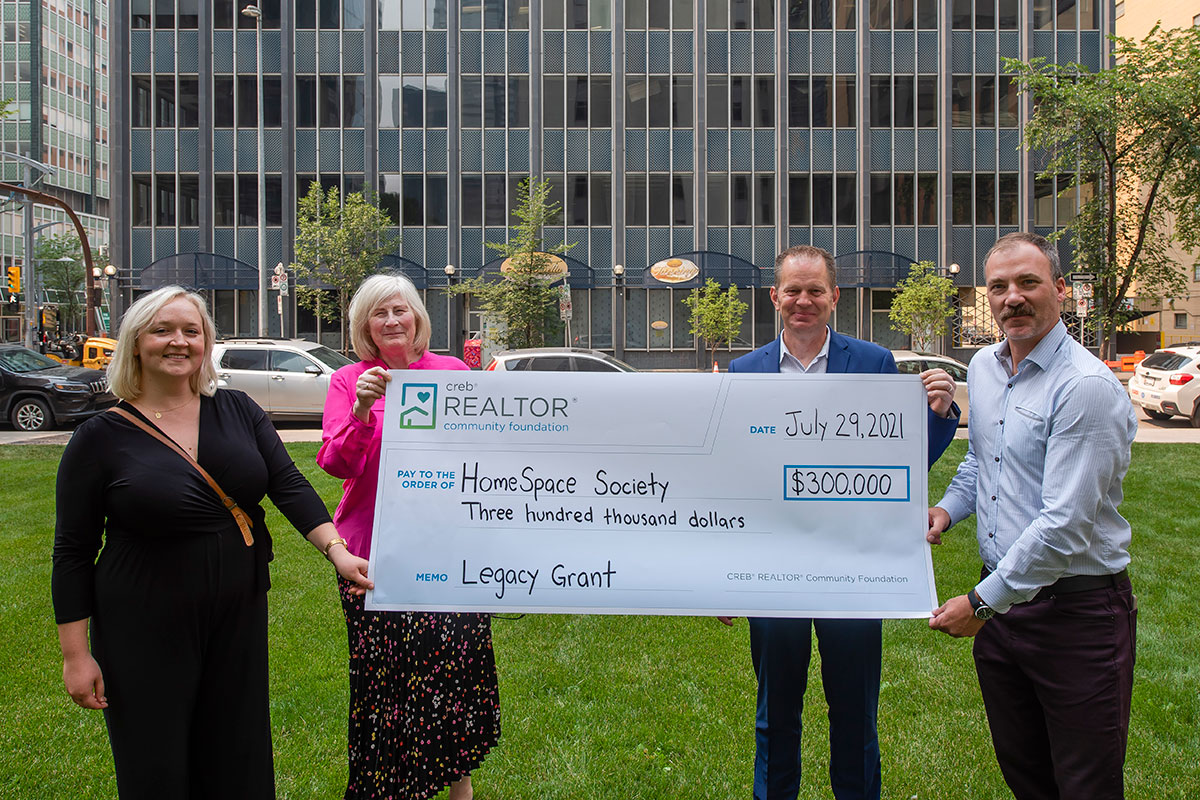 HomeSpace Society's Emily Campbell (from left) and Wendy Cundall with CREB® REALTOR® Community Foundation chair Murray Scotton and CREB® communications director Jason Yule. (Cody Stuart / CREB®Now)
Nov. 16, 2021 | Tyler Difley
REALTORS Care® Week: how the Calgary REALTOR® community gave back in 2021
Nov. 15 – 21 is
REALTORS Care® Week
, a time to showcase REALTORS
®
across Canada who are making a positive impact in their communities and raise awareness of housing- and shelter-related issues and charities.
Here in Calgary, it's easy to see that positive impact in CREB® REALTOR® Community Foundation's ongoing efforts to create new housing, keep people housed and improve housing quality.
After revealing three new grant streams in 2020 to address housing and shelter issues from multiple angles, the Foundation entered 2021 with high hopes for its next wave of grant recipients. The first among those was the recipient of the Foundation's Legacy Grant, which is designed to create new housing and shelter options in the community.
In June, the 2021 Legacy Grant of $300,000 was awarded to HomeSpace Society to help fund its project to convert Sierra Place, a downtown office tower and former home of Dome Petroleum, into affordable housing.
"This investment from CREB® REALTOR® Community Foundation will not only help create affordable homes but also dignity, safety and an opportunity to thrive for nearly 200 Calgarians in need," said Bernadette Majdell, CEO of HomeSpace Society.
HomeSpace Society is a non-profit real estate developer and property manager with a portfolio of 740 housing units in 30 properties across the city. The organization's goal is to increase Calgary's supply of affordable and specialized housing, which made a partnership with the Foundation a natural fit.
At completion, the $28.5-million Sierra Place project will feature more than 80 affordable homes and house nearly 200 vulnerable Calgarians, "including low-income families with children, single mothers, Indigenous people, seniors, and newcomers to Canada, leaving a lasting impact for residents and the greater Calgary community."
In addition to the Legacy Grant, the Foundation has two other funding streams: the Community Grant and Transformation Grant. This year, between the two grants, $100,000 will be awarded to local charities that are keeping people housed and improving housing quality for the community's most vulnerable. Applications for both grants closed on Oct. 1 and the 2021 recipients will be announced on Nov. 30.
Last year's Community and Transformation Grant recipients included the Calgary Women's Emergency Shelter, Discovery House Family Violence Prevention Society, Emma Maternity House Society, Habitat for Humanity Southern Alberta, Kids Cancer Care Foundation of Alberta and Inn from the Cold.
Tagged: Community Investment | CREB® | Affordable Housing | Realtors Care Week
---
---
Connect With Us