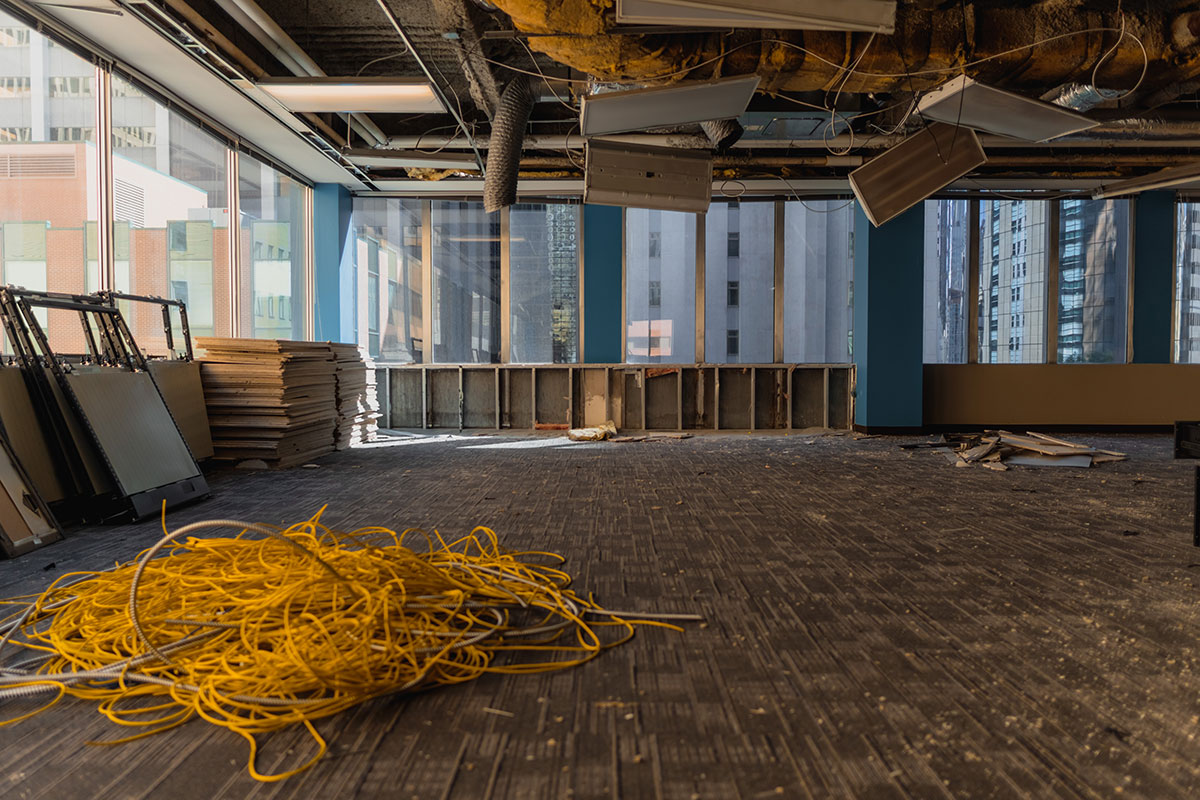 Converting offices into housing is a lot of work, starting with a thorough teardown of the interior space. (Chance Studios, courtesy of HomeSpace Society)
Nov. 18, 2021 | Tyler Difley
HomeSpace Society and Inn from the Cold launch fundraising campaign for Sierra Place project
HomeSpace Society and Inn from the Cold have teamed up to launch Project Thrive, a public fundraising campaign for HomeSpace's Sierra Place project.
HomeSpace has begun the process of converting Sierra Place, a vacant downtown office tower formerly occupied by Dome Petroleum, into more than 80 units of affordable housing for roughly 180 vulnerable Calgarians. The completed building will also house a childcare centre, family shelter and programming space.
Converting office space into housing can be complicated work – the process is outlined in this Instagram Live video tour of the building with the project's architect – but construction is expected to be finished in time for move-in dates in late summer or fall 2022.
The Sierra Place project is currently 75 per cent funded. Through Project Thrive, HomeSpace and Inn from the Cold hope to raise $6.5 million to cover the remaining shortfall.
"Community donations will be used to purchase, renovate, and secure state-of-the-art shelter, transitional and affordable housing units within Sierra Place, providing families with the right environment to thrive and step away from experiencing homelessness," according to HomeSpace.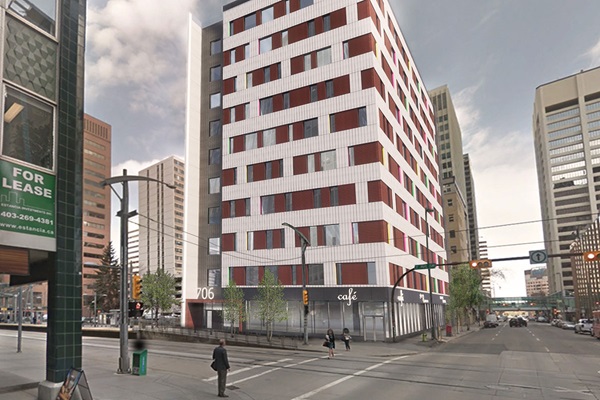 A rendering of the reimagined Sierra Place after construction is completed. (Courtesy of HomeSpace Society)
Half of the Sierra Place project's nearly $30-million price tag is being covered through financing, with the remaining money expected to come from a combination of government funding and private donations.
The City of Calgary pledged $5.5 million to the project as part of its Greater Downtown Plan to rethink and revitalize the city's core. CREB® REALTOR® Community Foundation also contributed to the project, awarding $300,000 to HomeSpace through the Foundation's 2021 Legacy Grant.
Jason Yule, CREB®'s director of communications services, recently sat down with HomeSpace's Emily Campbell to discuss the Sierra Place project and the impact of the Foundation's grant. Their conversation was featured in an episode of the CREB®Cast podcast, which can be found here.
HomeSpace is a non-profit real estate developer and property manager with a portfolio of 740 housing units in 30 properties across the city. The company's goal is to increase Calgary's supply of affordable and specialized housing.
For more information about Project Thrive or to donate, click here. For more information about the Sierra Place project, click here.
Tagged: Community Investment | HomeSpace Society | Affordable Housing | Sierra Place
---
---
Connect With Us