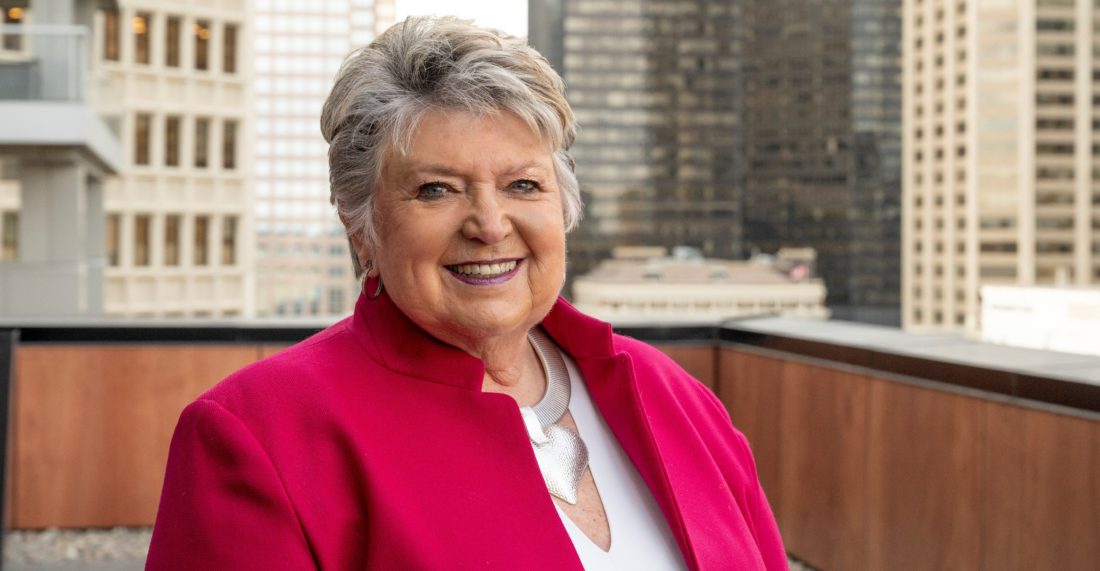 CREBNow Lorna Hamm
April 05, 2022 | CREB
CREB® Chair Lorna Hamm honoured with REALTORS Care® Award
The Canadian Real Estate Association (CREA) has named CREB® Chair Lorna Hamm as the recipient of the Canadian REALTORS Care® Award 2022.
Hamm, one of 47 REALTORS® nominated for the award, is a life-long volunteer who has dedicated the last 50 years to bettering the lives of others in her community. While she has been involved with countless local charities, her passion is supporting organizations focused on children's health and well-being.
"There's nothing sweeter than a child, an innocent child," explained Hamm. "And to know that they are in trouble and need help is, you know, it just pulls at your heartstrings."
In the 1980s, Lorna Hamm helped establish the Children's Cottage Society's Crisis Nursery, the first of its kind in Canada. The Crisis Nursery provides short-term refuge for children when a family is in distress, ensuring kids are safe from neglect or harm.
Less than a decade later, the Calgary Home Builders' Association was looking to take on a charitable project. When asked, Hamm didn't hesitate to suggest that the Children's Cottage Society needed a bigger and better Crisis Nursery. In 1994, the current Crisis Nursey opened its doors, something that would not have happened without Lorna Hamm's advocacy. To date, the Crisis Nursery has helped more than 40,000 children in Calgary.
To facilitate her passion for volunteering, Hamm has spent most of her life as a member of multiple volunteer organizations. While she has always been active with hands-on volunteering, Hamm's greatest contributions have come in the form of game-changing fundraising, with much of it directed to children's organizations.
Over her two-year stint as Chair of the Children's Hospital Aid Society (CHAS) charity golf tournament committee, more than $500,000 was raised to fund life-altering treatment at the Alberta Children's Hospital.
"She has taken on many leadership roles," shared fellow CHAS member Toshimi Sembo. "Raised money for the children's hospital, including arthroscopic equipment, the LITT thermal therapy program for people with epilepsy, the brain interface program for intelligent but non-verbal children, the list goes on."
During the pandemic, Hamm led a grassroots effort to thank local ICU nurses and staff for their tireless work. With a goal of thanking 100 staff members, Lorna Hamm and friends began reaching out to their vast network of contacts to solicit donations so they could put together small "thank you" packages. They exceeded their goal and more than 600 hard-working medical professionals on the frontlines of COVID were given these gifts of gratitude.
Hamm sees many parallels between her passion for volunteering and career as a REALTOR®. "Most REALTORS® are wanting to help. That's why they're in the industry because they want to help people find a place to live or sell their home," she explained. "They're the type of people that care about people."
While humble, Hamm takes great pride in the long-term impact she's made on the city of Calgary. "I just feel like a little part of my heart is in all of these projects, and if I'm driving around the city and I see one of the buildings or one of the services in action I feel very proud to know that I played a role."
The Canadian Real Estate Association will be donating $5,000 to the Children's Hospital Aid Society in Lorna's honour.
Click here for the full story, including the full list of nominees and previous winners.
Tagged: CREA | CREB® | Realtors Care Week | RealtorsCare | realtor.ca
---
---
Connect With Us