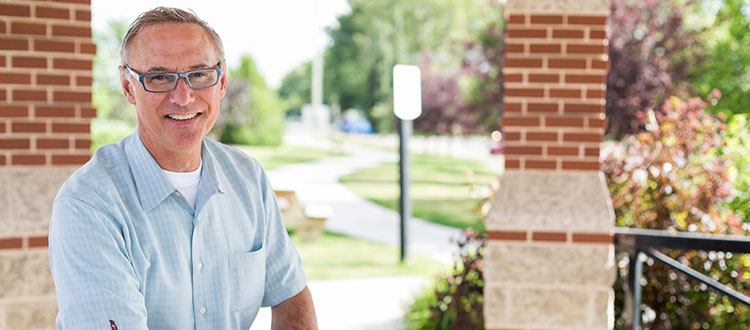 CREB® past president Jim Ross has worked in High River for nearly four decades, noting the town continues to evolve alongside the regional housing market. Photo by Michelle Hofer/For CREB®Now
Oct. 24, 2016 | Cailynn Klingbeil
55 Years of Calgary Real Estate: 1996 CREB® President Jim Ross
CREB® past president Jim Ross labels digital revolution in 1996 as a game-changer
It was the cusp of the modern-day tech revolution, and Jim Ross had the best seat in the house.
"The Internet was quite new, and we were just coming to grips with the best way to head down that road," said the CREB® past president, who guided the local real estate industry in 1996 through increasing demand for digital alternatives. "At that time, we had no idea what the impact of the Internet would be, how universal it would become.
"Picture a world where there's a new technology: It sounds like it has the potential to be pretty amazing, but no one really knows because it's brand new."
After starting with its own website, CREB® later joined other boards in Canada on the Multiple Listing Service® system, today known as realtor.ca and operated by the Canadian Real Estate Association (CREA).
"All real estate boards were tuned into the Internet," remembered Ross, noting the MLS® System was particularly advantageous to out-of-town buyers. Canadian Pacific Railway moved its head office to Calgary from Montreal in 1996, and other companies followed CP Rail's lead.
"We were very tuned into what the Canadian Real Estate Association was doing. We had a leadership role to play with working co-operatively with CREA, making sure we were capitalizing on any opportunities that might come."
Little did anyone know at the time the true impact of that initial foray into the digital universe.
"It made the whole process more efficient, whether you were a buyer or a real estate agent or seller," said Ross. "It made information availability much more widespread for the real estate agent and, in turn, it benefited the client.
It made promotion of property vastly more effective and easier."
That didn't mean everyone welcomed the digital revolution with open arms. In fact, Ross remembered in those early days, industry professionals' reaction varied to the Internet in their daily lives.
"Not everyone was really aware of what we were on the threshold of and how it would impact our industry," he said. "Then when it got momentum, it happened fast."
The Internet wasn't the only transformation Calgary's real estate industry faced in 1996. That year, CREB® started construction on a new building at 300 Manning Rd. N.E. that would replace the board's longtime downtown location.
Ross remembered the decision to move out of the core was controversial at the time.
"The big issue, or sensitive point, was moving out of downtown," he said.
"Being downtown was seen as being more part of the corporate world, and we were proposing that being out of downtown would be financially more efficient, from a land and space and cost perspective – and ease of access and parking."
Change also hit close to home for the High River native in 1996 and since then. Ross has worked in the town south of Calgary since 1980, and in that time has seen it flourish.
Yet through it all, High River has stayed true to its small-town roots – evidenced after the 2014 floods by community-led rebuilding that continues to this day, he said.
"Notwithstanding the pain we've been through in the process, it has created benefits, in terms of revitalization and flood protection," Ross said of the floods.
While subtle differences continue to exist between Calgary and High River's housing markets, Ross believes the two still act in tandem.
"High River is obviously an independent town, but it's really part of the Calgary market," he said. "It doesn't really matter whether it's High River or Okotoks or Cochrane or Strathmore, whatever is impacting the Calgary market is equally impacting these markets."
That means High River has not been sheltered from the economic downturn currently influencing Calgary's market.
"The effects of oil and the downturn are causing some pain," he said. "The market has slowed here, but it hasn't come to a standstill. There's still plenty of business going on."
Tagged: 55 years of calgary real estate | Alberta Floods | Calgary Real Estate | Calgary Real Estate News | Canadian Real Estate Association | CREA | CREB presidents | CREB® | flood | High River | MLS® System | past presidents | Uncategorized | YYCRE
---
---
Connect With Us