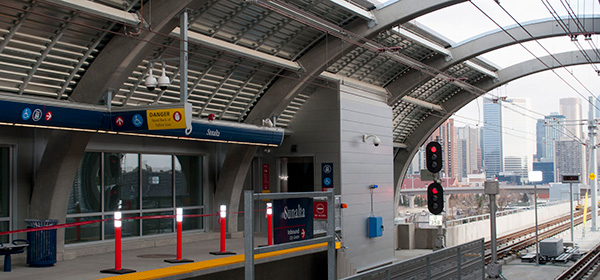 Feb. 13, 2013 | CREBNow
West LRT Recipient of Two Engineering Awards
Calgary's West LRT was the recent recipient of two showcase awards at the Consulting Engineers of Alberta's annual awards in Edmonton.
The Calgary City News Blog reported Hatch Mott MacDonald, who served as the City's engineer on the project was recognized in both the transportation infrastructure and project management categories. "The degree of complexity and co-ordination required on this project is awesome. It is approaching heavy industrial mega-project size and scope," said the judges' comments. "I like the methods and procedures used. Lessons learned here should be applied across all sectors to make Alberta construction projects cost effective and on time."
The $1.4 billion project stretches from downtown to 69th Street and includes Calgary's first upraised (Sunalta) and underground (Westbrook) stations. The grand opening ribbon cutting for the project was held Dec. 8, 2012.
"This is a great day for all Calgarians, especially those in west Calgary," Mayor Naheed Nenshi said at the event. "A healthy public transit system is a critical part of a working, sustainable city. This major improvement to Calgary's transit system will greatly improve transportation in the west by providing a fast and efficient way to downtown and around the city for 105,000 residents currently living there."
City of Calgary Newsroom
Tagged: Calgary Community | Calgary Real Estate | Calgary Real Estate News | Calgary Transportation | City of Calgary | Mayor Naheed Nenshi
---
---
Connect With Us