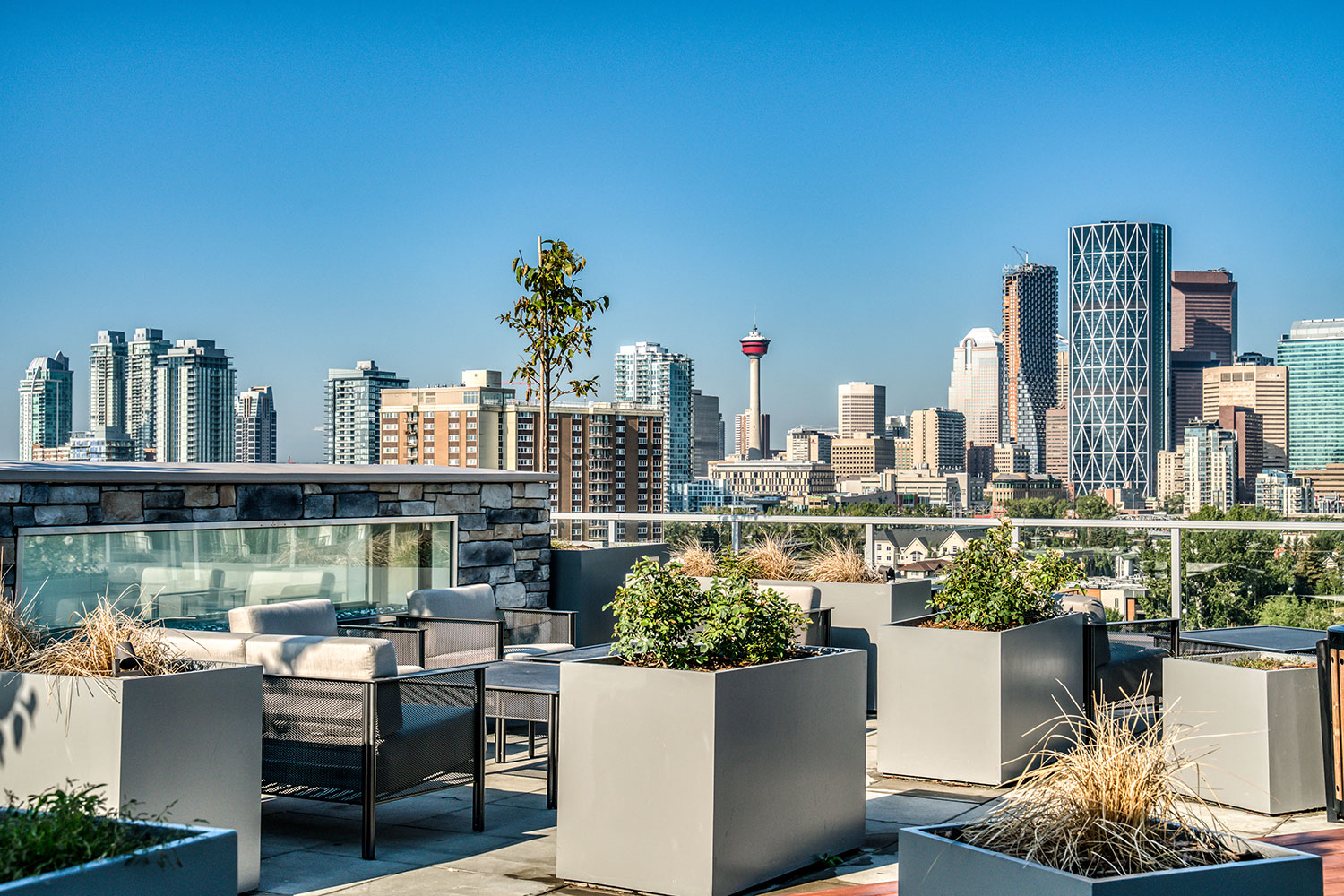 Courtesy Bucci Developments
Dec. 11, 2019 | Barb Livingstone
Complete community: Despite redevelopment successes, Bridgeland's reinvention is only beginning
Since the demolition of the Calgary General Hospital 21 years ago, the northeast neighbourhood of Bridgeland has undergone a massive transformation. In fact, that transformation is ongoing and will intensify over the next three years, as one of Calgary's oldest communities continues to reinvent itself.
"Bridgeland will be a much different neighbourhood," said Ali McMillan, planning director for the Bridgeland-Riverside Community Association, describing the community as one of Calgary's "best-kept secrets."
The walkable, inner-city neighbourhood sits along Memorial Drive across from the Bow River. It features tree-lined streets, escarpment city views, housing diversity, a CTrain station and a hilltop dog park.
McMillan says it is already one of Calgary's most complete communities.
"It is a very eclectic, friendly community with local businesses that care about the neighbourhood and give back, and with a heritage we want to maintain," she said.
The master-planned Bridges mixed-use housing area nears completion, a new Alberta Health Services (AHS) facility is under construction, improvements to both main streets and green space are in progress, and the area recently received a new business improvement area. It all adds up to a community that "is ready to bloom and blossom."
It's a view shared by Bridgeland's biggest residential developer, Bucci Development. The company has three different projects in the Bridges – the City of Calgary's first major foray into urban redevelopment, located on the 33-acre former hospital site.
The latest is the just-completed 201-suite Radius, with Bucci's 335-unit, two-tower rental project Dominion now under construction.
"It is a very eclectic, friendly community with local businesses that care about the neighbourhood and give back, and with a heritage we want to maintain." Ali McMillan, Bridgeland-Riverside Community Association
Bridgeland's long-term potential "is the highest in the city," said Mike Bucci, vice-president of development for the company. "As long as there are opportunities, we are going to keep building there."
Dominion, along with in-the-works rental projects from Jemm Properties and Centurion Asset Management, will draw many new residents to Bridgeland. Dominion will also make significant additions to the neighbourhood's retail mix.
The project's 13,250 square feet of retail space will boost the neighbourhood's commercial district, now primarily consisting of the popular restaurant, café and market options along its First Avenue N.E. main street. First Avenue is scheduled for Main Streets program reinvestment – a master plan goes to the City of Calgary's transportation team for approval this month.
Bucci expects Dominion's retail offerings to reinvigorate Ninth Street N.E., which flows from the river pathways and CTrain station up to First Avenue and the heart of the community.
Increased commercial/retail demand will come not only from continuing residential densification, but from the 10-acre AHS continuing care campus set to bring 300 to 400 full-time healthcare jobs to Bridgeland when the facility is completed in three years.
AHS's project is part of a massive redevelopment of the Riverside component of Bridgeland, an area currently dominated by seniors' housing.
The City is developing a Guidebook for Great Communities for Calgary's established areas and has launched a pilot North Hill area redevelopment plan (ARP) that groups nine communities (not including Bridgeland) together. The City is considering this as a future planning strategy that would replace individual neighbourhood ARPs.
Teresa Goldstein, manager of community planning (north) for the City of Calgary, says Bridgeland residents will have input into next steps in 2020, including areas of heritage preservation, financing and density levels.
Already, "Bridgeland has all the elements the City sees as making a great community," she said.
Tagged: Area Redevelopment Plan | Bridgeland | Bridgeland-Riverside Community Association | Bucci Developments | Calgary | Calgary Community | Calgary Real Estate | Calgary Real Estate News | Calgary Real Estate News | City of Calgary | Condos | Development | Dominion | Feature | Guidebook for Great Communities | Main STreets | Radius | The Bridges
---
---
Connect With Us