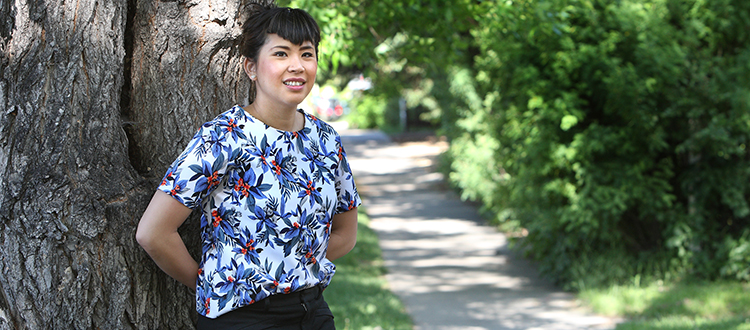 Federation of Calgary Communities urban planner Carrie Yap said more pedestrian-friendly environment could include anything from wider sidewalks and wayfinding signage and landmarks to direct connections via pathways and linear parks. Photo by Wil Andruschak/For CREB®Now
Aug. 13, 2019 | Alex Frazer Harrison
The why of walkability
Experts tout prevalence in today's homebuying decisions
Walkability has evolved from a buzzword to an influential part of home purchasing decisions in Calgary, say real estate experts.
And to meet growing demand for improved accessibility, developers and planners need to start now by designing communities of tomorrow through a more pedestrian-friendly lens.
"(Walkability) is important to our customers," said Brookfield Residential development manager Tara Steell. "We're hearing from them and using best practices to create communities with master-planned communities. We have the ability to influence that and try to get people out of their cars."
Steell said Brookfield is making walkability a priority when developing South Seton, a residential community that is expected to start construction as early as this year off the south terminus of the future Green Line. The southeast Calgary community follows the Urban Land Institute's 10 Principles for Building Healthy Places, which includes walkability.
"But it has to be useful," said Steell. "What (do walkability connections) look like for the homeowner? The community needs to be active for all modes of transportation."
City council recently acknowledged Calgary's walkability woes by passing its first pedestrian strategy in early May. Dubbed Step Forward, it includes more than four dozen recommendations aimed at making communities more walkable, including installing more flashing lights at crosswalks and building mid-block crossings in busy areas.
In the report, the City notes the walking mode share for all-day, all-purpose trips citywide fell from 13.2 to 11.7 per cent. Step Forward is looking, in part, to increasing the city's walking mode share to 15 per cent by 2025.
"Investments in pedestrian network development and maintenance makes our communities more walkable, which supports local business and strengthens the social fabric of our neighbourhoods," said City of Calgary transportation general manager Mac Logan.
The initiative comes as sobering statistics come to light regarding pedestrian safety in the city. Between 2005 and 2014, the City recorded 3,834 pedestrian-involved collisions, resulting in 3,317 injuries and 95 fatalities. Figures from 2015 are not yet available.
According to
Walk Score
, a Seattle-based company that's created a walkability index seen in most residential listings on the MLS® System today, Calgary currently scores just 48 out of 100, behind other urban centres such as Edmonton (51) and Banff (67).
While walkability is becoming increasingly prevalent, it is not a new idea, said Federation of Calgary Communities urban planner Carrie Yap.
"You look back at old neighbourhoods, the grid (system) is a walkable form, as opposed to all the curvilinear cul-de-sacs," she said.
Yap defines walkability as "connectivity, through either a grid or through connectivity of elements." That might include a more pedestrian-friendly environment such as wider sidewalks and wayfinding signage and landmarks, as well as direct connections via pathways and linear parks.
"It mainly comes down to accessibility," said Yap, adding vehicles can be a barrier to getting to know the people on your street: "social capital, as opposed to social isolation."
Such connections, "is one of the pillars (our) community was established on," said Daniel Santiago, communications and recreation co-ordinator with McKenzie Towne council in the city's southeast.
"The idea was you could phase your life in McKenzie Towne, whether you're living in a single-unit condo, move on to a family home, retirement and long-term care facility," he said. "You can bike and walk anywhere in McKenzie Towne and you don't really need to drive very much."
McKenzie Towne's hub is High Street, a commercial area linked closely to the community hall, pathway system and future Green Line LRT station.
"High Street is basically a promenade that you can walk along with different shops and services, and some have storefronts and some have patios out front," said Santiago. "It goes a long way to creating a bit of atmosphere and community aspect – you see people you know on the street."
Santiago said the McKenzie Towne concept of mini-villages connected together "piques the interest of different people. And there is a lasting sense of community, too."
Still, the concept of walkability doesn't always match up with the realities of life in an urban centre such as Calgary, said "urban explorer" and blogger Richard White.
"I live in the inner city and I find people who could walk to the grocery store every day or take transit, but they don't have the time," he said.
"We have not created a walking culture. Kids from the day they are born are being driven to day care. People don't realize how far they can walk in 15 to 20 minutes. It's not top of mind to walk first."
White said parents, at least, are more likely to consider the presence of a good school when choosing a neighbourhood over other factors like walkability.
"It's probably more important than in my generation," he said.
Tagged: Calgary Community | Calgary Real Estate | Calgary Real Estate News | City of Calgary | federation of Calgary communities | McKenzie Towne | neighbourhoods | pedestrian | sidewalks | Transportation | Walk Score | walkability | YYCRE
---
---
Connect With Us