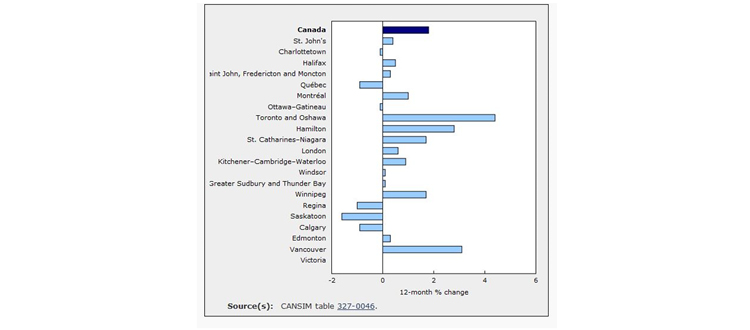 Source: CANSIM table 327-0046
March 21, 2016 | CREBNow
New home prices post year-over-year decline in Calgary
Calgary new home prices in January were unchanged from December, yet down on a year-over-year comparison.
According to Statistics Canada's New Housing Price Index (NHPI), new home prices fell by 0.9 per cent in Calgary in January from the same time the previous year. The decline was the third steepest in the country, trailing Saskatoon and Regina, where homes prices fell by 1.6 per cent and one per cent, respectively.
Canada's two hottest real estate markets continued to post gains both in year-over-year and month-over-month prices. Prices in the combined metropolitan region of Toronto and Oshawa were up by 4.4 per cent year-over year and 0.2 per cent month-over-month. Vancouver, meanwhile, saw a more dramatic month-over-month gain, with prices rising by
0.4 per cent from December to January, while year-over-year prices rose by 3.1 per cent.
Nationally, the NHPI rose 0.1 per cent in January, following an identical increase in December. The advance was led by higher new home prices in Vancouver and the combined region of Toronto and Oshawa.
Year-over-year, the NHPI increased 1.8 per cent over the 12-month period ending in January, the largest increase at the national level since August 2013.
The NHPI measures changes over time in the selling prices of new residential houses agreed upon between the contractor and the buyer at the time of the signing of the contract. It is designed to measure the changes in the selling prices of new houses where detailed specifications pertaining to each house remain the same between two consecutive periods.
Tagged: Calgary | Calgary Community | Calgary Real Estate | Calgary Real Estate News | Calgary Real Estate News | City of Calgary | Economy | Economy | Housing Market | Housing Prices | REALTORS | Residential | YYCRE
---
---
Connect With Us