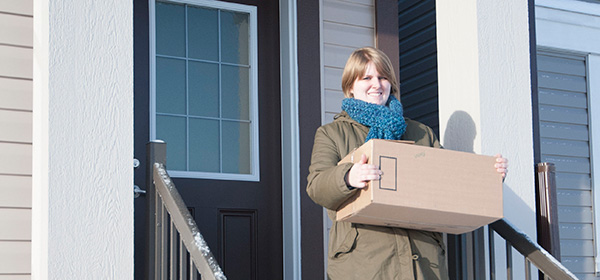 Jan. 16, 2013 | Cody Stuart
Moving Away From Renting
Renters who are caught between escalating rates and declining inventory are turning to home ownership as a better alternative.
Amy Gregson found the rental market too tight, and decided when she graduated from university in 2009 to buy a home along with her boyfriend Brian Ball.
"We would rather put our money towards something we own than towards something someone else owns," said Gregson, who lived at home after graduating to save money to put towards a home. The couple recently purchased a newly built home in New Brighton. They also like the fact that they have a lasting investment and could pick and choose the features of their new home.
"It was when I originally moved out, I didn't have any problem renting at all and then when I was looking for a new place, I had lots of problems," said Ball. "[Trying to] find a place that was close to a train station for example, close to where I was going to work/go to school."
The move taken by Gregson and Ball is growing increasingly more common, as total MLS® sales in 2012 exceeded those in 2011 by 15 per cent. CREB® economist Ann-Marie Lurie said with a lack of available rental units, combined with an increasing number of people moving to the city, the option to buy can become increasingly attractive.
"If the rental market is tight and the potential purchaser can afford to purchase a property they would weigh out their buying options versus their rental options, and this can encourage them to purchase instead of rent," she said.
According to the Canada Mortgage and Housing Corporation (CMHC), the apartment vacancy rate in the Calgary averaged 1.3 per cent in October 2012, down from 1.9 per cent in October 2011, with average rents for a two-bedroom apartment in the city increasing by 5.9 per cent over the same period.
"Employment growth and higher incomes, supported by Calgary's expanding economy, continued to attract migrants and increased demand for rental units," said Richard Cho, CMHC's senior market analyst for Calgary.
The CMHC reported that the average rent for a two-bedroom in the Calgary CMA averaged $1,150 in October 2012. The Downtown and Beltline had among the highest average two-bedroom rents in the Calgary CMA at $1,240 and $1,222 in October 2012, respectively.
One key contributor to the scarcity of residential rental space in Calgary is the decline of total rental units in the city. Despite the city's increase in population, which rose by nearly 30,000 residents between April 2011 and April 2012, the total number of rental units in the city has dropped from 34,814 in 2011 to 34,212 in 2012.
The CMHC said says the decline in the rental apartment universe can mainly be attributed to condominium conversions outpacing the number of newly completed rental units. While purpose built apartment construction did increase in 2012, rising from just four units during the first nine months of 2011 to 346 in the same period of 2012, the net gain was largely absorbed by condominium conversions. According to the Cho, there are around 385 rental units under construction in the city as of January 2013.
"There's definitely been some builders and developers looking to capitalize on the tightening in the rental market," he said.
The CMHC's Fall 2012 Rental Market Report forecasts the economy in Calgary is expected to sustain demand for rental units, keeping the city's vacancy rate below two per cent into October 2013.
"Landlords and property owners will continue to see interest in their rental units in 2013 as employers expand their payrolls and as people look for a place to call home after moving from another region," said the report.
One possible avenue for alleviating some of the stress on Calgary's rental market would be adding to the city's stock of secondary suites. After falling short of his goal of legalized secondary suites across the city in 2012, Mayor Naheed Nenshi is making another attempt at pushing the issue forward.
In a year-end interview on CTV, Nenshi said finding a more tenable resolution to the issue is still an important goal.
"It's a moral and ethical issue. We are allowing some 30,000 to 50,000 to 60,000 – no one knows the real number – of our neighbours to live outside the protection of the law. So if your landlord if abusing you, if there's no heat, if there's mould, if the smoke detectors don't work, if there are mice, you have nothing and no can help you. And to me that's untenable," he said. "We need to be able to move to a world where these suites are safe and regulated and an important part of the housing solution."
Secondary suites are only permitted in areas zoned RC2, and largely prohibited in areas zoned RC1, leaving much of the city off-limits. It is estimated that there are between 10,000 and 50,000 illegal and unregulated suites in houses across the city.
Tagged: Calgary Real Estate | Calgary Real Estate News | Calgary Rent | City of Calgary | Home Buyer | Mayor Naheed Nenshi | Secondary Suites
---
---
Connect With Us