A 100-year-old mugo pine towers over the Officers' Mess Hall and Garden in Currie. Courtesy of Canada Lands Co.
May 25, 2021 | Andrea Cox
Currie highlights role of developers in growth and preservation of Calgary's urban forest
Calgary is a city brimming with natural beauty and vital ecological corridors. Here, prairie grasslands and verdant river valleys are interspersed with ancient stands of aspen trees – some almost 4,000 years old – and 600-year-old forests of Douglas fir.
Despite urbanization and climate change, these forests have thrived and grown. These days, one can also find a selection of non-native tree species, planted by early settlers, current residents, developers and the City, all of which contribute to Calgary's urban forest.
Julie Guimond, urban forestry lead with the City of Calgary, says the term urban forest popped onto the scene in the 1970s to refer to the manicured trees planted and maintained within city settings. However, over the past 50 years, that definition has evolved.
"Our urban forest has become so much more than that," she said. "It includes trees on both public and private lands, as well as the native species in our communities and ones that are propagating and growing up over time."
The benefits of urban forests are numerous and far reaching. Urban forests moderate the effects of harsh urban climates by reducing wind speed, providing shade and cooling the air. They also protect the integrity of the soil, create animal habitats, and add beauty and tranquility to the landscape.
Many of Calgary's newest plantings – most have been added over the past 125 years – contribute to the city's tree canopy. A recent study by the City concluded Calgary's urban forest is currently at an 8.22 per cent canopy level – a way of measuring the percentage of tree coverage within a city's limits. The City's goal is to eventually double that figure.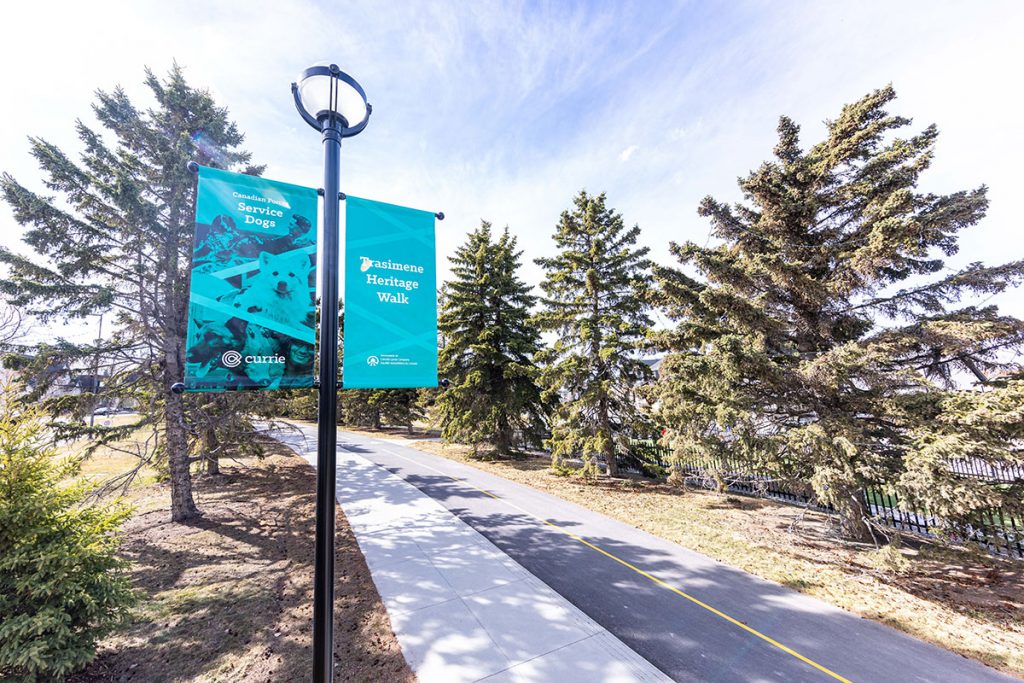 "But three-quarters of that canopy falls on private lands, so we really require the help of private landowners," said Guimond.
Developers can also play a role in bolstering and preserving Calgary's urban forest. Canada Lands Co., the developer behind the master-planned community of Currie on the site of the former Currie Barracks military base, accounted for the retention and expansion of the urban forest in its overarching plan for the community.
"Currie has an abundance of healthy, diverse, mature trees, many of which were planted back in the 1930s when the base was first constructed," said Kelvin Whalen, senior director of real estate for Canada Lands Co.
He says many of the original buildings and much of the landscape, including the trees, have been designated as Alberta heritage sites, "so we really worked around that to shape the master plan."
Canada Lands Co. worked with the City's urban forestry department to sculpt community spaces that conserved the established trees, while adding new saplings – a mix of mostly aspen, elm and larch. Currie currently features more than 1,000 heritage trees spanning 25 different varieties.
"We really worked hard to blend everything into the landscape," said Whalen. "Most new communities start with saplings and then decades later you have a nice tree cover. Here we were fortunate to have the trees already established."
He cites a few specific trees in the community whose history captures his imagination. There are spruce trees lined up like soldiers along Trasimene Crescent, the former entryway to the commanding officer's residence, which is now a cycling and walking pathway. Meanwhile, in the Officers' Mess Hall and Garden, a 30-foot-high, 100-year-old mugo pine towers over the grounds, along with several elm and spruce trees.
"This is the place where the military officials would go out after dinner to drink cognac and smoke a cigar," said Whalen. "These trees would have been there, listening to those conversations."
Tagged: Aspen | Calgary | Calgary Real Estate | Calgary Real Estate News | Canada Lands Company | City of Calgary | Currie | Currie Barracks | Feature | Forestry | Green Living | history | master-planned | New Communities | New Communities | Pine | Redevelopment | Saplings | Spruce | Tree Canopy | trees | Urban Forest | Willow
---
---
Connect With Us